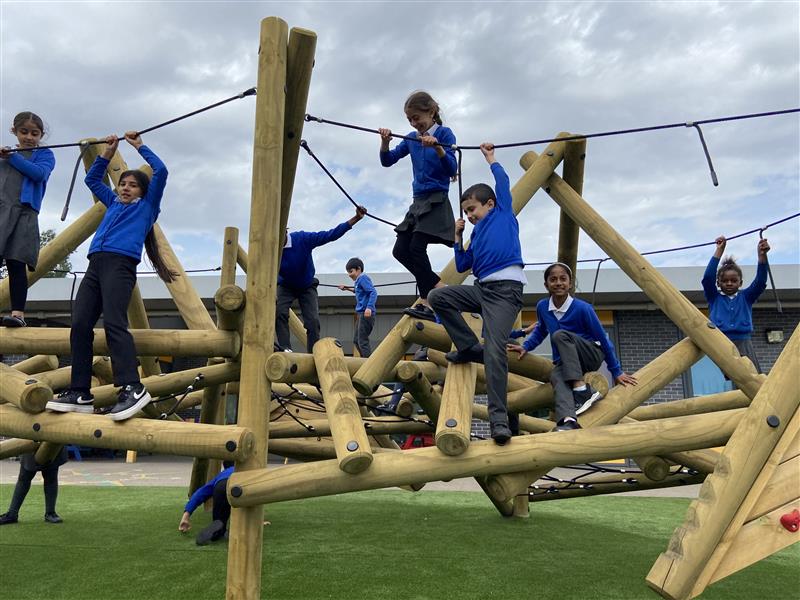 The Customer
George Dixon Primary School in Birmingham thrive on creating a community with learning and care at the heart of everything they do.
Aiming to instil their pupils with a solid education, George Dixon operates on the 7 C's- Care, Commitment, Courtesy, Courage, Consideration, Cooperation and Communication.
In an effort to give the children a solid and well-rounded education, it was imperative to the school that they needed a revamped and high-quality play space for their pupils to enjoy, so they contacted Pentagon Play.
Their Objectives
Headteacher, Shaela Good, came to Pentagon Play with some varying ideas and needs for the outdoor area. The school didn't really have any idea of what element of their design that they wanted to prioritise, so they were very open to ideas and suggestions from Outdoor Learning Consultants, Sam and Beth.
The school's main priorities were:
A Trim Trail for Active Play
Some Kind of Climbing Equipment Suitable for KS1 and KS2
A Sports Space, possibly a MUGA
Our Approach
Sam and Beth worked closely with Shaela and the team at George Dixon to design a space that suited their needs and wishes!
To create a climbing space suitable for all, Sam and Beth suggested the installation of a Crinkle Crags Climber.
This wooden climbing frame offers a large space for pupils to experiment with their active play skills, with plenty of space for pupils to either work together or navigate the physical challenge independently.
There are plenty of entry and exit points to this climber meaning pupils can hop on and off wherever they choose, selecting the active challenges that best suit their skills and abilities and opting out of those they don't feel confident with.
To meet the need for some new sporting facilities, the school had two 4-way Ball Shoots and two Adjustable Basketball Posts installed, meaning there is plenty of space for pupils to take both P.E lessons and friendly breaktime basketball and netball matches.
Pupils will love building their hand-eye coordination whilst competing against one another to see who the basketball all-star of the playground will next be today!
Or, for those who fancy having a go at a more free-flow trail, rather than a climber, Sam suggested the inclusion of a bespoke trail constructed of 5 individual trim trail items.
This trail includes:
In this new trail, there are plenty of opportunities for children to work on their balance and agility through play, creating imaginative scenarios as they go! Will they be escaping Captain Hook or navigating their way through a magical wonderland? The choice is theirs!
The Results
It's safe to that this project met all the needs and requirements that Shaela and the team had for their primary playground.
See what Shaela herself had to say about the development!
"We wanted to create something that would help allow them to play and climb, build some of their muscles that are going to help them with their learning, but also just to have those experiences that lots of children get within their community which we're trying to recreate here."
"We looked at a lot of different companies that offered similar things, we really liked the look of your product and then when we compared cost, we didn't necessarily go for the cheapest, we went for what we thought was best value and Pentagon offered that."
"When I met you and your team, you were feeling very passionate about the experiences that you were creating for the children and that aligned well with what we're looking for."
We're so pleased that the team are happy with the new development at George Dixon and we hope that we can offer them support with any further developments in the future.
If you would like you to redevelop your outdoor area just like George Dixon Primary School then please don't hesitate to get in contact with us to start your journey with Pentagon Play today!