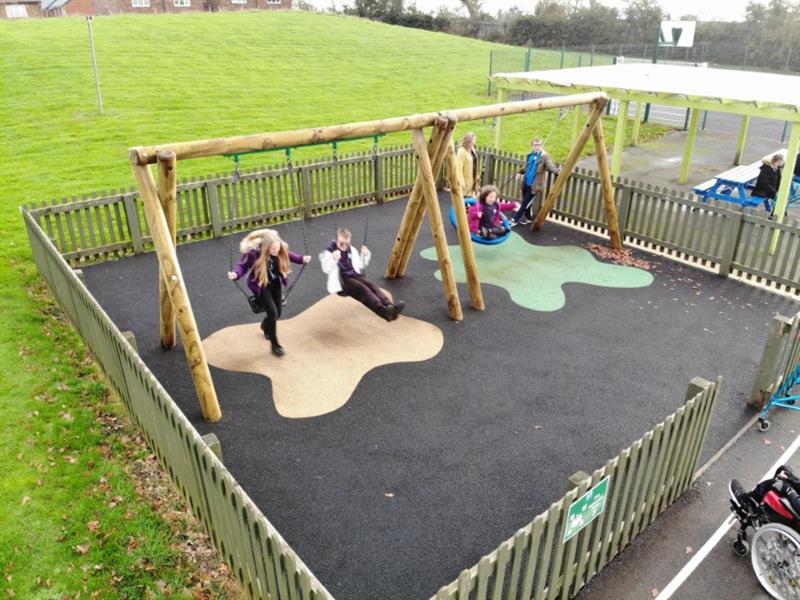 A Sensational SEN Playground Design for An Exceptional School
Working in collaboration with the eager Post-16 Class, here's what can happen when great minds work together to build the best SEN playground design...
It's no secret that here at Pentagon we love doing what we do. Why wouldn't we? We consider ourselves very fortunate to have had so many brilliant and memorable moments over the years, working with so many wonderful people at schools all across the UK.
Every now and again, however, a project comes along that seems to jump out and give us all that extra-special boost of energy and excitement. And working in collaboration with the Post-16 Class at Hebden Green Community School in Cheshire was one of those moments.
Hebden Green is an outstanding school for pupils from 2-19 with complex medical, learning and physical needs. They needed a new outdoor space for their Secondary and Post-16 pupils to have somewhere to enjoy physical activity and exercise, and also to relax and socialise together.
Great minds working together
We met with Head Teacher Alison Ashley, P-16 teacher Faye Bye, and a group of enthusiastic 6th form pupils to discuss their imaginative ideas for the project.
They had a lovely big outdoor space to work with, and it soon became clear that a great opportunity for a collaborative project was arising - one that would turn out to be a hugely rewarding learning experience both for the P-16 pupils and for us as playground designers.
The Secondary and Post-16 pupils had spent time studying our proposed playground designs as part of the consultation process. Everyone had the opportunity to have their say about what they liked best or would prefer to see in the plans.
As a group, P-16 also produced their own fantastic playground design, reflecting their ideal playground environment, which they presented to other pupils, staff and governors.
We were delighted to be able to include these ideas in our final design, and we were thrilled when we heard that Hebden Green had chosen to invite us back.
Everyone was excited to get going!
The New Playground
After we had carried out all the necessary removals of old equipment and fencing, the new outdoor environment could begin to take shape.
At Hebden Green they had a large, empty tarmac playground alongside the school building, leading out onto a lovely big green field that surrounds the playground on all sides.
We immediately transformed the existing tarmac playground by turning it into a bespoke Racetrack and true-to-life Roadway with our durable thermoplastic Playground Markings.
This is an ideal zone for pupils to have fun and get some exercise racing around on their wheeled vehicles. There is even a Solar Powered Stopwatch on Posts so they can set challenges and time each other!
An Inclusive Forest Zone Accessible for All Pupils
We laid our Artificial Grass at one end of the playground to form an all-weather dedicated forest outdoor learning zone, accessible for all pupils.
Two Wigwam shelters make cosy reading and listening dens, while 5 perch benches are set at different heights to ensure that children wearing calipers can sit safely and comfortably.
We installed a beautiful Sensory Arbour here - a calming place of discovery over the pathway so that children using wheelchairs can easily travel through it. Providing both audio and visual stimulation, its colourful panels reflect the light and musical chimes encourage the children to enjoy creative music-making.
To open up a new natural grass area for forest schools, we removed a section of the perimeter fence behind the artificial grass and installed new Mesh Fencing further back. This created a fabulous wild space for trees to be planted - somewhere the children can enjoy learning with natural resources.
We heard a lovely story of one P-16 student who brought a very special gift for the school when he left. He had been growing and caring for an Oak tree for 5 years, having planted it himself as an acorn.
He gave it to Hebden Green, and it has been planted in the new Forest Zone for future pupils to enjoy watching it grow over the years.
The Social Friendship Hub
The secondary pupils at Hebden Green wanted to have a sheltered space where they could meet with friends and socialise. We created the new 'Friendship Hub' with our sustainably sourced timber Hexagonal Gazebo, open on all sides to allow easy access for wheelchair users.
The Hub features a double sided chalkboard to equip it for curriculum use as well as being a quiet, relaxing area. It sits on our Artificial Grass for year-round access, and we added a Saferturf Design sign to name The Hub.
A Fun Physically Challenging Active Play and Swing Area
For a fun physical challenge we installed one of our popular Adventure Trim Trails in a horseshoe layout on the edge of the field. It presents a number of physical development challenges focusing on balance, core strength and motor development.
The children can join and leave the trail at any section they like, and it's a great resource for encouraging social interactions and cooperation.
Next to this we built a bespoke Timber Swing area with two flat seats and one group seat. It's an exhilarating area where the children love to feel the movement back and forth, and the stimulating sensory feedback this provides.
We resurfaced here with our Wetpour Safety Surfacing with colourful 'splash' features underneath each swing.
All-Weather Team Sports
It was generally felt that the existing MUGA at Hebden Green was too large for what they needed, and that they could make better use of the space by splitting it and repurposing one half.
We surrounded one half of the existing space with our 2m high green rigid mesh fencing, including a wide access gate, to create a brand new MUGA that now includes built-in Recessed Goals and Basketball Hoops at either end. It's a super place for team games where all the pupils can get involved!
Enormous Adventure Play Tower
We resurfaced the other half of the old MUGA area with our Wetpour Safety Surfacing, to transform this into an incredible new all-weather adventure play area for the children.
Our magnificent Langley Play Castle is perfect for both active and imaginative play, and the children at Hebden Green couldn't wait to play on theirs!
There's a more challenging climbing wall and net for children to access the castle, as well as accessible steps with handrails. The Play Castle at Hebden Green features a wide, open slide that can easily be reached by carers, rather than an enclosed tunnel, so that the children can enjoy whizzing down it either on their own or with help.
The platforms on top of the castle and the spaces underneath the bridges are huge and ideal for make-believe games, den-building and storytelling. It's certainly a unique attraction in the playground!
Outdoor Gym Space for Physical Development
Next to this we installed an all-singing outdoor gym area that will allow the children to exercise outside every day.
It comprises:
An Arm and Pedal Bike
An Inclusive Arm And Pedal Bike
An Inclusive Upper Body Station
Hip Twisters
An Elliptical Cross Trainer
Children's Tai Chi Spinners
This selection of equipment was chosen to focus on different areas of physical development and can be used as a lovely open space for occupational therapy sessions in the fresh air, as well as for recreational activities.
Post-16 Career Development
While the project was in full swing, Pentagon's super talented Product Designers, Jonny Arditti and Ellen Jameson, had the pleasure of delivering a careers talk for the Secondary pupils at Hebden Green.
They discussed the steps they took to become product designers, and what their roles at Pentagon involve. The students had plenty of interesting questions that kept Jonny and Ellen on their toes!
Our playground consultant Ian Wood, who worked closely with Hebden Green from the very start of the project, joined the pupils with our drones to show them how we photograph and video an area and explain how we use this technology at various stages of a project. Everyone enjoyed the experience!
Expert Product Testing
We also invited some of the students to be expert 'product testers' for Pentagon, to try out some of our new products.
We know from experience that we can rely on the students for excellent constructive critical feedback!
Our new In-Out Shapes were a hit as pupils from across the school trialled using them to help develop their understanding of different curriculum areas.
We loved returning to visit everyone at Hebden Green to see how they were finding their new playground after the installation. It was wonderful for us to see how much they were clearly enjoying and benefiting from it.
Working together with the pupils was a fantastic experience, and some of their ideas have been really inspirational for us too.
They have much to be proud of!
Are you thinking about new playground and outdoor learning options? We can help! You can find out more about our work with schools and nurseries, and view our full range of outdoor learning, play and sports products here. You can also view our tried and tested range of specialist playground equipment for children with Special Education Needs here.
Please do Contact Us to arrange a free, no-obligation consultation.
Alternatively, you can view all of our outstanding playground projects completed in the Cheshire area on our dedicated Cheshire Playground Projects Page Here.