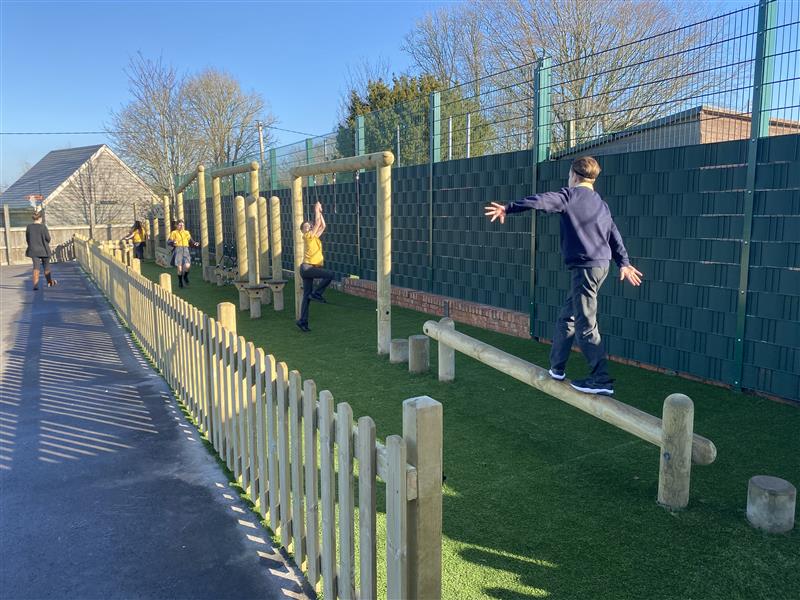 Providing Opportunities for Pupils to become Physically Confident
It was a pleasure to partner with Herstmonceux Church of England Primary School located in the Sussex countryside.
Expert Playground Consultant, Paul Speller, worked with school staff to create a fantastic active trail which helps children to build high levels of daily activity.
Creating a High Energy Active Zone
In order to create a high-energy active zone within the main playground space we erected 30m of our beautiful, natural Bow Top Timber Fencing. The new active zone is easily accessible via two timber gates, ensuring ultimate safety.
Artificial Grass Playturf has been used within the area to create a space that can withstand heavy footfall whilst being soft to the touch thanks to reinforced fleece backing. Active play can now be safely enjoyed during all seasons as the surfacing is free draining.
A Trail to Challenge and Excite
The challenging trail is perfect for KS2 pupils as their balance, core strength and stability are put to the test. Herstmonceux Primary decided to select their own individual obstacles to create a unique course that would be ideally suited to their pupils.
The trail begins with an essential Incline Balance Beam Crossing. Pupils enjoy travelling up and down the beam at different speeds, building lower body strength. A Drop Rope Tightrope Crossing adds an element of risk to the course as pupils develop fine motor strength when gripping the hanging ropes.
Stepping and stretching is required to conquer the Disc Poles before hopping onto the crossing logs which move and sway requiring children to gain control and swing from one to the other. A Step Rope Traverse aids imaginative play as children picture themselves holding jungle vines!
A set of five Stepping Logs are placed at various heights throughout the course allowing pupils to complete the whole trail without touching the floor!
Climbing and Rolling!
At one end of the course Herstmonceux school opted for a Horizontal Climbing Wall Traverse that is double-sided. Pupils are learning to navigate the vertical climber by correctly gripping the handholds and considering foot placement.
Learners have been working together demonstrating fairness and respect as they help each other to tackle this new obstacle.
Pupils have been sent into a spin with the new Forest Pull-Up and Roll-Over Bars! Core stability has been put to the test as pupils spin, hang, stretch and swing.
Children can safely practise their gymnastic skills thanks to the installation of a safety shock pad layer installed underneath the bars.
Herstmonceux Primary are delighted with their new active trail. Playtimes have been transformed with children developing increased agility and upper body strength as well as problem-solving strategies. The trail is the perfect place for energetic pupils, helping those who can become overstimulated in a classroom environment.
The trail is currently being used during both break and lunch times and for physical education lessons to develop mental and physical health. It was wonderful to bring Herstmonceux Primary School's vision to life, enabling pupils to be happy and healthy.
Are you looking to transform your outdoor play space? Look no further than Pentagon Play! Contact one of our friendly and expert Outdoor Learning Consultants to start your journey with us today.