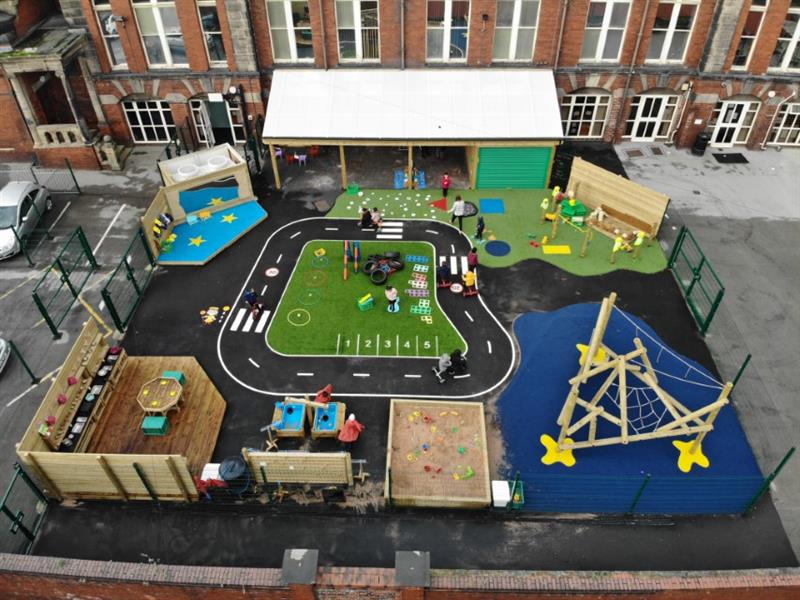 An Inspiring EYFS Playground Promoting Cross-Curricular Activities
Hillcrest Academy in Leeds have been delighted to welcome more pupils into their EYFS classes, following the grand opening of their bright new, interactive Early Years outdoor play and learning area.
The children have been settling in well in their fantastic surroundings. They are making friends, exploring and investigating, and having a lot of fun with it!
Our playground consultant, Meg Booth, is well versed in planning outdoor learning areas for schools and nurseries to cater for their specific needs. Meg worked with the Principal at Hillcrest Academy, Sam Done, to develop an outdoor space to really improve provision for their Nursery and Reception children.
The new space allows the children to explore, discover, build, create, climb, exercise, and develop fine and gross motor skills.
Through clearly designated zones, the children are using their imaginations, testing and challenging themselves and thriving as individuals in an exciting, inspiring, safe space of their own.
We returned to Hillcrest after the playground opened to see how they were getting on. It was clear the children were thoroughly enjoying their new and improved space and absolutely feeling the benefits of time spent outdoors every day.
Here is how we designed and installed the EYFS playground for Hillcrest Academy to encourage development right across the EYFS areas of learning:
First, we removed and disposed of the old, failing canopy and outdoor shed before preparing the essential groundworks and drainage.
We installed a beautiful Timber Canopy with cladding and an electric roller shutter adjacent to the school building. It allows for immediate, freeflow access from the classroom to the outdoors, providing shelter from the elements, so that outdoor play can be enjoyed daily throughout the year.
A canopy like this really connects a classroom to the outdoor environment, creating more space for learning and helping to foster a culture where outdoor learning is an integral part of school life.
Performance Stage Area
Our Outdoor Performance Stages are ideal for encouraging children to explore and experiment with their creativity and curiosity. Through role play and performances, children develop their self awareness and self confidence. It's empowering.
Experimenting with different ways of thinking and behaving allows them to better understand the world around them and where they fit in to it. A performance stage presents opportunities for exploring and developing language too, so it really is a superb learning resource.
For Hillcrest, we bespoke designed a fantastic 6 metre performance stage equipped with a stage facade, wall mounted chimes and a fun wobbly mirror to add different layers to their learning experiences.
Messy and Muddy Play Space
Our Mud Kitchens are always popular and the muddy play space at Hillcrest has proved to be a real hit.
We decked a large area and installed the Mud Kitchen onto it along with a Construction Table to create a messy workspace and a Mud Box and Rainwater Harvesting Butt for supplies.
This sensory space is ideal for exploring mathematical and scientific concepts through measurements and reactions, discovering materials and textures and creating weird and wonderful concoctions.
We loved watching the children bake a 'sparkling chocolate cake' with mud and gold glitter - definitely one for the outdoors!
Sand and Water Play Area
An essential outdoor play activity for any EYFS group, the children at Hillcrest have been getting hands-on with their new Sand and Water Play facility.
A spacious, bespoke Sand Pit, partnered with our innovative Timber Weighing Scales, allows the children to work in collaboration, manipulating the materials and exploring cause and effect.
Our fabulous Water Wall with Water Play Package creates a lively discovery space which is perfect for STEAM learning and investigating concepts such as gravity and the water cycle.
Children can plot and build a course for water to travel, guiding it through the channels, water wheel and across to the water table.
The non-slip steps ensure even very young children can join in the fun. It was great to see all the valuable social interactions going on as the children worked together in this space.
Construction Area
This space is all about den building - and it wouldn't be complete without the high vis jackets and builders hats that the children loved wearing during our visit!
A bespoke Construction Wall is accompanied by our Den Making Posts with Holes and surrounded by a combination of decking and Playturf Artificial Grass.
Creative play here is wonderfully open ended, with multiple opportunities for problem solving and physical challenges along with mark making, reading and following instructions on the Chalkboard.


Physical Play and Roadway Area
No EYFS playground would be complete without some great Active Play Equipment to get the children moving, exercising and developing all the fine and gross motor skills, balance, strength and core stability that they need as they grow.
Our Bowfell Climber certainly rises to the challenge, with a combination of logs, ropes and net scrambles to accommodate a number of children at any one time.
It stands next to a super life-like 30-metre roadway system, which we created out of a range of Playground Surfacing including colourful Saferturf, thermoplastic playground markings and artificial grass.
With parking bays, road speed signs, zebra crossings and even a lollipop lady, the children at Hillcrest are learning all about road safety as they have fun racing around the track on their trikes.
We are thrilled to have been asked to work with Hillcrest Academy again on the next phase of their outdoor redevelopment. This phase will focus on creating an inspiring area for social development, and some wonderful natural play resources for Hillcrest's KS1 and KS2 pupils:
If you are considering improving all or part of your outdoor space for early years or nursery and you would like us to visit your school to conduct a free consultation, please do not hesitate to Contact Us Here. You can also view our full range of outstanding products here.