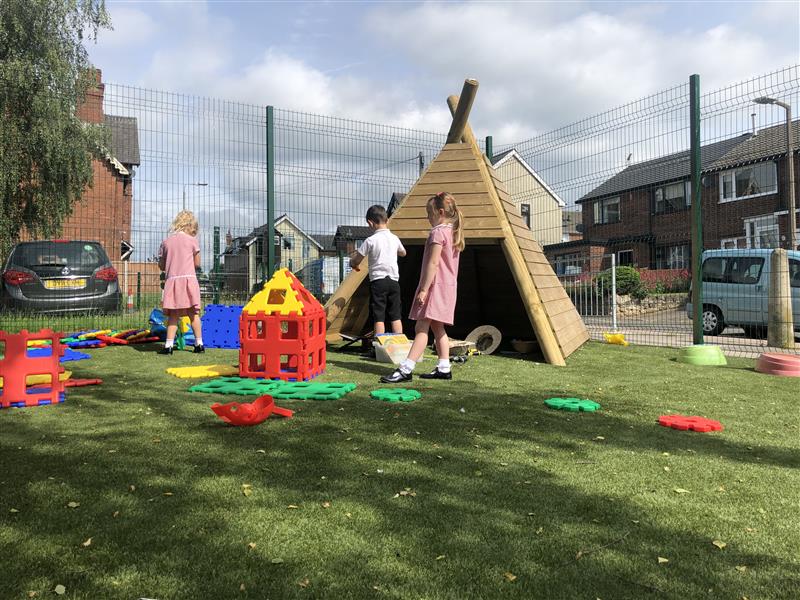 A Stimulating Early Years Outdoor Provision to Challenge and Inspire Young Minds!
It has been a pleasure for us to work with Hollywell Primary school in Nottingham to completely transform their EYFS outdoor environment. It is a privilege to be part of such an exciting project that will enhance learning for children at the very beginning of their school journey.
We divided the large space into two distinct areas, where the children would be free to move around and choose to play at different stations depending on their interests.
Surfacing to transform the space
Firstly, we fitted artificial grass surfacing, using a curved design, to one side of the space. Our beautiful grass surfacing is ideal for schools as it is free draining and a weed suppressant membrane ensures that it is low maintenance.
The surfacing is super soft yet durable and will not become muddy and dirty.
A progressive climbing challenge
The Harter Fell Climber provides a progressive climbing challenge. Imagination soars when scaling the beams and gripping the ropes. Pupils feel as though they are scaling a mountain or clambering up a pyramid, whilst developing strength and balance.
Safety is a key priority and the installation of a shockpad layer protects young adventurers. Next to the climber our Wigwam makes a great den or viewing station. Learners at Hollywell have their binoculars at the ready!
Young engineers of the future
Pupil have enjoyed practising their letter formation using the giant chalk and whiteboards. The boards are large enough to encourage collaborative working, children can enjoy writing and creating together.
A construction table provides a great spot for young engineers to problem solve; pupils have been busy designing their own models by slotting gears together.
Water play is always a favourite activity and our Water Wall with Water Play Package offers plenty of opportunity for physical and scientific play.
Pupils are continually experimenting and solving problems as they direct the flow of water through the channels.
A real-life roadway!
On the other side of the outdoor area, we used our Thermoplastic Markings to create a 'real life' Roadway. Pupils have been having great fun racing their trikes round the track and noting the traffic lights and zebra crossings.
Road safety rules are followed and the children can even stop for petrol at the pump. Numbered Parking Bays and the addition of our colourful, counting caterpillar aid number recognition.
A Mud Box is the perfect storage solution for every child's favourite material! There is plenty of opportunity for digging, collecting and transferring. Once the muddy ingredients have been collected, our Weighing Scales allow children to explore quantities and develop mathematical language.
"The Benefits of the Project Have Been Huge"
Early years lead teacher, Emma Brown has noted immediate improvements to teaching and learning since completion of the project:
"The benefits of the project have been huge with a greater focus on communication and language as well as physical development. The artificial grass has made the space useable throughout the winter months. The children have been more engaged with a zoned playground, making managing the number of children much easier and multifunctional. Everything has been made easier! The space is really amazing and much more fun for the children."
If you are wanting to add a magic touch to your playground to create it into a creative or imaginative area please don't hesitate to contact us here.
If you are needing some inspiration for your playground, please take a look at our dedicated Nottinghamshire playground developments here.