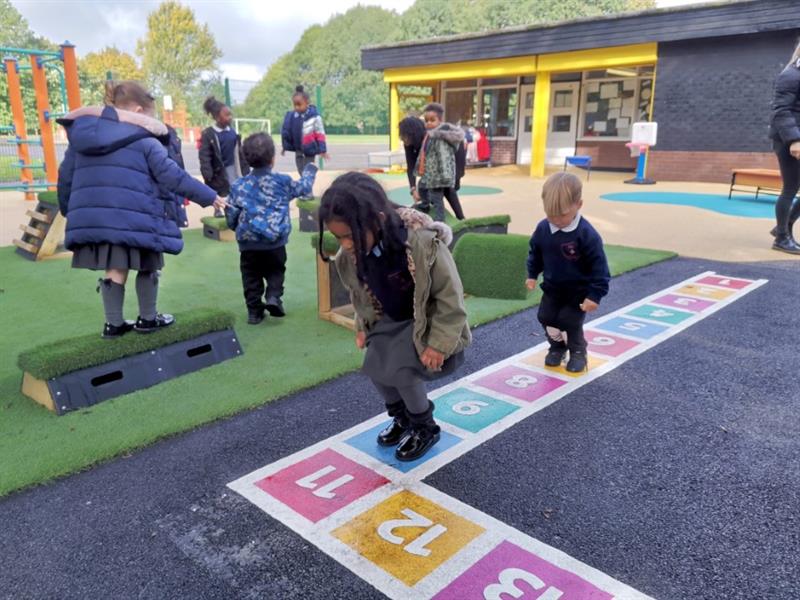 A Beautiful, Zoned EYFS Playground For Cross-Curricular Play Activities
We've reinvigorated playtime and outdoor learning for EYFS pupils at Holy Name Roman Catholic Primary School in Manchester. They needed a complete overhaul of their playground and as always, we were ready for the challenge!
After visiting the school to discuss their requirements and carry out a survey of the site, Paul Bayliss, our sales director, set about creating the perfect playground design for them. They now have a beautiful, zoned playground which makes clever use of the space, offering the children a broad range of activities to enjoy within the EYFS areas of learning.
Before the installation could begin, we dug out and removed all of the old surfacing and equipment that was no longer fit for purpose. Then we prepared the ground works ready for the new install.
Playground Surfacing and Markings
We resurfaced the entire area with a combination of our all-weather Playturf Artificial Grass, colourful Saferturf playground carpeting and Wetpour safety surfacing. This combination has brought vibrancy to the playground, clearly marking out different activity zones.
We use careful installation techniques to make sure that it's all self draining, so the playground can be enjoyed by staff and pupils at Holy Name all year round. It also reduces the risk of slipping and injury from falls, so it's a much safer space for young children to play in.
We have a huge range of striking Thermoplastic Playground Markings for schools - unique in their ability to turn a playground surface into a learning resource for topics across the curriculum. Our customers can choose from our existing designs or we can create bespoke designs to bring their ideas to life.
At Holy Name School they chose a variety of exciting equipment:
A bespoke looping Roadway with 10 colourful Numbered Parking Bays and a Roundabout Sign. This is a great active and imaginative play zone for racing around on trikes and scooters. We edged the area with bespoke low-height Playgrade Timber Fencing to create a fun and life-like racing track theme, which keeps the vehicles safely contained within the zone;
Bespoke Sports Markings, including half way lines and goal markings to introduce team sports and ball games to the children;
A 1-20 Number Ladder, which is a fabulous number-line resource for teaching number bonds to 20 kinaesthetically; and
An A-Z Snake with lower case letters to follow in order.
Outdoor Literacy
You can't beat reading outdoors for bringing the pages of a favourite book to life. We created a beautiful outdoor reading area at Holy Name for developing language and literacy, under the shade of the existing trees.
The children love sitting tall on their Freestanding Storytelling Chair, sharing a story with their friends, who can listen and join in from the comfort of their Small Moveable Artificial Grass-Topped Seats. We included a Giant Chalkboard on Posts for mark-making and jotting down ideas.
Music and Movement
A selection of our Outdoor Musical Instruments bring a new energy to the playground at Holy Name. They intrigue and inspire creativity, encouraging children to express themselves with confidence.
And of course they're great fun for teaching rhythm and making some noise too! At Holy Name we installed a set of African Drums, a Batonka Panel on Posts and a tuned Glockenspiel Panel on Posts as a perfect introduction to music-making for young children.
Physical Play Opportunities
5 of our Den Making Posts, with holes and grooves for threading and weaving, are an entertaining alternative for improving fine motor skills. Den building is a heavy physical work out with all that lifting, stretching and pushing materials.
At Holy Name, they set the scene superbly for inclusive, open-ended den building activities to develop imagination, creativity, problem-solving skills, positive social interactions and teamwork. The children are enjoying all sorts of role play adventures in their secret dens.
A set of our innovative Get Set, Go! Blocks were a great choice for boosting physical play provision at Holy Name. They're ideal for developing balance and core stability and all the climbing, stepping and jumping is great physical exercise.
The open-ended system, with easy holds for lifting, allows teachers to move the blocks around in different formats to suit each activity. They have set up all 12 blocks in a looped obstacle course - and it's wonderful to see the children becoming more confident with each lap.
Messy Play and Gardening
Messy Play is a staple component of outdoor learning in any good EYFS playground worth its weight in mud and sand! The new messy play zone at Holy Name is a beautifully, not-so-shining example of just how much children can gain from getting their hands dirty, exploring and experimenting with all sorts of materials.
Our popular Mud Kitchen, partnered with a Rope and Pulley Materials Mover and a covered Mud Box for digging supplies, make an unbeatable trio for sensory scientific and muddy mathematical experiments. There's plenty of space to store pots, pans and utensils, and work-surfaces for groups of children to work together.
Gardening activities are a firm favourite for learning about the natural world, too. The children at Holy Name can now benefit from seeing the fruits of their hard work come to life. We installed 3 Planter Benches that allow young children to easily kneel up to plant and nurture herbs, shrubs and flowers.
It's a lovely sensory spot for taking a relaxing break and enjoying the different scents, colours and textures. The addition of a large Potting Table offers a versatile space for sowing seeds, re-potting and laying out different natural materials and resources for children to examine.
We provided shelter to the area by installing a Sail Shade on Timber Posts so that the space can be used come rain or shine.
If you would like to develop your school playground to provide physical and creative outdoor play and learning opportunities all year round, please Contact Us Here for a free, no obligation quotation. You can view our fantastic range of Products for Schools and Nurseries Here.