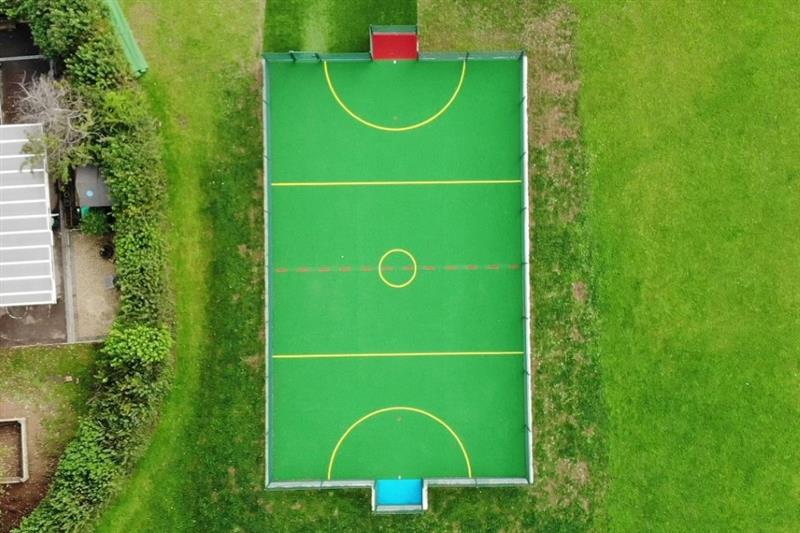 Enabling PE and Ball Games to Take Place Outdoors Throughout All-Weathers
An all-weather sporting space that engages children in more vigorous physical activities during breaktimes and lunchtimes!
At Raysfield Primary School in South Gloucestershire, our playground consultant, Becky Hazell, worked alongside the school to create an area where sporting activities can take place no matter what the weather may bring.
Most importantly, the new space had to excite, entice and inspire the children to participate in a wide range of sports throughout the school day.
Inspiring generations of children to lead a healthier lifestyle
As the existing all-weather outdoor spaces were quite small and not very practical for sports, we installed a huge 20m x 12m Multi Use Games Area, which created the perfect space to enhance the school's sporting provision.
We began by excavating and preparing the surface before laying our high-quality sport base works. This process ensures the space is self-draining, whilst providing a suitable base for a wide range of sports to take place.
Once prepared, we laid our four-season, multi-sport velour artificial grass surface over the top.
MUGA features to accommodate a variety of different sports
The sporting facility includes a wide range of feature to accommodate a variety of different sports. We installed:
2m High Rebound Fencing to ensure balls are contained in the space, preventing interruptions to other children play.
A single access gate to allow for easy access.
A blue recessed goal end and a red recessed goal end to prevent squabbles over whether or not the other team have scored a goal.
Netball sockets to effectively accommodate a variety of sports.
An 8m wide Artificial Grass pathway leading from the tarmac to the MUGA ensuring the pitch stays mud free and provide a space for spectators and warmups.
The new Multi Use Games Area has created a fantastic environment, where sporting activities and competition are actively encouraged, improving children's fundamental movement skills, agility, balance coordination and sporting skills as they engage in a selection of different sports.
Moreover, the new space will inspire generations of children to lead a more healthy and active lifestyle as they develop their love of sport!
Since having the MUGA installed, the school mentioned that there have been less negative behaviour incidents during break times and lunch times as the children have a space where they can burn off some excess energy and that pupils and staff alike are inspired to participate in vigorous physical activities by the MUGA pitch!
Are you looking to create a dedicated sporting facility in your school grounds? You can visit our focused MUGA page for inspiration and to understand the solutions available to you or view all of the fantastic areas you can create with your Sports Premium Here.
To arrange a free consultation with one of our playground consultants, complete our Online Form and we will be in touch to start your journey.
If you would like to view more examples of our work in South Gloucestershire, visit our South Gloucestershire page here.