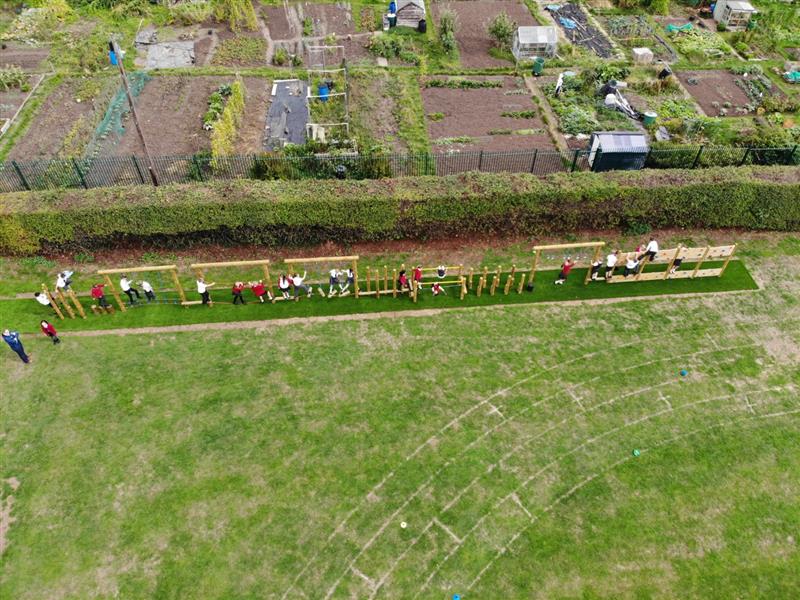 A Challenging Trim Trail With 11 Obstacles
Our Playground Consultant, Greg Rossiter, worked with Kegworth Primary School to replace an old and tired trail, with a new and exciting Trim trail brimming with physical challenges for both Key Stage 1 and Key Stage 2.
One of our lovely installation teams happily dismantled and disposed of the existing equipment before replacing it with our fantastic Primary Trail 3.
The Primary Trail 3 includes 14 challenges which vary in difficulty and fully test children's key physical skills:
Climbing Poles
Stepping Logs
Net Traverse
Mini Balance Beam
Parallel Rope Traverse
Swinging Log Traverse
Log Weaver
Tightrope Bridge
Walk and Stretch
Trapeze Swing Traverse
Single-Sided Timber Climbing Wall
With such an incredible combination of physical developmental challenges, children will develop their balance, coordination, core stability, upper and lower body strength, grip and grasp and gross motor skills.
View our full range of Trim Trail Equipment here.
To ensure the area can be accessed in all-weathers as well as being safe from falls and risk-taking we re-surfaced the grassy area with artificial grass.
Our artificial grass surfacing includes a shock pad underlayer to protect children from falls. This will help encourage children to take further risks and test their physical ability further.
We created an artificial grass pathway towards the Trim Trail which leads from the tarmac playground. This will prevent children from getting muddy shoes and leaving a mess within the school after play.
Our wide range of Safety Surfacing can be viewed here.
You can view our full range of Active Play Equipment for schools and nurseries here. If your outdoor play space needs some new inspiration, you can arrange a free consultation with one of our outdoor learning experts by completing our Online Form.