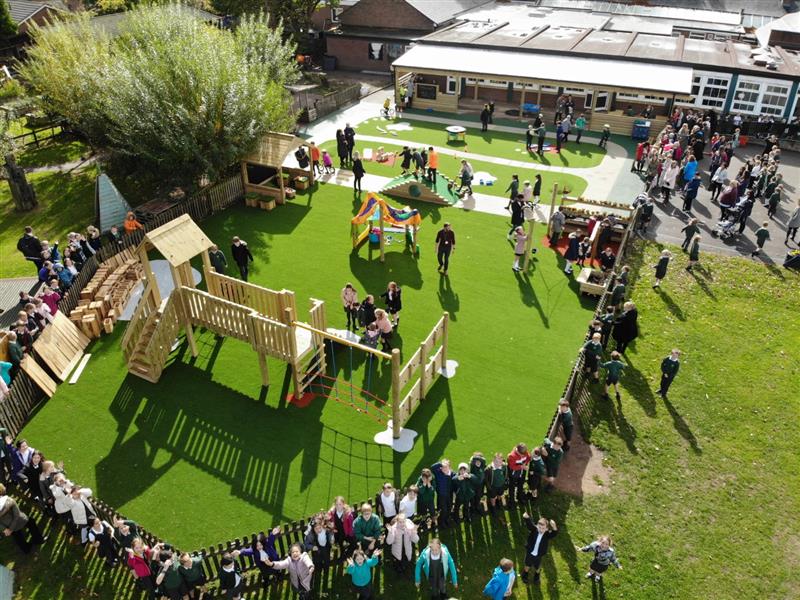 A Breathtaking EYFS Playground Transformation
EYFS and Year 1 staff and pupils at Kelsall Primary School in Tarporley are over the moon with their incredible, new EYFS outdoor playground - a mighty space installed and completed by Pentagon Play in just two weeks!
What was a large, empty concrete and turf space, with nothing but a tired old gazebo and trim trail, has been completely ripped out and reimagined.
Our brilliant Playground Consultant, Meg Booth, worked with staff at the Cheshire primary school to design a multi-faceted, interactive, inspiring outdoor playground for the children to learn through play.
It's much to celebrate, and only fitting that the space was officially opened by internationally recognised Early Years learning expert, Alistair Bryce Clegg.
"A huge thank you to the team at Pentagon who worked so hard to complete the project in a record two weeks!" said the school Principal. "The children love the new area and there will be many years of good use to come I am sure."
Playground Safety Surfacing
The existing surfacing presented a real problem for the school. If it was raining, the children were not able to go out on the grass and couldn't use any of their equipment because it was too slippy, waterlogged and muddy.
We prepared the baseworks, then resurfaced the entire area with a bespoke design layout combination of our Artificial Grass, Saferturf and Wetpour Safety Surfacing.
Our surfacing is impact absorbing and self-draining, so it really reduces the risk of slips, falls and injuries. It doesn't need the maintenance of turf and it means that the space can be used all throughout the year, no matter what the weather throws at it.
The design layout is really creative, serving as an active role play and learning resource in itself. We included a roadway design with a roundabout feature, zebra crossings, mini rubble strips, stepping stones and even a Playbond Speed Bump.
The area is really good fun and the children love whizzing around it on their vehicles! They are learning all about road safety as they exercise and develop their motor skills!
Artificial grass strips between and around the roadways, with bright saferturf splashes under the equipment, add a lovely pop of colour and really enhance the sensory experience for the children, getting their imaginations into gear as they play.
We added two playground mounds and a Climb Through Tunnel Hill to create different levels for the children to navigate, adding more confidence-building challenges to physical play and providing opportunities for developing language and exploring positional vocabulary.
The space now feels a lot bigger as a result, making more and better use of the great space they have at Kelsall.
Covered Free-Flow Discovery Area
A splendid new, timber-cladded Freestanding Canopy, adjacent to the classroom, now provides an excellent freeflow offering to the outdoor area.
Under the shelter of the canopy, the children have discovered our fabulous Water Wall with Water Damming Station. This is an awesome, interactive resource for STEAM learning. The children can plot and build channels for the water to travel themselves and explore the impact of their own actions.
It can be used for fun and engaging sensory play too - left to their own devices, the children would spend hours playing with the water and enjoying its therapeutic effects!
A covered Sandbox for constructive and sensory play offers great options for exploring maths through measurement. The Giant Chalkboard means there is plenty of space for free mark-making as well as recording results of experiments.
Sensory Play Area
The children at Kelsall particularly love their new Mud Kitchen and we saw them making some rather spectacular looking autumn leaf kebabs whilst we were there!
This area is complemented with an interactive Rope and Pulley Materials Mover and a set of Timber Weighing Scales, once again offering limitless opportunities for interactive and explorative STEAM learning in Kelsall's playground.
We included a Mud Box to ensure that there is always a mud supply to get good and messy with!
Physical Play Space
The new Modular Play Tower is the absolute favourite playground feature at Kelsall, by Oak Class' unanimous vote! Promoting both active and imaginative play, it features climbing walls, timber and rope steps and ladders, a scramble net and a traverse bridge.
There are a number of entry and exit points to this climber, with varying levels of difficulty.
It's ideal for younger children building their confidence and helping them to discover what they are physically capable of, and how to assess and manage risk, in a safe and supported environment.
Creative Play Area
There are now some first-rate resources for role play and den making at Kelsall too.
Our Den Making Posts are open-ended resources for the children to dress in their own style. Because they can be installed at varying heights, we could tailor them to suit the age group using this particular playground.
This means that children can create their own dens independently without much need for adult intervention.
It's great for their creativity, self-esteem and motivation and for allowing them to experience the sense of satisfaction achieved from designing, creating and then playing with their own brilliant work.
Our Giant Playhouse with Walls and Chalkboard has an open front, so young children can easily come and go as they choose.
It's up to them how they decide to use it - they love "real world" role play games. This is perfect for developing language and social interaction, interpersonal skills and understanding of the world around them and how they fit into it.
We included some Small Moveable Artificial Grass-Topped Seats, which they can move around to create a cosy den, or perhaps a bus, a cafe, an aeroplane or a doctor's surgery! It makes a beautiful outdoor reading space too.
The final touch was the addition of two Easel Tables to create a fabulous outdoor artwork area. Children can now draw inspiration from the outdoors to harness their creativity. Art in the environment is all around us and the easels are there to encourage them to express themselves and mark out their own interpretations of what they see.
For very young children, this is a fun way of allowing them to practice mark making and to start to really develop their fine motor skills.
Feedback is essential for us in helping us to continue to do what we do well. We asked the staff at Kelsall how they felt about the new development, and how their experience of working with Pentagon had been:
"It's been absolutely brilliant from start to finish. We've got an absolutely stunning outdoor area now and the children are absolutely loving it. It's appealing and attractive to the parents who are looking for a school in the area too. In fact, all of our children want to play in it because it looks so good, even though it's just meant for the little ones! We would definitely use Pentagon again. The installation guys were great - really lovely and polite and very quick getting everything done."
If you would like to transform your school's outdoor play space for learning and play, we would love to hear from you. Please do not hesitate to Contact Us here for a free consultation. You also view our amazing range of EYFS playground equipment by visiting our dedicated EYFS Page.