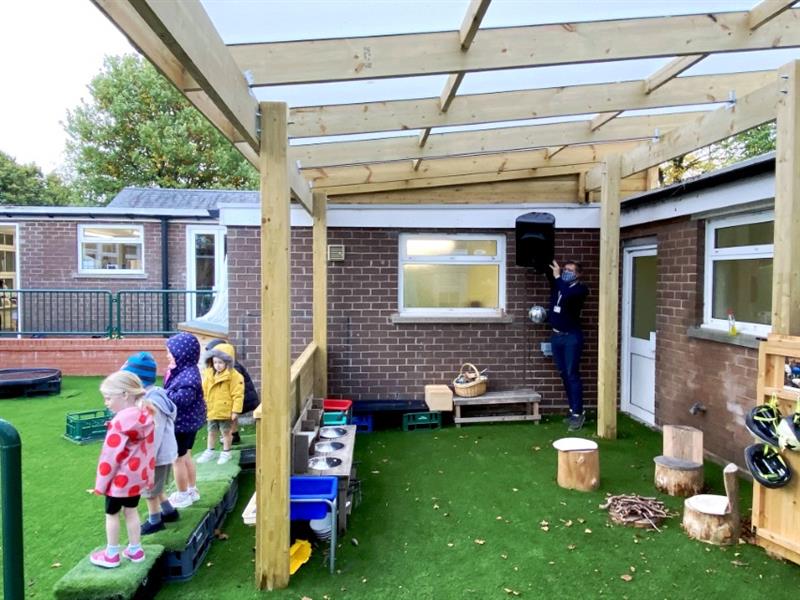 Revolutionising Free Flow Play and Enhancing The Outdoor Learning Provision
We were so happy to be invited back to Kelsall Primary School in Cheshire for a new phase of their outdoor development.
They embrace outdoor learning wholeheartedly and, in the past, we have had the pleasure of creating some really exciting, interactive outdoor play and learning areas for their EYFS and KS1 pupils.
It was wonderful to see how they are working so well and being enjoyed by the children on a daily basis.
Enhancing the Existing Outdoor Learning Provision
For this next phase of the development, the school wanted us to create covered areas, so that they would be able to use significantly more of their outdoor space all year round and in all weather conditions.
In order to achieve this, our playground consultant Ian Wood worked with Amanda Crowder, the school business manager at Kelsall Primary, to establish their exact requirements.
Ian was then able to plan the layout design of two large bespoke Timber Canopies to be installed adjacent to the school buildings, that would greatly enhance the existing outdoor learning provision.
Offering an Immediate Connection to The Great Outdoors
Each of the new Timber Canopies at Kelsall are free-standing and designed to meet building regulations approval.
They're watertight, providing shelter from the wind, rain or bright sunlight, so that children can spend substantial periods of time learning and playing outdoors - and now, planned outdoor lessons never need to suffer disruption by the weather.
One of the great things about the canopies at Kelsall is that they are easily accessible, offering an immediate connection to the outdoors and supporting both adult and child-led learning and play.
The children can free flow easily between the indoor and outdoor environments and on into their playgrounds throughout the course of the day.
Because they promote increased movement, the presence of the canopies allows the children to lead a more active and healthy lifestyle, improving their physical development as they learn.
The arrival of the canopies has created a significant increase in the amount of available space that the pupils at Kelsall have to complete their learning journeys in - far less climbing around furniture and bodies!
Allowing children access to more physical space to move around, with more opportunities to be active, is well-known for producing a calmer, happier learning environment.
Providing More Protection from Adverse Weather Conditions
Under the canopy has become a great alternative space for teaching smaller groups of children or individuals away from the main classroom, providing the option of a separate "quiet zone" for teaching if and when extra support may be needed.
It's a great place for project work too and we know that the children at Kelsall are really enjoying their STEM learning outdoors!
At Kelsall, we added timber cladding, that we planed and chamfered for super smooth sides and edges, to the front of the canopies.
This was to offer the children more protection from adverse weather conditions, so that they would be able to spend as much time as possible in a healthy, outdoor environment, with covered protection.
This has become increasingly important in recent months as schools have been adapting to new ways of teaching and learning during the COVID-19 pandemic.
Having the facility to be able to spend much more time outdoors in the fresh air throughout the day is hugely helpful.
We love how the staff at Kelsall have set up their canopies with all sorts of fabulous play and learning resources for the children - the dressing-up area is particularly inspiring and because it's undercover, it's much more easy and low-maintenance for them to look after!
The new Timber Canopies at Kelsall will stand them in excellent stead for even more fantastic outdoor learning for many years to come.
Explore the interactive outdoor learning environment created for the EYFS and KS1 children Here
Would you like to improve your school's outdoor provision? We can help.
You can find out more about what we do and view more of our playgrounds and products Here.
We have developed new ways to conduct free playground consultations safely in these difficult times. Please do Contact Us Here to book a visit.
Alternatively, you can view our wide range of stunning playground projects completed in the Cheshire area Here.