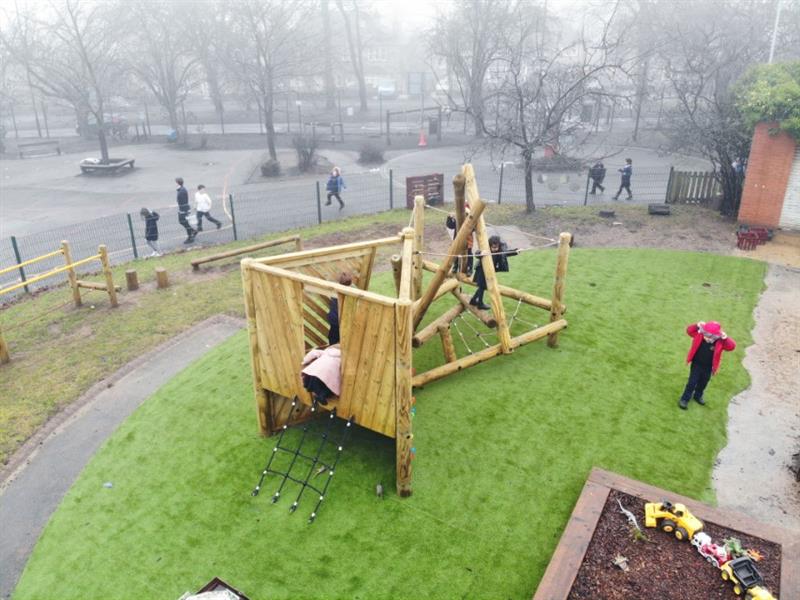 A Dynamic Active Play Environment for Primary School Children
The passionate leadership team at Kerr Mackie Primary School, in Leeds, wanted to inject more physical play opportunities into their outdoor learning environment.
With an aim to improve the children's key physical skills and overall fitness, our playground consultant, Meg Booth, was raring to go with all of her exciting ideas that would achieve the objectives of the project.
A Climbing Frame for Adventurous, All-Weather Games
As the main aim of the project was to provide adrenaline-fuelled playtimes through motivating mental and physical challenges, the school decided that a log climbing frame would suit the space perfectly.
They didn't just want a standard log and rope climbing frame, however - they wanted something that would provide plenty of challenges. As a result, we installed our amazing Harter Fell with Platform and Net!
This exciting climbing frame inspires children from all age groups to have a go and get active as their imaginations run wild. What should we turn the area turn into today? A jungle? A forest? The inside of a bubbling volcano?
Traversing through the multitude of routes and crossing points on offer, children can swing from the ropes, tip toe and balance across the logs, scramble up the net or take a rest on the platform.
It's all good fun and does wonders for improving climbing confidence, upper and lower body, fine and gross motor skills, co-ordination and balance!
Surfacing for All-Weather Adventures
Instead of just surfacing the area underneath the new active play challenge, we surfaced the whole space to create a practical and attractive all-weather play space.
Our soft Artificial Grass Surfacing is perfect for floor-based activities!
The children can climb under the frame to build dens, relax away from active play games and socialise, perform cartwheels or sit and play with loose play resources.
Kerr Mackie are more than delighted with their new climbing frame and are already seeing improvements in their children's creativity and key physical skills!
Are you looking at improving your children's physical play opportunities? View our huge range of active play products here and create your own wish list.
Alternatively, you can Contact Us Here to begin your journey with Pentagon Play.
View all of our playground developments completed in the Leeds area on our dedicated Leeds Page Here.