An Inspiring Playground For Learning and Play
Our Director, Andy Snell, worked with King Charles Primary School in Walsall to further improve their playground environment.
Before our development, the school had a huge concrete space that lacked engaging resources for both physical and imaginative play. With so much space available, there was huge potential to transform the area into an incredible outdoor learning environment.
Accessible in All Weathers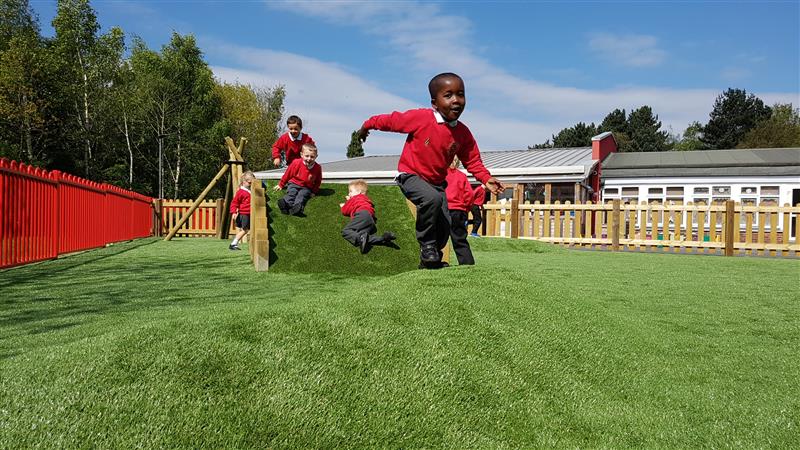 To turn the space into a safe all-weather environment, we re-surfaced the entire area with our natural looking artificial grass. Our artificial grass includes an impact layer underneath to protect children from falls and help give them extra confidence then taking safe risks.
Moreover, we created artificial grass mounds to add vertical interest to the area. This has created a hilly landscape which will further fuel children's imaginations.
King Charles' Physical Development Zone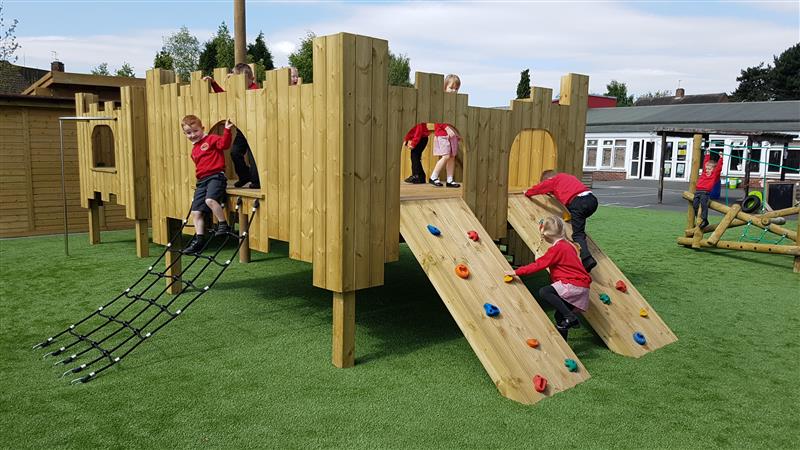 For physical development, we installed our magnificent Langley Play Castle and Kinder Scout Log Frame Climber.
Our Langley Play Castle is something very special. It is a magnificent wooden castle structure which offers plenty of exciting and challenging elements and versatile spaces for some awe inspiring outdoor play.
Children can scramble up to the top using nets, climbing walls and ladders, charge around the battlements and slide back down the chute.
As a special addition, we installed a tall flagpole to the centre of our Langley Play Castle.
Our Kinder Scout Climber encourages inclusion and positive play behaviours. Accessible from every angle, it is an open ended and free flowing resource with room for everyone.
You can view our amazing range of active playground equipment here.
A Zone For Language and Communication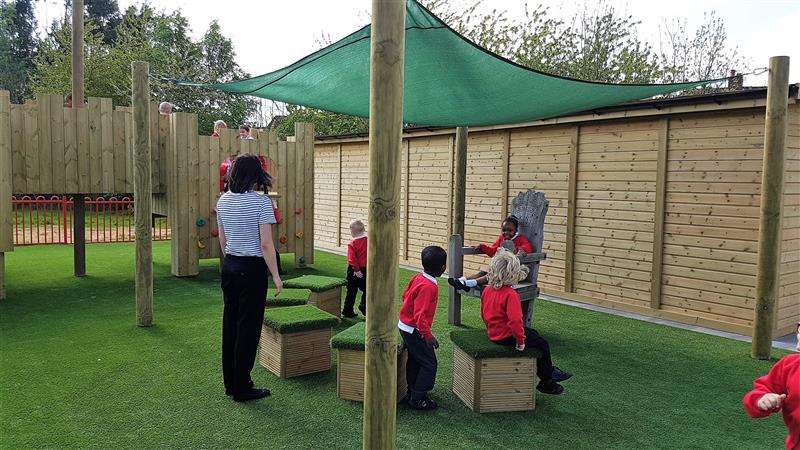 We created the perfect zone for language and communication with the addition of a shade sail on timber posts, artificial grass topped seats and a story telling chair as the focal point.
The artificial grass topped seats complement the green look of the area and offer versatile and alternative seating that can be changed and adapted regularly to suit your teaching needs.
Our Shade Sail is perfect for long summer days playing outdoors when you need a little shade. This has helped create a great spot for children to gather for group sessions, show and tell and pretend play.
Teachers and children can design their own layout to suit learning groups… get ready for some magical outdoor reading sessions.
Storage, Construction and Role Play Area
We installed three of our Play Cabins to provide plenty of storage space for equipment, toys and learning resources.
Not just for storage, our Play Cabins include wonderful bubble windows, chalkboards and a play counter for role play activities. A home for three bears, a pirate's cave, or a dragon's den? A shop, a hospital or a restaurant? There is no end of role play fun with this cabin!
Children can now use the Play Cabin to self-select resources and tidy up after play which is a great way to give children responsibility.
We added a Timber Canopy to the front of the cabins to create a free-flowing environment from inside the cabin to outside.
Den Building Zone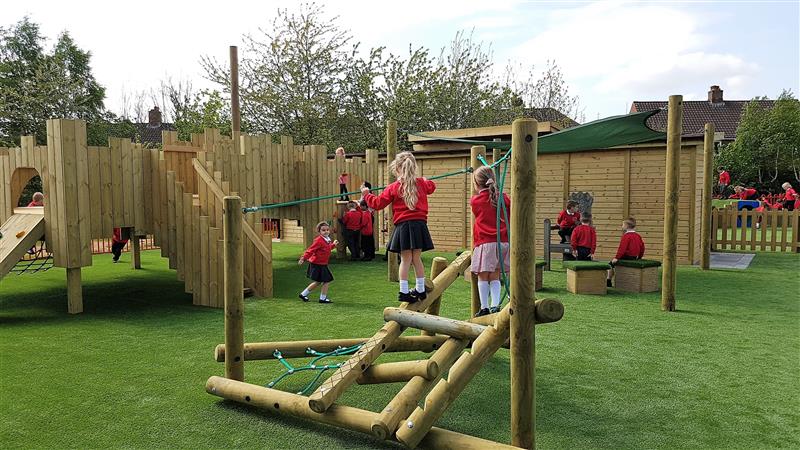 For den-building activities, we installed our Wigwam Posts. These can be transformed into a cosy hideout or an outdoor reading spot. Or even a maths hub for exploring shapes, angles, symmetry… The opportunities are endless.
Natural Play Zone
To create a zone for natural play, we added two planters to the corner of the environment. Children can now brighten up the area with a range of colourful and textured plants and flowers.
Teachers can involve children in selecting, planting and caring for plants in these beautiful natural wooden planters.
We loved working with St Charles Primary School on this amazing project and hope the children embrace their new playground with joy and enthusiasm.
Are you looking to improve your playground environment? Simply fill out our Contact Form and we will be in touch to arrange a free consultation and design presentation.