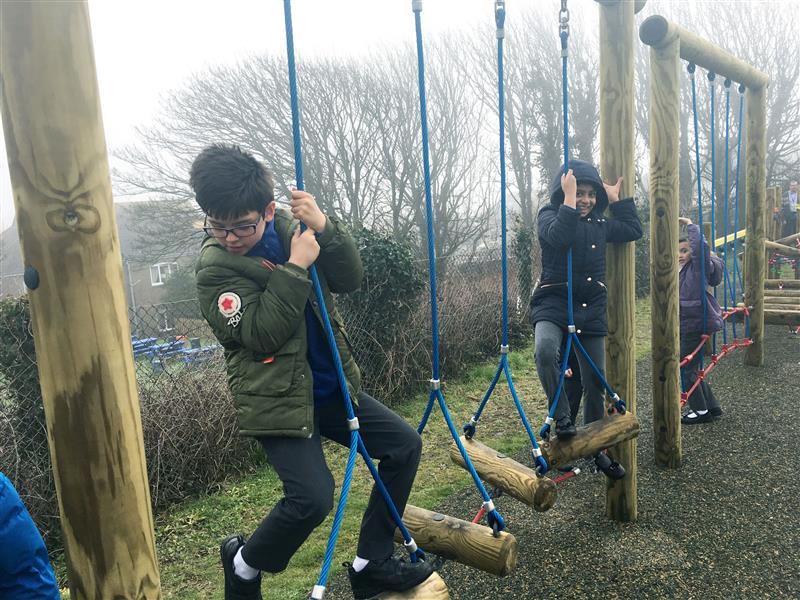 Transform Playtime with a Trim Trail and Sports Pitch
Our Playground Consultant, Donella Felton, worked carefully with Our Lady of Lourdes Primary School in Brighton, to completely re-energise their playground.environment
The redevelopment includes a new Sportsturf Sports Pitch, a challenging new multi-activity Trim Trail, and smart new surfacing throughout, including an upgrade to the surfacing and fencing around the school's nature pond.
All the children from EYFS through to Key Stage 2 are clearly benefiting from the vast amount of bold, bright and inspiring space that they now have to play, learn and be active. After we had finished installing the new playground, we went back to visit the school to see how the areas were working out for them.
Head Teacher Paul Beverton described the new outdoor areas as "an amazing transformation", and said:
"This must have been one of the most exciting new starts to a school year for all sections of the school community - children/staff, parents/carers and governors alike. The teachers took their classes out one at a time. The children were reminded of the different activity zones and then could not contain their excitement any longer! They can now run on it, walk on it, lie down on it, cartwheel on it, play football and other ball games on it, skip on it, roll on it! It has been such a liberating experience for all the children."
The new Sports Pitch
The new Sports Pitch was installed with our specially designed Sportsturf, an artificial grass for schools which creates a safe, mud-free, all weather surface that can be used for sporting activities all year round.
It is made to high standards which pass FIFA's rigorous durability tests, and it ensures far fewer grazed knees!
Our Lady of Lourdes chose to have their pitch installed with line markings for football and netball to create a proper multi-sports area.
A MUGA is an ideal way for schools to spend their PE and Sport Premium. It's a long term and cost effective investment which opens up many opportunities for schools to improve their sporting provision as a whole.
Once the pitch was installed, Our Lady of Lourdes arranged a very exciting special visit for the children, staff and parents/carers, from GB athlete Shona Richards, 400m hurdler and holder of the British junior record and double world junior silver medalist.
Shona held an assembly about her Olympic journey, before joining the children on the Sports Pitch for sporting activities to raise funds for new sports equipment to use on the pitch.
A truly inspiring and memorable experience for them all!
You can view our range of sport surfacing and Multi Use Games Areas here.
A Challenging Trim Trail
The next improvement to the school grounds was the installation of a brand new Trim Trail.
Pentagon's hardworking team dismantled and safely removed all of the old worn out trail, along with the old chain link fencing.
We cleared out and resurfaced the area with our Playbond, an impact-absorbing surface playground surfacing option, which helps to minimise injuries should children fall.
It also prevents mud and weeds from penetrating through it, so the area doesn't become overgrown and the equipment that stands on it can be used throughout the year.
Onto the new surface we installed a thrilling new Trim Trail, which comprises the following elements:
Climbing Walls
Wobbly Bridge
Monkey Bars
Rope Traverse
Net Traverse
Rope Swing Traverse
Stepping Logs
Children are enjoying using the new Trim Trail so much, each class now has a weekly rota so they know whose turn it is!
They use it for lunchtime and playtime activities, as part of the school day and for after-school clubs.
Our Trim Trails are the perfect physical education resource for Early Years, KS1 and KS2 children, encouraging physical development and exercise, and presenting multiple mental challenges too.
Nature Pond Improvements
The next phase was to improve access to and safety around the pond area, to make it available for regular outdoor and natural learning.
There is so much that primary age children can learn about the environment, ecosystems, life cycles and the world around us from a busy pond habitat, so it made sense that the school wanted to make the most of this soon-to-be beautiful area.
We installed Playturf Artificial Grass in the area leading up to the pond. This is designed to create a mud free area that doesn't become waterlogged and slippy.
Now, under supervision, the children can get right up close to the pond to explore all its inhabitants. The new bow top timber fencing and fence gate has really smartened up the area and improved security overall.
In celebration of their outdoor redevelopment project, our Lady of Lourdes brought the whole school community together for a grand opening and blessing event, attended by Bishop Richard and Marie Ryan, Director of Catholic Education and Schools for Arundel and Brighton Diocese.
It was a wonderful moment for the school - they even had special cakes made to look like the pond area and sports pitch! Mr Beverton commented:
"Crucially, these developments are important for all our children, as the facilities are for them to positively impact further on their learning, attainment and progress. We are so delighted the children and parents/carers are enjoying the changes we are making to our school to truly make it a place to live, love and learn!"
If you are interested in transforming any part of your school's outdoor environment, please do not hesitate to get in touch with us by completing our Online Form.
Alternatively, you can call 01625 890 330 (North Office) or 0117 379 0899 (South Office).