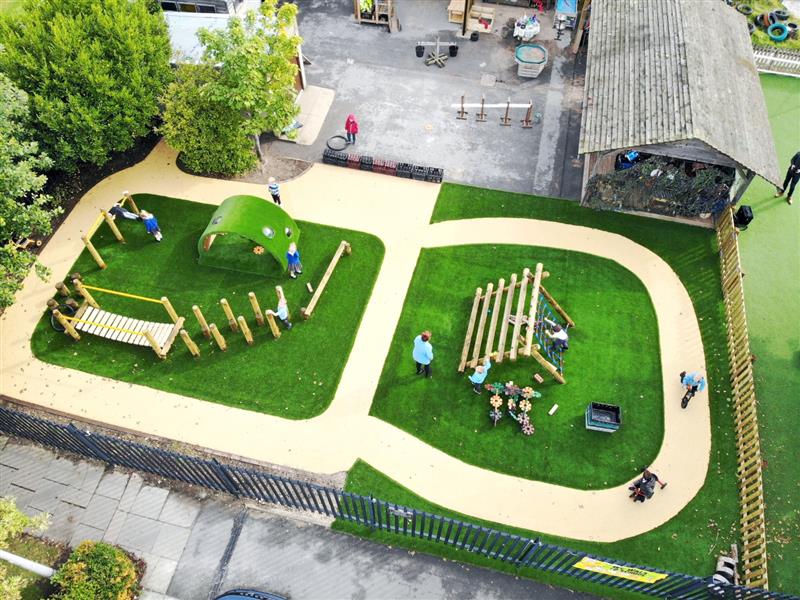 A Magnificent Outdoor Learning and Play Environment for Nursery Children
Our playground consultant, Dan Young, assisted Lisle Marsden Childcare in the transformation of their nursery garden into a magnificent, natural-looking outdoor learning and play environment.
Previous to our development, the South Humberside nursery garden was a combination of tarmac, bark and loose play resources. The staff felt that it didn't fully stimulate the children or target key areas of the Early Years Curriculum.
They wanted equipment to encourage the children to participate in imaginative play and healthy, physical play to improve their fitness.
Physical Play Equipment
The new Trim Trail consists of an Inclined Balance Beam, Walk and Stretch, Clatter Bridge, Stepping Logs, Roll Over Bars and Log and Net Climber.
Arranged in such a way, the children can begin to develop their fine and gross motor skills, upper and lower body strength, co-ordination and core stability as they tackle the exciting adventure trail.
When crossing the Clatter Bridge, the children have been carefully holding onto the handrails and silently tip toeing across the timber panels to ensure they don't wake up the troll hiding under the bridge: they love bringing imaginative play and stories to life outdoors!
Around the new Trim Trail Equipment, we installed a natural-looking Wet Pour Roadway to create a dedicated space for the children to race their trikes around. They love racing bikes and trikes around the garden as if they are in Radiator Springs competing for 1st place in the Piston Cup.
A Roadway serves more purposes than just contributing towards physical development though. Practitioners are able to teach important road safety skills within a safe environment, which the children can practice during playtimes.
The roadway has been a fantastic outdoor resource for instilling road safety knowledge in the children and enhancing their understanding of the world.
Surrounding the roadway and underneath the active play equipment, we have installed our vibrant Artificial Grass Playground Surfacing to ensure the area is as natural looking as possible, but also enable the children to access their outdoor learning environment throughout all weathers.
Den Making and Construction Play
Of course, the children needed an area to relax away from active play and simply rest, which is why we installed our amazing Hill Den - the perfect playground den for this young age group.
This smaller den enables the children to simply relax and share a picture book, participate in construction play or practise their fine motor and problem-solving skills as they use the den making holes to thread resources through to create their secretive den.
Providing Shelter and Shade with a Timber Canopy
Directly outside of the classroom doors, we installed a huge Timber Canopy to enable free-flow play from indoors to outside.
The new canopy provides practitioners with a dry storage space for loose play resources as well as an area where the children can play and learn, while protected from both the sun and rain, ensuring they can access the great outdoors all year round.
We love Lisle Marsden Childcare's nursery garden development and Dan is extremely proud of the design and installation!
If you'd like to transform your garden with a variety of Nursery Garden Outdoor Play Equipment, we'd love to help! Please Contact Us for a free, no-obligation quotation from one of our expert playground consultants.