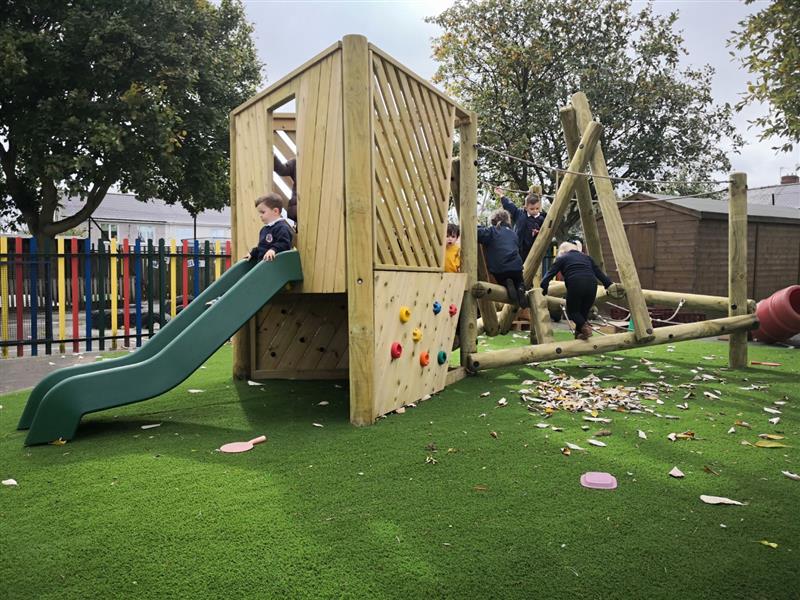 School Climbing Frames For EYFS, KS1 and KS2
Our playground consultant, Meg Booth, worked in partnership with Ludworth Primary School to provide a much-needed boost to their Early Years and Reception outdoor play area.
As a result, we were able to create a child-centred play area with ample exploration opportunities, and a mode to endorse physical development and growth.
We also transformed the Key Stage 1 and 2 playground by installing a new and exciting Web Explorer Climbing Frame, offering plenty of physical tasks to keep children entertained, whilst simultaneously refining their fine and gross motor skills.
EYFS Climbing Frame with Platform and Slide
For the Early Years and Reception playground, we installed our fantastic Harter Fell Climbing Frame with Platform and Slide
This brilliant climbing frame delivers hours of fun for children to build their muscle strength, balance and coordination.
It also inspires healthy competition with peers and collaborative play by encouraging role play activities.
The additional, top layer of Artificial Grass Playturf, offers all-year-round use, and a natural look and feel for the children when playing.
KS1 and KS2 Climbing Equipment
We installed the new, challenging and exciting Web Explorer Climbing Frame for the Key Stage 1 and 2 playground at Ludworth Primary School.
We used Playturf Safety Surfacing with shock pad tiles to minimise the risk of injury and maximise safety.
This brilliant apparatus delivers a variety of trials for the children to overcome with confidence.
The size and tasks endorse group work, competition and better communication skills in children, as they can help one another progress and discuss strategies to improve.
Most importantly it helps children advance their physical development, balance and co-ordination skills whilst having lots of fun!
The benefits of outdoor play and exercise are well known and the children at Ludworth Primary School are delighted with their fresh and motivating outdoor play areas, with physical challenges, helping them to release lots of endorphins.
Are you looking to develop your playground to further promote active play outdoors? We have an amazing range of Climbing Frames and other Active Play Equipment which will encourage children to build their key physical skills. Contact Us Here to arrange a free consultation with one of our expert Playground Consultants. Alternatively, you can call 01625 890 330 (North Office) or 0117 379 0899 (South Office).