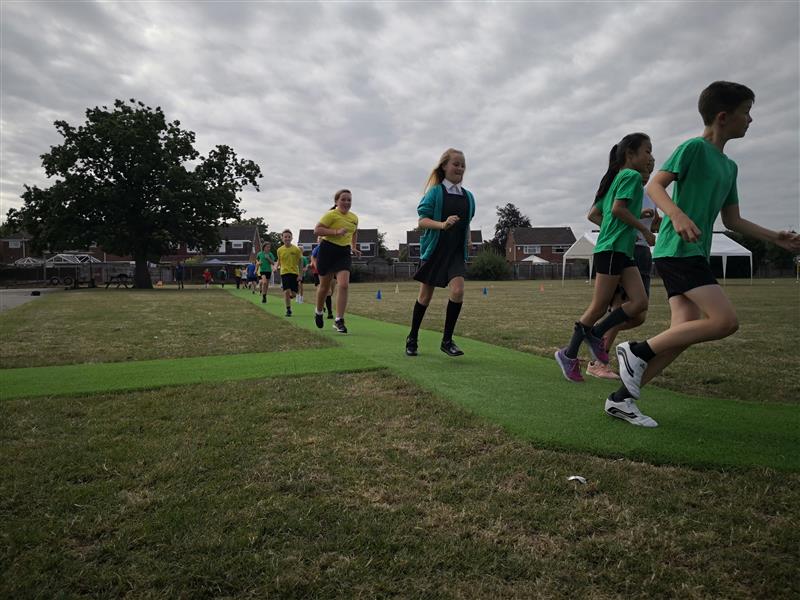 A 325 Metre Daily Mile Track
Pentagon Play's Owner and Founder, Andy Snell, worked with Meadow Community Primary School (rated 'outstanding' in a recent Ofsted inspection), to create an all-weather Daily Mile Track around the school field.
Meadow Community Primary School requested an elected outdoor pathway to allow children to complete their Daily Mile in all-weathers.
Artificial Grass Daily Mile Track
We were able to achieve an attractive, visually-inspiring and practical Daily Mile Track, that is 325 metres in length and 1.2 metres in width.
The pathway provides a distinct trail which encompasses the entire field, with a path returning to the tarmac playground.
Our Artificial Grass Daily Mile Track can be used in all-weathers enabling year round access for the children.
It's durable and hardwearing qualities lets it deal with the rigors of recurrent use, with minimal maintenance and upkeep.
View our full range of The Daily Mile Tracks here.
The Benefits of a Daily Mile Track
Installing a designated area for children to complete the Daily Mile Initiative at Meadow Community Primary School will be advantageous in progressing physical, emotional and general wellbeing in pupils.
It offers fun, safe and suitable apparatus for students at Meadow Community Primary School to become active and move, whilst gaining much-needed Vitamin D outdoors.
The Daily Mile Track is also a valuable resource for P.E lessons, training and sports day. It's the perfect solution for children to partake in walking, hopping, skipping, jumping and running challenges, or even engage in some physical activity before and after school.
Pentagon Play have received lots of positive feedback from the pupils and teachers at Meadow Community Primary School who are so pleased with the Daily Mile Track. We couldn't help but take a few pictures of happy students using the pathway and taking advantage of its versatility.
If your school is looking to install a fun-tastic Daily Mile Track to endorse and inspire children to be fit and healthy, we provide several options to suit the requirements of your school which you can view here.
For more information, Contact Us for expert advice and a free, no-obligation consultation.