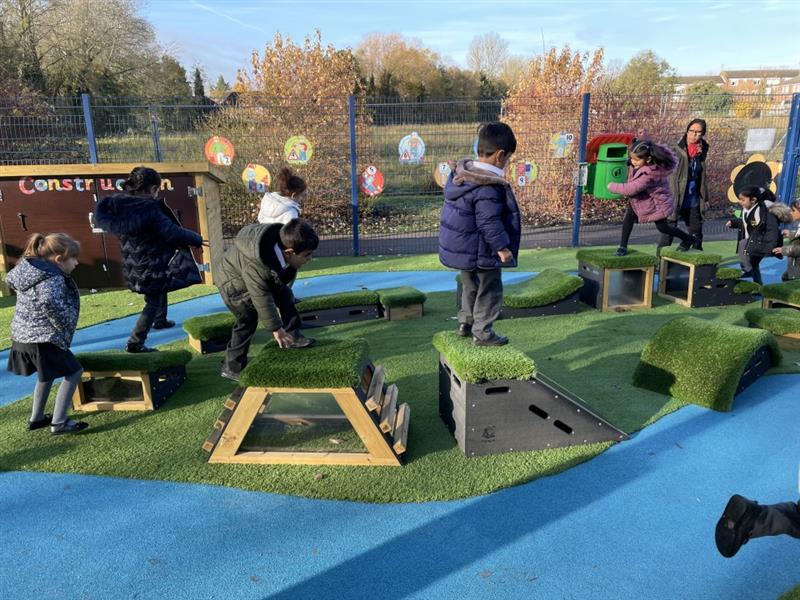 The Ideal Reception Zone for Montem Primary!
What a transformation! Not one but three new playground spaces for the lucky EYFS classes at Montem Academy, a Park Federation Academy Trust Primary School in Slough.
This exciting landscape redevelopment project was all about making the most of Montem's outdoor spaces for learning through play - with a fabulous playground of their own for each of the Nursery and Reception classes.
Our Director Sam Flatman worked with Montem's Director of Standards, Lauren Pusey, to establish their needs and priorities for their outdoor learning environments. Sam's design ideas lead to the creation of a magical 'Green Islands and Blue Rivers' theme running throughout each of the new all-weather spaces - setting the scene for some wonderfully imaginative, active and investigative play.
Montem Academy was a really interesting project for us to get creative with - they wanted us to implement a 'mirrored' playground design on each side of the building, to reflect a consistent approach throughout the outdoor learning areas. This has given the school grounds stunning visual appeal, with a combination of bright blues and greens across the surfacing perfectly complementing a selection of our beautiful natural timber playground structures.
Row Row Row Your Boat, Gently Down the Stream…
Our Wetpour playground surfacing is a wonder to work with - we can lay it to any design, so it was perfect for creating the 'riverways' across each of the playground spaces. It's a smooth, hardwearing and impact-absorbing rubber surfacing option, making it an ideal non-slip base for children to run around and ride on their wheeled vehicles and imaginary boats - if you see a crocodile, don't forget to scream!
We contrasted this with our super-soft and tactile, self-draining Playturf Artificial Grass, to create larger 'island' open zones for different activities to take place within. This combination of surfacing types laid throughout has transformed each playground into a completely all-weather space, where the children can enjoy their outdoor play and learning all year round, come rain or shine.
Merrily Active, Merrily Active…
In the central 'islands' in all 3 of Montem's EYFS playgrounds, we created active play zones with a set of versatile Get Set, Go! Blocks and a cushioned Climb Through Tunnel Hill. These are top resources for helping younger children to improve their gross motor skills, balance and coordination through playful obstacle challenges. The Get Set, Go! Blocks have easy-grip sides so teaching staff can move them around to set up different physical challenges as the children progress - always keeping things interesting!
An open-ended Harter Fell Climber in both of the Reception playgrounds provides exciting opportunities for the children to go climbing! Our ever-popular Harter Fell Climber was a great choice for Montem's infants - the non-prescriptive log and rope frame supports imaginary play, and provides a solid foundation upon which they can build their grip strength, core stability and fine and gross motor skills.
The Nursery class in turn have been treated to a Pinnacle Hill Climber with Platform. This is a lower-level log and rope climber built especially for very young children just starting out on their climbing adventures. It doubles up as a brilliant base for den building and creative, problem-solving games too!
Playing Like a Dream…
Role play games are an essential component of PSED, and can be well used for exploring all topics across the EYFS curriculum at greater depth.
The children at Montem Academy are clearly enjoying the benefit of some fantastic role-play based learning experiences, with a brand new Playhouse in each of their playgrounds.
Our Giant Playhouse features the added bonus of an internal Chalkboard for mark-making practice, and built-in benches - making this an inclusive space for groups of children to play together, learning the value of turn-taking and sharing ideas.
Our unique Walk and Talk Seating Circle is a really special feature in each of Montem Academy's Reception playgrounds. Something of a social hub, the artificial grass-topped seats and colourful translucent back panels provide sensory interest as the children step up and down around the circle.Here they can build on their socio-communicative skills in a relaxed environment, where they're free to move around and chat together.
The Walk and Talk Seating Circle is a really popular resource for children with some Special Education Needs, who tend to process information better, and feel more comfortable learning 'on the move'.
If You See Children Having Fun…Pentagon Have Been!
Our Interactive Fence Panels bring fun and novelty to learning to read and write outdoors - and the giant chalkboard and whiteboard panels at Montem Academy have allowed the children to really go to town with their mark-making skills and artistic flair! Each panel is on wheels too, so the teachers can move them around as they wish to suit their set up and create zones for different learning topics and themes.
Of course a well-equipped outdoor learning environment needs plenty of storage space for all the small-world play resources, craft items, building blocks, PE equipment, wheeled vehicles, and everything else the children love to play with!
Our Self-Selecting Stores offer a smart solution for keeping everything safe and readily accessible at any moment. Montem Academy chose them in varying sizes to promote independence in each of their EYFS playgrounds - with shelving built within reach of little hands that want to choose their own resources, and take responsibility for keeping their much-loved new playground tidy too!
We loved working with Montem Academy to help them create their ideal outdoor world, and we hope it will bring much joy to the children's learning through play for many years to come.
If you too are looking to provide a multi-purpose, all-weather outdoor play and learning area for your pupils, then Contact Us Here today!