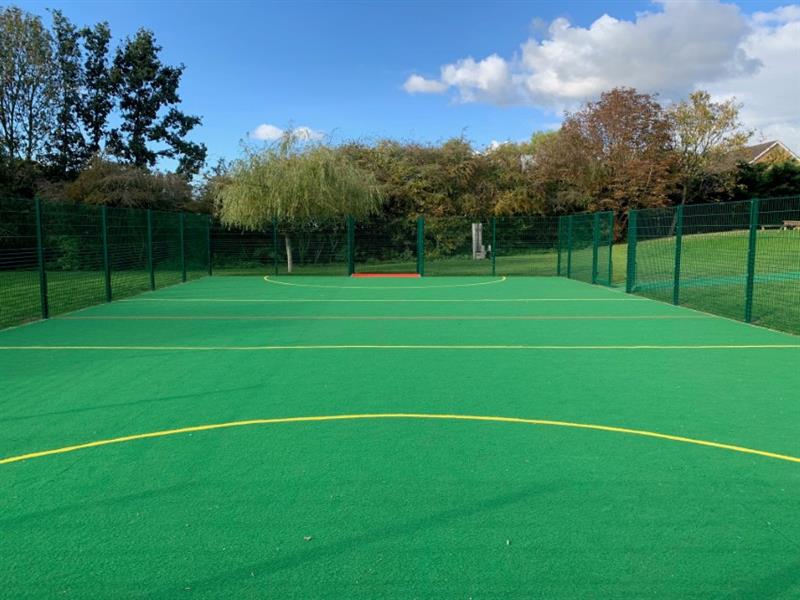 Revolutionising The Sporting Provision Through the Installation of a MUGA Pitch
After completing a purpose-built EYFS playground development for Oliver Tomkins CE Primary School in Swindon during 2018, we were delighted to have been invited back to begin a new exciting playground development that would benefit the whole school.
Our playground consultant, Becky Hazell, worked alongside the school to create an enclosed sporting space that would not only extend the excellent sporting provision in place but also benefit children's physical and mental health, even during adverse weather conditions.
A brand new 20m x 12m Multi Games Area has created a fabulous sporting facility in their school grounds and provides a wonderful opportunity to spend more time outside during the school day!
A High-Quality Pitch to Extend the Sporting Provision
Our installation team began the base works – excavating and preparing the school field before laying our sport base work.
This helped to ensure that the surface is secure, self-draining during periods of heavy rain and provide excellent support for a wide variety of sports.
Onto this, they kitted the new pitch out with:
Our Multi Sport, All-Season artificial grass surface, which has passed FIFA's rigorous durability tests.
Bright in-line sport markings to facilitate a number of different team games on the pitch.
2m high sports mesh fencing to ensure balls stay in the enclosed space.
A double gate for easy access
Recessed goal ends in two different colours to prevent arguments over which team have scored a goal!
To create easy access between the sporting facility and the existing playground, we installed an all-weather pathway linking the two together. There is plenty of space for the children to walk along without getting wet and muddy on the field during the winter months.
The pitch is perfect for inspiring all pupils to participate, succeed and excel in competitive, team sports, whilst providing plenty of opportunities for pupils to improve and develop their fundamental movement skills, agility, balance, co-ordination, good sportsmanship and sporting skills throughout all four seasons!
It's a wonderful new outdoor facility which has really transformed the sport offering at Oliver Tomkins, and with many classes able to access all-year round active activities, it's creating a lasting legacy that can be enjoyed by many generations of pupils for many years to come.
Explore the EYFS playground development completed at Oliver Tomkins Primary School Here.
Would you like to talk to us about installing a MUGA Pitch in your school grounds? As a long term and cost-effective way to spend your PE and Sports Premium, our MUGAs can be installed to suit your requirements.
We make it easy for you by managing the entire process from concept, to design and installation. Please do Contact Us Here for more information.
If you would like to view more examples of our work in Swindon, visit our Swindon page here.