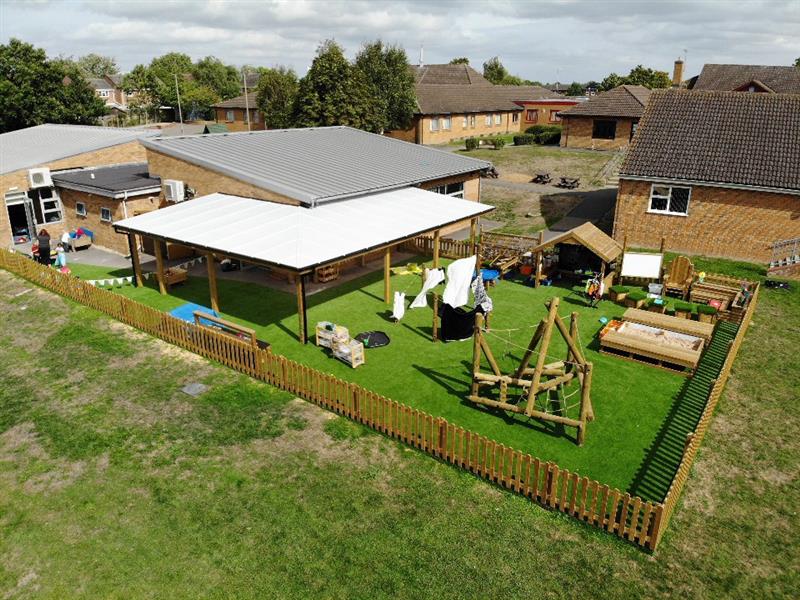 A Purpose-Built EYFS Playground Accessible In All Weathers
We were delighted to read the positive comments about our Playground Equipment installation at Oliver Tomkins Church of England Infant School, in their back-to-school announcement this September:
"So much to celebrate and shout out about for our school!! Our new EYFS Playground is open and it looks amazing. The purpose-built outside learning area is so exciting and enables us to provide children with a really new and exciting opportunity for purposeful play outside."
Our experienced Playground Consultant, Becky Hazell, worked closely with staff at this Infant School in Swindon, Wiltshire, to support them in achieving the dream outdoor play and learning scheme they had all hoped for.
The school identified one of their key priorities for developing the new area as making the outdoor space as accessible as possible in all weathers.
They wanted to create a natural looking, open and sheltered learning space, that could be used as part of teaching and learning as much as free play. All weather surfaces to maximise year round use of the outdoor space were essential.
Having worked as a primary teacher herself, and thanks to her own passion for outdoor learning and for nurturing young minds, Becky was able to understand exactly what the school wanted and needed.
She had a clear vision for developing an engaging outdoor learning space at Oliver Tomkins, in keeping with the Early Years curriculum.
Our end design included specific zones, each with different learning focuses, whilst still leaving spacious areas of free space for children and staff to use freely for loose part play, and imaginative and creative play. Here's what we did:
Timber Canopy and All Weather Surfacing
We supplied and installed a Bespoke Early Years Outdoor Learning Canopy - a free-standing canopy to fit in with the existing building line, and with a hip join to create an L shape to ensure maximum coverage.
The polycarbonate roof allows plenty of light to shine through, and with a rainwater guttering system, it ensures that the area stays sheltered and dry.
It's a lovely big canopy area which provides shelter from the elements and offers a wonderfully versatile space for year-round outdoor learning. There is loads of space for children to move around freely underneath.
We avoided using too many fixed items under the canopy so that the teachers at Oliver Tomkins can lay out their own resources, tuff spot tables, water tables and sand trays as when required. This way, the space can be ever changing and fit in with learning topics.
We also supplied and prepared the base works and installed Playturf Artificial Grass throughout the area. We included a safety attenuation layer beneath the playturf. It's self-draining and it helps to prevent injury from slips and falls.
No more problems with waterlogged fields and playgrounds - just a beautiful green play surface that can be used throughout the year, no matter what the weather!
You can view more examples of our huge selection of School Canopies here. If your looking for a surfacing solution for your playground, visit our Playground Surfacing Page here.

Playground Storage and Fencing
We fenced around the entire outdoor playground area with our attractive Timber Bow Top Fencing, with a single access gate incorporated.
The first impression as you walk into the area is of a lovely big green open space. The natural wooden fencing allows a clear line of view out to the beautiful green fields and trees all around the perimeter.
It's a really beautiful space for young children to come out to play and learn, and to connect with nature and the outdoors in a safe environment.
Our Walk-In Store with Chalkboard and Whiteboard doors is essential for storing play items and encouraging children to self-select resources for child led play.
They can practice mark making too with the chalkboard and whiteboard - each offering a beautiful blank canvas for the children which can be wiped down and used again the next day.
Our full range of Playground Furniture, Fencing and Seating Solutions can be found here.
Harter Fell Log Climbing Frame
An exciting feature piece - we have installed our Harter Fell Climber to one side of the playground.
It's an ideal climber for this age group, with a log climbing frame, ropes and a net scramble presenting multiple balance, strength and agility challenges and really helping to improve a child's overall physical development.
An excellent resource for PE lessons as well as a playtime favourite at Oliver Tomkins.
View all of our exciting Playground Climbing Frames here.
Messy Play and Investigative Learning Zone
Messy and exploratory play is a really important part of learning, particularly in EYFS and at Key Stage 1.
An outdoor playground is ideal for messy play resources, not just because it is easier to set up and clear up, but also because it provides plenty of space for children to move around and experiment without affecting other learning activities.
At Oliver Tomkins, we included the following resources in their messy play and exploratory learning zone:
Mud Kitchen - for creating mud pies and potions and enjoying some great role play.
Medium Dig Pit and a Covered Sand Box - for developing fine motor skills, developing creativity, therapeutic play, and exploring various scientific and mathematical concepts such as weight, mass, volume, and properties using different containers and materials.
Tuff Spot Table - ideal for displaying and exploring different items of interest, natural materials, artwork and sensory exploration.
Water Wall - one of our top products for kinaesthetic learning. Cleverly designed to allow children to get hands on and build their own course of channels for the water to flow through.
Damming Station - to complement the Water Wall, our Damming Station can be connected to it to create even further channels for the water to travel in different directions. The children are really enjoying their experiments with this - blocking the water with different resources and discovering what happens, setting and testing their own hypothesis.
We have a huge range of exciting Mud, Sand and Water play products which you can view here.
Construction and Den Building Zone
Our brilliant design and build teams have created a first rate Bespoke Construction Zone Work Bench for the children at Oliver Tomkins.
Their teachers have filled it with a great choice of construction toys, so the children can now enjoy all their favourite building activities outside in comfort, with loads of space to store and work on their creations.
In addition to this we installed 5 wooden Den Making Posts.
The children have already been getting creative and solving problems with all sorts of props, sheets and blankets to make their own dens - they do look superb and lots of fun!
Imaginative and Creative Playground Equipment
We have installed a stunning Giant Playhouse with Walls, Seating and Chalkboard in this development zone.
The teachers have customised it beautifully with colourful bunting and written displays, and have equipped it with an exciting dressing up rail and props for role play - it looks absolutely brilliant!
The children at Oliver Tomkins are going to be very busy exploring and discovering roles, developing their language and their understanding of people in the world around them and the influences that they have.
It's very important for their social interaction, for developing relationships and for helping them to build their own confidence and understand how they fit in to the jigsaw.
A large wooden Story Telling Chair and five Small Moveable Artificial Grass-Topped Seats placed together provide a peaceful and comfortable reading zone.
Added to this is a gorgeous Corner Planter Bench which Oliver Tomkins have chosen to fill with some beautiful sensory plants to further add to the natural feel and aesthetic appeal of the space.
Children can sit comfortably and listen to a story in the fresh air, or build their confidence speaking or reading to the group themselves. A Giant Whiteboard on Posts also helps to improve literacy and handwriting.
We are thrilled to see this development come to life, and to see how much it is already benefiting staff and pupils alike at Oliver Tomkins CE Infant School. Come wind, rain or shine, there is now no stopping them from getting outdoors and enjoying some great learning and play every day!
Our full range of playground seating can be viewed here.
If your outdoor learning environment needs some new inspiration, Contact Us Here, to arrange a free consultation with one of our playground experts. You can view more of our incredible EYFS developments and resources here.