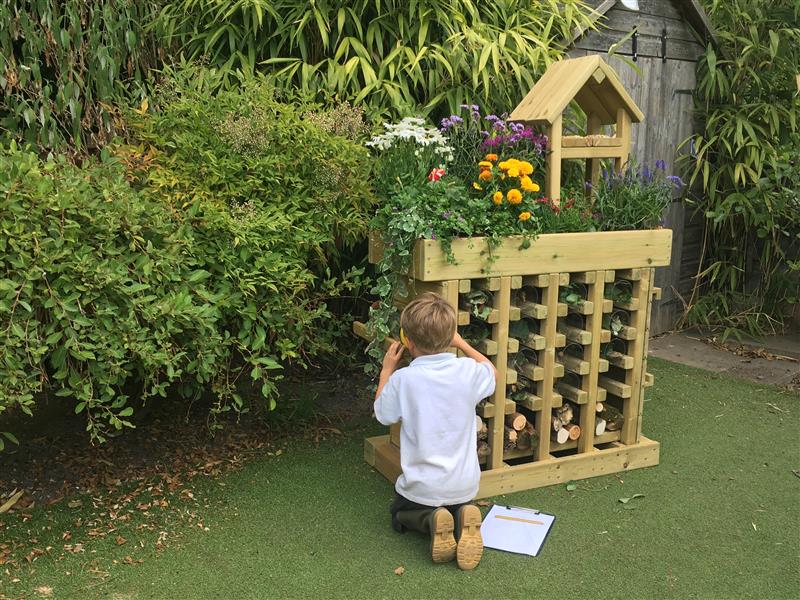 The New Pentagon Play Bug Hotel at Lindow Primary School
Pentagon Play's amazing 'Products Team' has worked tirelessly over the past few months to create an incredible Bug Hotel unlike anything on the playground market.
During development, we gained invaluable input and information from educational experts, teachers and bug specialists who opened our eyes to many new ideas.
Providing the naturally occurring nooks and crannies for mini-beasts to shelter from predators and weather, our new Bug Hotel offers five star accommodation and provides the perfect educational platform for children to learn about habitats and different types of invertebrates.
It's time to learn more about the amazing new features of our Bug Hotel...
16 individual 'bug pods'

Our Bug Hotel includes 16 removable polycarbonate tubes (or 'Bug Pods' as we like to call them) for homing different types of invertebrates.
Depending on the size of your class, each child or pairing can be allocated their own 'Bug Pod' giving them full responsibility for creating the perfect home for mini-beasts and creepy crawlies.
The children must work in pairs to fill their pods with recourses they both feel will attract a host of invertebrates.
Encourage the children to wander over to a natural area of the playground to fill their pods with different medium of bark, twigs, leaves, rock, stones, hollow cane and grass; some dry and some damp to create the perfect home for creepy crawlies.
Once their pods are full and the insects have moved in, children are able to investigate, observe and identify what is living in their hotel through the clear pod.
We can also provide the Bug Hotel without the polycarbonate tubes giving schools an alternative option. Instead of the tubes, you can encourage children to collect plastic bottles and use them as a home for creepy crawlies.
Each bottle must be cleaned carefully with their label removed and mouth cut off to ensure children can fill their bottles with the correct resources for mini-beast habitat.
Planting Area
Our Bug Hotel contains a large planting area on the roof to create a pollinator friendly environment for bees and other insects.
Children can plant a selection of seeds and watch as their plants and flowers begin to grow... a fantastic way to introduce children to the plant lifecycle.
From herbs, lavender or even vegetables; children can choose to create a sensory garden, a vegetable garden or even a garden which will attract Bees and Butterflies.
The Bird Feeding Table
Feeding wild birds is an enjoyable experience for all young children.
With a lovely Bird Feeding Table situated on top of the Bug Hotel, children can enjoy observing wild birds to develop their understanding of these magnificent animals from the Aves Class of species.
Bug Pod Investigation Shelf
We have included a sturdy investigation shelf at the side of our Bug Hotel to enable children to get up close and personal with the mini-beasts within their 'Bug Pod'.
Children must carefully remove their individual pod from the hotel and place it on the Bug Pod Investigation Shelf. Taking a closer look at what is inside their pod, children will begin to identify and observe the insects inside without disturbing them or spilling what is inside their pod.
This activity gives children the responsibility to carefully remove and return their pods while looking after the insects inside further developing their PSED and understanding of the world.
Hooks
Hooks are always a must. Bags, coats, magnifying glasses, pencils… children can hang equipment up before heading to inspect their 'Bug Pods'.
Children will have to independently select and use the right equipment before returning the items to the correct location leaving the area neat and tidy for the next class or group of children to use.
Clipboard Shelf
There is a handy Clipboard Shelf on the side of the Bug Hotel so children can easily access paper and worksheets to write down their findings.
What insects have you found in your 'Bug Pod' today???
Log Store
Did you know that nearly two thousand sorts of British invertebrates require dead wood and use it many different ways.
Our Log Store at the bottom of the Bug Hotel could become a home for beetles, woodlice, centipedes, slugs, ants and even earth worms.
Learn more about our new Bug Hotel here.
If you're interested in our new Bug Hotel and feel it would be the perfect addition to your playground, feel free to Contact Us here to arrange a free consultation. You can view our full range of Natural Playground Equipment here.