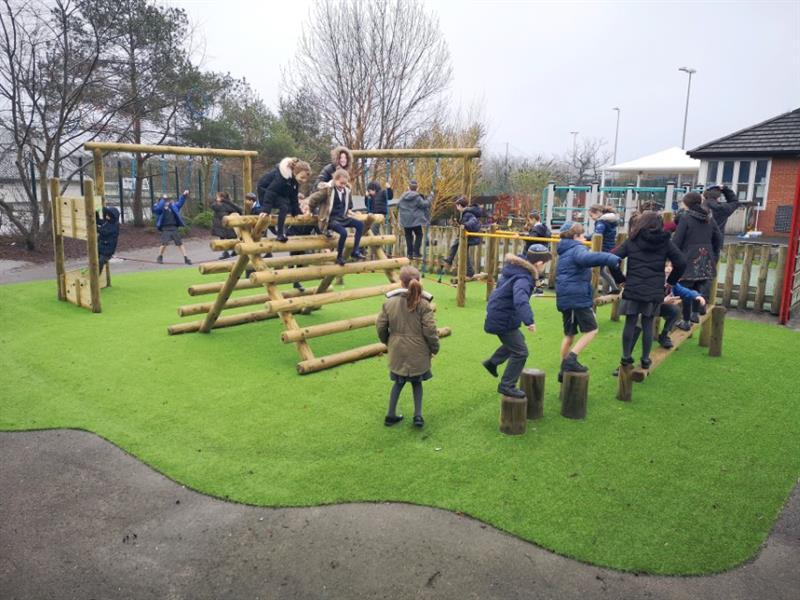 Extending Physical Play Opportunities With An Energising Trim Trail
Located in the Cheadle area of Cheshire, North Cheshire Jewish Primary School contacted us as they wanted to extend the physical play opportunities presented to their children.
As a result, our playground consultant, Meg Booth, worked closely with the school to design a challenging active play space for the children to conquer each and every playtime - truly enhancing active play.
An Energising Active Play Space
In the corner of the outdoor play area, we installed one of our excellent trim trail combinations in a semi-circle configuration, looping around the space with a fantastic Log Climber connecting each end.
The winding obstacle course has been designed to become progressively harder, offering the children the opportunity to climb, step and balance from challenge to challenge: improving their key physical skills with each attempt.
Through the inclusion of so many different challenges all within a single area, each and every child can have a go - no matter what age or ability. If children struggle to overcome a piece of equipment, they can simply hop off and head to the next one before attempting it again and eventually succeeding!
Not only does our fantastic Junior Trail 2 promote active play, it has also inspired plenty of enjoyable imaginative play games and competitions between one another.
The little monkeys have been walking across the river using the stepping logs before conquering the sinking mud puddle by balancing on the inclined tree trunk and travelling further through forest.
Imaginative play games on this energising group challenge is a fantastic way for children to practise and improve their social, communication and language skill, especially while competing to see who can complete the trail the fastest.
Of course, the school wanted to ensure that the children were able to use their new playground equipment safely and within all-weather, which is why we installed one of our excellent playground surfaces.
Soft, All-Weather Playground Surfacing
Underneath the new equipment, we surfaced the space with our Artificial Grass Playground Surfacing to create a vibrant, safe, all-weather, inviting area for the children!
Our soft artificial grass has been specially designed for primary schools to ensure that it can cope with high traffic footfall and last for many years to come!
Alongside this, it is also aesthetically-pleasing, forming an area that is inviting and impact absorbing, too. The children can swing, climb, balance and move through each challenge as they take safe risks and build their climbing confidence. Should they fall, slip or trip in doing so, they are prevented from serious injuries.
In addition, the young children are able to use the active play space, no matter what the weather may bring! Our artificial grass surfacing is free-draining, which means that water won't pool on the surface in times of poor weather, too.
All of the little monkeys attending North Cheshire Jewish Primary School absolutely love their new active play space, which has truly engaged them in vigorous games. This further improves numerous key skills while providing them with exciting activities during playtime.
If you would like to extend the physical play opportunities presented to your primary school children through the addition of energising Active Play Equipment, please feel free to Contact Us. We'd love to help develop and enhance your outdoor play space as we have done with North Cheshire Jewish School!