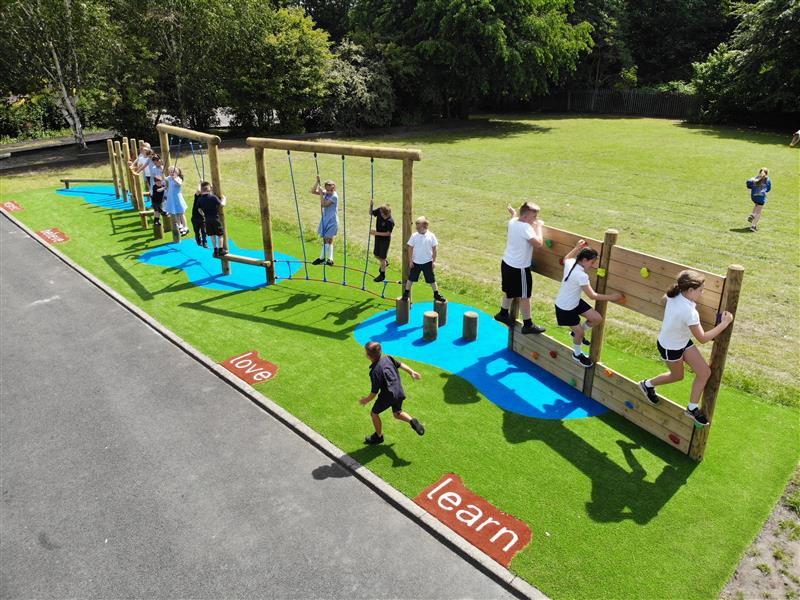 Enhancing Outdoor Learning With An Exciting Playground Development
Our Lady's Catholic Primary School have had an energetic Trim Trail installed onto a vibrant playground surfacing to present the children with numerous physical play opportunities as well as a magnificent Outdoor Classroom for learning amongst nature.
Our sales director, Paul Bayliss, worked with the Warrington based primary school to re-develop two areas of the school. First of all, we installed an exciting, active challenge that would target the children's key physical skill development, enhance imaginative play and present physical play opportunities.
Secondly, he worked with the school to create a permanent base for outdoor learning.
Trim Trail
The new trail includes a magnificent selection of trim trail equipment, arranged in a specific way so that it gets progressively harder as the children manoeuvre through the trail, that has created an energetic trim trail for the children.
The Trim Trail includes:
Inclined Balance Beam
Climbing Poles
Tightrope Bridge
Large Stepping Log
Net Traverse
Mini Balance Beam
Rope Swing Traverse
Large Stepping Log
Timber Climbing Wall
This amazing selection of equipment organised in this way has created a lively group challenge for the children to tackle every day. The children will need to use and further enhance their communication, language and social skills as well as practice turn taking on the equipment – stepping, jumping, climbing and traversing across the challenges.
Not only does the trail contribute towards the children's development, it has also enhanced imaginative play in the playground. What will the children see the balance beam as today? A fallen branch in the jungle? A rope bridge from one side of the lake to the other?
Underneath the exciting trim trail is our vibrant artificial grass Playground Surfacing including blue splashes and the school values in Saferturf surfacing.
These little addition to the surfacing has further enhanced imaginative play as well as encouraging the children to practice the values of the school and relate them to real life experiences outside of the classroom.
Outdoor Classroom
To create an exciting outdoor learning base for learning amongst nature, we installed a magnificent outdoor classroom gazebo.
This fantastic 5m Timber Gazebo provides an excellent place for children to relax, socialise or participate in lessons while connecting with nature surrounding them – focusing on the lesson taken place.
The installation of this lovely outdoor structure enables 30 children to be taken outdoors for lessons in a sheltered environment, protected from the elements.
If you are looking to present your children with more physical play opportunities or create an outdoor learning base and love our energetic trim trails and timber Gazebos, please feel free to Contact Us for a free no obligation quotation.
We can design and install many different types of Outdoor Classroom, view them here.
Our range of Trim Trail Equipment can be picked and arranged however you (or the school council) choose!