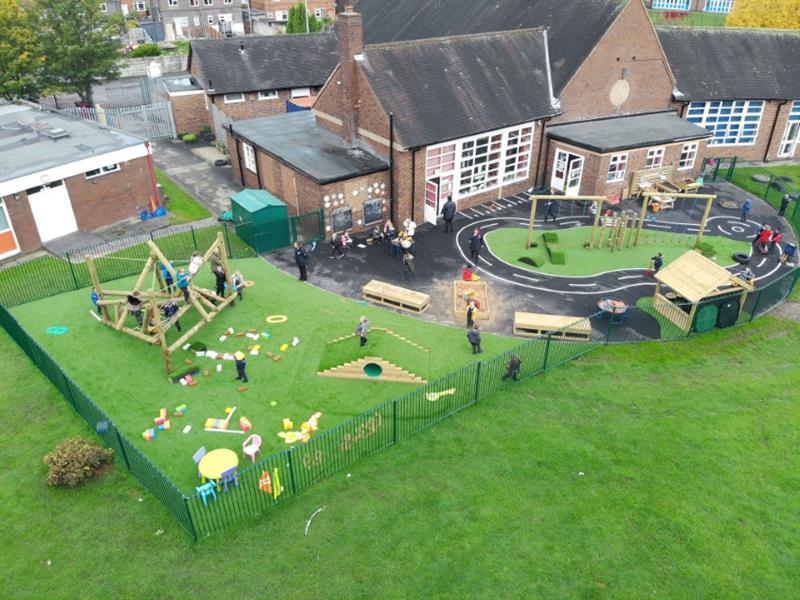 An Inspirational, Cross-Curricular Outdoor Play Space For EYFS
Outdoor learning and play is high on the agenda at Our Lady and St Benedict Catholic Academy, which is why they contacted us to help revitalise their early years playground and create an exceptional, cross-curricular space.
Delighted to be given the opportunity to work with the academy, located in Stoke on Trent, our playground consultant, Dan Young, worked alongside the school to design and install an amazing outdoor play and learning space!
Since the Principle, Debbie Sims, wanted the space to encourage child-led learning, Dan worked closely with her to install a variety of equipment that would target the curriculum outdoors.
Active Play
Before our development, the Reception children had two areas of their outdoor area: a plain tarmac space and a natural grass area.
As natural grass usually becomes waterlogged, muddy and slippery in times of poor weather, we replaced it with our vibrant, natural-looking Artificial Grass. Since it is porous, it allows water to soak through meaning that the space can be used though rain and shine!
On top of the new surfacing, we installed a variety of equipment to promote physical development and imaginative play games.
A huge Bowfell Climber, made up of natural-looking, environmentally friendly sourced timber and strong ropes, has created a magnificent space for the young monkeys to swing, balance, climb and traverse through the obstacle as they work their way to the top of the tree!
Moving through the trees improves the children's gross motor skills, fine motor skills, upper and lower body strength, co-ordination and spatial awareness skills. As they grip and grasp the ropes, their fine motor skills are being developed; consequently improving the children's handwriting and pencil grip.
Alongside the energising new climbing frame, we have also installed an amazing Climb Through Tunnel Hill, which provides the children with a lovely space to run, slide and roll up and down the ramped hill - encouraging cardiovascular development.
Not only does the fantastic feature present the children with further physical play opportunities, it also inspires imaginative games between the children as they re-enact stories such as the Three Billy Goats Gruff!
Through the inclusion of these excellent outdoor resources on Artificial Grass, the children are protected from slips, trips and falls as the surface absorbs the impact and provides a soft landing.
In the centre of the tarmac playground space, we created another active play space where the children can participate in imaginative physical play opportunities. A smaller Adventure Trim Trail consisting of a Rope swing traverse, Climbing Poles and Net Traverse, allow the children to traverse across different obstacles as they participate in imaginary play.
Since the new trim trail is a group challenge, the children can develop their communication, language and social skills as they take on the obstacles as a team: motivating one another to complete a part of the trail, timing each other from the start to the finish or playing imaginative games such as the ground is lava together!
Surrounding the inspiring trim trail equipment is a realistic Roadway made up of Thermoplastic Playground Markings. The roadway has created a dedicated space for the children to ride and manoeuvre their bikes, trikes and scooters around the playground, without interrupting others learning.
Along with the roadway, we also included a roundabout and parking bays to offer a visual place for their vehicles to be placed once they have finished the race. This promotes independence and responsibility over their equipment.
The roadway doesn't only provide the children with their own racetrack, it also improves their understanding of the world and road safety knowledge. Within their own playground, that they access each day, they have to implement important road safety skills, such as 'Stop, Look and Listen' before crossing the road.
Since this knowledge is being implemented on the playground, children will naturally begin to use it outside of school and it will become second nature to them!
Imaginative and Creative
To truly create a cross-curricular outdoor learning environment, we had to install a magnificent Water Wall with Damming Package and Sand Box!
Promoting science and learning through discovery, the children can explore and play as they manipulate the water channels - investigating gravity, water flow and source to mouth.
Pretending to be engineers, they have been transporting sand from the large covered sand box over to the damming station and building their own complex dams. Working to stop the water from flowing and problem solving through the use of different resources!
In addition, we also included one of our beautifully crafted Giant Playhouse with Walls, Chalkboard and Benches to engage the children's imaginations - boosting social competence and developing their communication and language skills.
Debbie and her young children are delighted with their aesthetically pleasing, curricular focused outdoor learning environment!
If you would like to install EYFS Playground Equipment to enhance your children's outdoor play and learning space, please feel free to Contact Us!