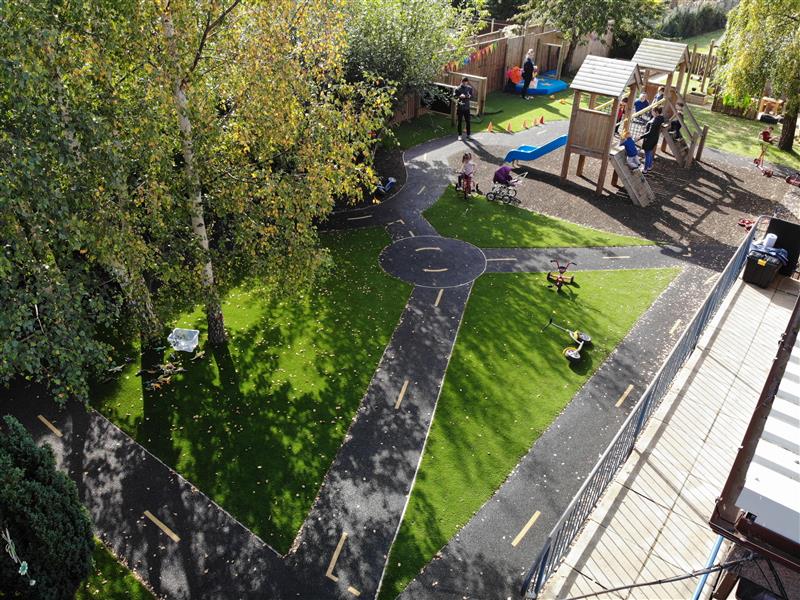 A Stimulating Nursery Garden Development For Cross-Curricular Activities and School Readiness
Regeneration for the youngest generation at Our Lady's First Steps Nursery in Widnes - we've redeveloped their Nursery Garden to create a haven of fun, adventure and exploration!
Our playground consultant, Ian Wood, is a former primary school teacher with a passion for creating amazing outdoor spaces for children. With his knowledge and understanding of the importance of school readiness, amongst everything else that a good outdoor environment for young children should offer, he was able to design the perfect outdoor space to suit Our Lady's First Steps' needs.
Investigative, Messy Play Equipment
For this phase of their development, a Messy Play And Investigation Zone, that encourages the children to join in, explore and get their hands dirty, has proved extremely popular with staff and children alike.
The new zone centres around our magnificent Water Wall with Water Play Package. The children can design and build their own course for the water to travel using a selection of spouts and chutes.
It connects to a hose for an easy water supply and with a big Water Table to collect the water, there is no end of opportunity for experimenting with water-based STEAM learning activities.
We added a Rope and Pulley Materials Mover to the existing sand and mud play facility. It brings the area together and the children are having fun using their muscles to work the pulley and transport all sorts of materials across the zone.
They pulley system is set inside clear boxes, so it's really safe to use and as the children can see the system in action, it helps them to understand how this simple machine works.
A Weaving Panel Trellis is encouraging creative design and problem solving at Our Lady's First Steps. It supports the children in developing the fine motor skills that they need to become independent in self care and for manipulating tools and pencils as they learn to write.
We used a combination of Paving Slabs and Playturf Artificial Grass to surface the area to create a level ground that's easy to maintain and keep clean.
Our Artificial Grass is a beautifully soft, sensory all-weather surface that is ideal for reducing slips, trips and injuries in wet play areas.
Stimulating Imaginative Play Equipment
Our innovative Mark Making Panels are brilliant for encouraging young children as they take their first steps in drawing and writing.
They can use big arm movements to create different effects as they learn to hone their skills for finer control and they love discovering just what they can do for themselves.
We put a Giant Chalkboard on Posts and a Giant Paint Panel on Posts in the garden for budding young Banksys to make their mark!
We created a new imagination and performance zone with our Mini Performance Stage with Den Posts. It lends itself faultlessly to role play and drama based activities - a model platform for outdoor learning across the EYFS prime areas and in particular PSED.
The weaving holes and grooves in the den posts allow children to build their own themes and get creative with their backdrops.
We added a Giant Mirror on Posts, which the children absolutely love for making funny faces - they can observe their own reflections as they play and develop positive self-awareness.
It's also great for introducing them to maths and science based topics around mirroring, reflection, distance and light patterns and positional language.
Physical Play Opportunities
When it's time to burn off some excess energy, get some exercise and get all those gross motor movements working, the new Wet Pour Roadway is just the ticket!
We designed it to help teach children about road safety and something about the world around us as they play. However, as far as they are concerned, it's just plain good fun for racing around on their trikes and scooters!
With their wonderful new garden, the staff and children at Our Lady's First Steps Nursery can't wait to open the doors and step outside each day. What will they discover today?
Would you like to develop your nursery garden to create an amazing outdoor play space for young children to enjoy all year round? If so, please Contact Us for a free, no obligation quotation. You can view our full range of Outdoor Play and Learning Products, Designed Specifically for Nurseries Here.