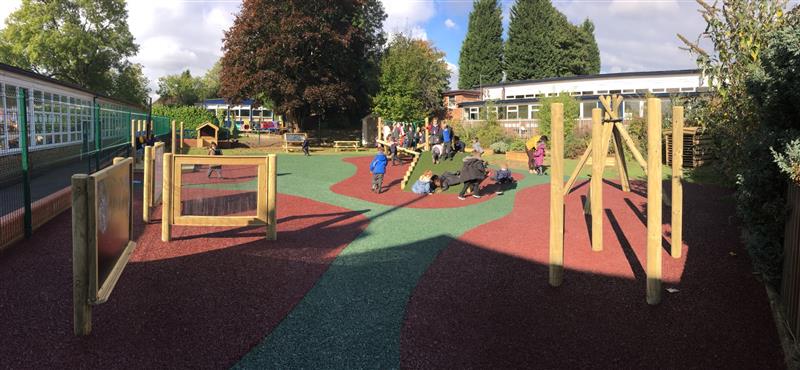 Paganel's early years children now have an outdoor classroom full of visual pathways to different styles of play and learning.
Our outdoor learning consultant, Greg Rossiter, worked with Paganel Primary School to transform their early years outdoor learning environment.
Previously, the early years' children had access to a grassy area that would get badly affected by the weather, making it unusable at large parts of the year.
There was also a huge steel shelter in the middle of the area that was beginning to look outdated and reduced the amount of space that the children had to play and explore. Moreover, the environment lacked outdoor resources for creative styles of play and the playground equipment needed a refresh.
The main task, was to provide several different areas that would help develop children's physical ability, communication and language, knowledge of the world, expressive arts and design skills.
An all-weather and safe play environment
We firstly removed all the existing equipment and re-surfaced the entire area with our Playbond all-weather safety surfacing. Using a blend of two different colours, we created pathways that the children can use as visual pathways to the different areas of learning.
The rubber material also provides adequate fall height protection for the physical play activities.
To provide added safety, we installed 2M high fencing to prevent children from climbing over the low walls.
The physical play zone
For physical play, we installed our excellent Kinder Scout Log Climber because it is the ideal low level climbing frame for early years.
It offers smaller children easily accessible strength and balance challenges and is perfect for building children's climbing confidence.
The physical play zone also includes our Climb Through Tunnel with Ramp Over which is an artificial grass hill with sleeper sides. Children can climb, crawl or roll across the hill while other young adventurers can make their way through the tunnel underneath.
An outdoor mark making zone
To encourage the development of fine motor skills through small and large scale mark making, we installed a Giant Whiteboard, Blackboard and Poster Paint Panel, all onto posts.
Securing these on posts, encourages full body interaction and raises the board to a level that is comfortable for children to scribe or paint whilst standing.
Expressive arts and design area
We installed our wonderful Musical Stage to help develop children's self-confidence, voice projection, social interactions, language and communication.
The impressive display of musical equipment available on the stage, lends itself to group play and performance. The outdoor environment will act as an inspirational simulator as children can either perform in front of others, practice on their own or with a little buddy.
The den-building area
We installed our Wigwam and Den Posts to provide children with open-ended opportunities to build dens and create role play scenarios.
By adding a few materials to the area, children can transform the Den Posts into anything from a spaceship to a bakery.
The knowledge of the World zone
This zone has a focus on the natural world and will help children gain an understanding of different plants, vegetables and mini-beasts.
To help bring this area to life, we installed our Bug Hotel and a Sleeper Planter. The Bug Hotel can house many different types of mini-beasts for inspection and the children can use the Planter to grow fruit, vegetables and plants.
A social and shaded seating area
There also had to be a quiet area for the children to relax and socialise with their friends. Beneath the large existing tree, we added both a Picnic Table and a wonderfully crafted Easel Table.
Children can seat and eat lunch together at the Picnic Table or share some artistic creations at the Easel Table.
A new role play corner
To provide a designated area for role play and imagination, we installed our Small Playhouse with Seating and Chalkboard.
This open-ended resource can be transformed into a shop, post office, travel agents or even an a&e department… it's completely up to the children's imaginations.
With a blackboard and seating, teachers can use the house as an aid for outdoor lessons and learning.
An investigative play zone
We added our Mud Kitchen to encourage children to act out role play scenarios whilst investigating and playing with different consistencies of mud.
Paganel's young chefs can make scrumptious mud pies and cakes for their friends and teachers to enjoy.
You can take a closer look at all of our imaginative and creative products here.
It was truly fantastic to work in partnership with Paganel Primary School on this exciting early years project. The children now have a fantastic outdoor classroom to explore the natural world, take safe risks, express themselves, investigate and unleash their creativity.
If you're looking to further develop an outdoor classroom for your early years children, complete our Contact Form and we will be back in touch to arrange a free consultation and site visit.