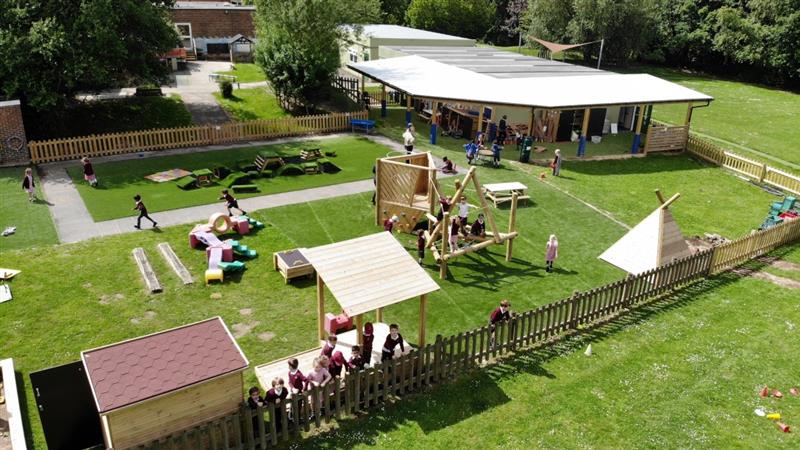 We were lucky to be chosen to work with Pembury Primary School near Tunbridge Wells in Kent They were looking to re-develop just their Reception classes outdoor learning space, as they were needing to relocate these, due to a growing intake. The space had seen some development in the past, but it was no longer fit for purpose, so in essence we had a blank canvas.
Sam Flatman – initially met up with Hazel the school business manager. Very sadly Hazel passed away, just before the works were due to start and never got to see the completed space.
Sam writes 'Hazel's passing was devasting to the school, she had been a real tour de force and whilst we always aim to do high quality work, this re-development took on new meaning. As you will see from the photos, we were able to present the school with a special entrance plaque – 'Hazel's Area' which I think is a fitting tribute, she would have loved to have seen all of the great learning that is now taking place, in HER area!'
Extending the learning space...
The design brief was to create a large L shaped canopy, which wrapped around the new EYFS building, allowing a free flow for the children from both classrooms.
Underneath the canopy we installed one of our medium self-selection stores – Sam writes 'I hadn't seen children use them in this way before!'
The teachers explained that this was now the children's 'Read Write Inc. reading shack' They clearly love it!'
A lot of the spaces had a variety of older surfaces and we needed to remove and upgrade these to our Playturf solution.
Sam says 'The surfacing solution I came up with was a shock pad under the areas of Playturf where the children are climbing (The Harterfell) and then a good solid sub base under all the other areas…we took down various old fences and knitted everything together with the Playturf so that the majority of the space, could be accessed easily and used in all weathers.'
When Sam and Rachel returned to see the completed space, 'it was great to see the children making full use of all the areas, they were loving the climbing challenge that the Harterfell with fire(persons) pole…one member of staff commented 'It's perfect, just the right level of challenge for our children, something for them all to build their confidence on, but not too much so that they can't use it, or we are having to supervise all the time.'
Many of the children, at first found the fire(persons) pole a bit daunting (Sam interjects – 'It's a great upper body strength, grip strength challenge and a personal favourite of mine, as it really promotes handwriting!') But now, look at them! (We could see a number of the children (especially the girls) hanging off the D ring and having a wail of a time…bet their handwriting has improved too!) huge space, where the children could use their Mendip Get Set Go Blocks.
Using their imagination...
These were being used in many different ways and clearly, every day they get re-arranged by the children to create a new obstacle course. Sam writes 'The children had turned the nearby Giant Playhouse into their 'Superhero's Den', they were expressing their superpowers, by acting these out on the GSGB, then discussing what they were doing and having a go at writing some of these activities up on the giant chalk board, at the back of the Playhouse.'
In the far corner, the design incorporates a messy play space. The school wanted children to express themselves and get muddy! But they wanted to ensure the mud didn't go everywhere else, by creating a dedicated space, that children need to dress up with their all-in ones and wellies, means that 'nature and mud kitchen play can take place, without dominating other sorts of learning.
'There's a materials mover, pulley system and a scales – all perfect for introducing maths, social interaction (PSED) and communication and language tasks. 'It's the perfect all-round space that's very cross curricular, it's already set up to go, all the children need to do is get dressed up and then remember to wash their hands at the end of playing in this space'
Storage Spaces...
Aside this area is another of the Self-Selecting Stores. As Sam explains 'It's a good idea to have these dotted around the space, so that children can self-select (which is an Ofsted requirement) and then tidy up at the end of each play session.
By doing this way of learning through play, you take the good habits that the children have learned inside the classroom outside. It makes spaces far more enriching for the children. It also saves the teachers time and encourages independence.
As Sam explains 'These provide your children with a variety of loose parts that support learning through play in so many ways. They will encourage peer to peer learning and will enable you to scaffold learning, so that it becomes progressive and accumulative.'
"As you'll see from the photos, we enjoyed reading a story in the Wigwam and in the den space under the Harterfell' It's all abut creating a great canvas, which supports learning, whatever the weather, in all parts of it, so there is something to engage all of the different children that the school has.'
Finally, we were able to include one of our Water Wall packages, these allow children to experience working together (PSED and CLL) alongside mathematical problem solving and rational thinking. You can use them with anything that will roll down, so it can be balls and cars instead of water, but why not also set you children some STEM challenges!
We've loved working with Pembury Primary to create an extended learning space for their
growing classes and we'd love to support you as well! If you're interested in improving your
learning zones, then Contact Us Today!