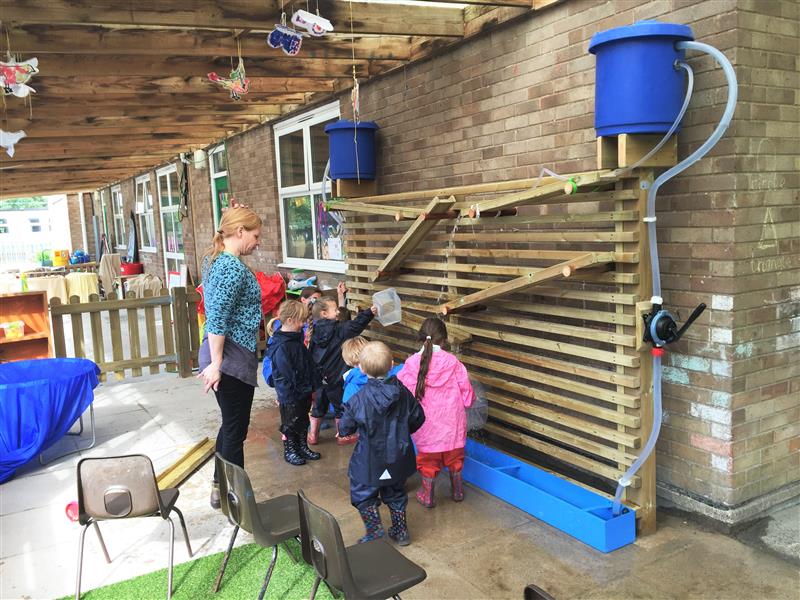 St Helen's Primary School's Early Years Playground is now an open ended area with multiple curriculum-led play opportunities.
Exploration and creativity are crucial elements to a child's early development, so when working alongside St. Helen's, we wanted to make sure that we maximised the learning potential from their available space.
Before the transformation, the school faced difficult challenges presented by their existing environment. With a few too many trip hazards and uneven surfaces, the space did not offer the safe and enabling space that the curriculum demands. The area was also mainly used for the storage of toys and other materials, rather than being used to its full potential that all enriching child-led learning environments need.
Head Teacher Mr Andrew Spens explained, "We wanted to achieve more learning outside. We didn't have a space that was accessible because of fencing and surfaced areas. The one brief was to open the area up and get the children outside."
We love working alongside schools to provide the best possible environment
Consultants at Pentagon love a brief like this because as it allows them to get creative. With backgrounds in education, from classroom teachers to educations psychologists, they know how to balance the demands of the curriculum and the school's development plan with the needs of the children.
James Collis-Pritchard worked alongside St. Helens to help provide an appealing open space with multiple learning opportunities; this was the key objective in helping to provide challenges that would both stimulate and captivate the imagination of each and every child.
The main issue that St. Helens faced, was the area not being curriculum friendly. With the area being cluttered and un-loved, we wanted to open up the environment and provide enriching opportunities the children could access every day. The decision of utilising Playturf provided St Helen's with a safety surface that would not only help to brighten up the area but would be accessible in all weathers.
From here the area started to look bigger and more like an area in which children could play and enjoy their learning.
One of the major factors of the project was making sure that each piece of equipment that was chosen, helped to create a "flexible environment" for the children to play in.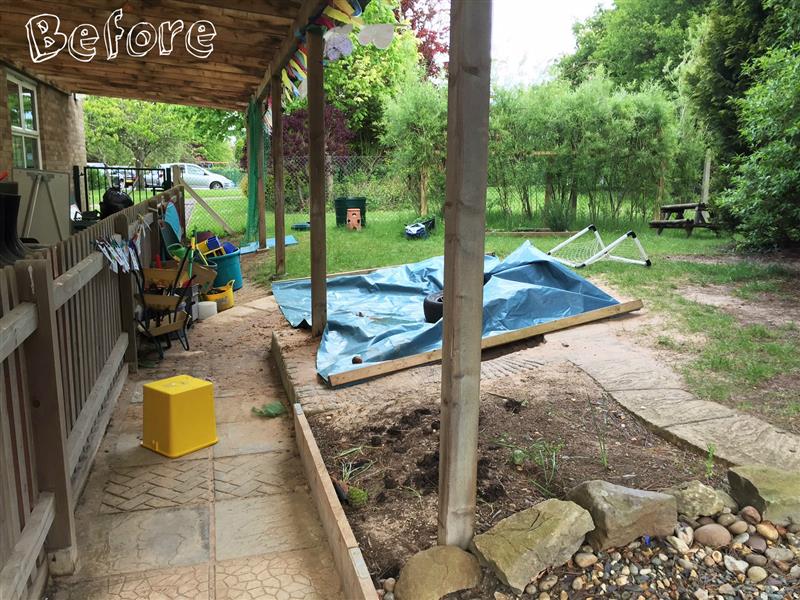 Creative & Imaginative playground equipment enrich learning opportunities
As St Helen's wanted to use the area for whole classes of children, we needed to ensure we installed playground equipment that could accommodate this need. We included our Giant Whiteboard and Chalkboard for the aid of teaching aspects of core curriculum subjects whilst allowing the children to express themselves through written language and visual drawings.
Our Story Telling Circle was also installed as it is a fantastic open-ended resource that groups or classes of children love. Teachers of St. Helen's can now gather children round to take part in story telling activities and use it as a teaching aid for lessons. With the addition of the Story Telling Chair, it provides an enriching curriculum friendly environment that will help to boost the children's interest in literature and reading.
Den Posts offer the most effective open-ended and imaginative play opportunities
We had to include our Den Posts as they are one of our most versatile and multi-functioning pieces of playground equipment. With the addition of a few pieces of rope and some sheets, this resource is perfect for embracing a child's imagination and letting them decide how they are going to use this piece of equipment. Be it a Secret Den, an underground cave or even just a friendship den, the possibilities are endless when the children are in control of their play.
The Water Wall – ideal resource for investigative learning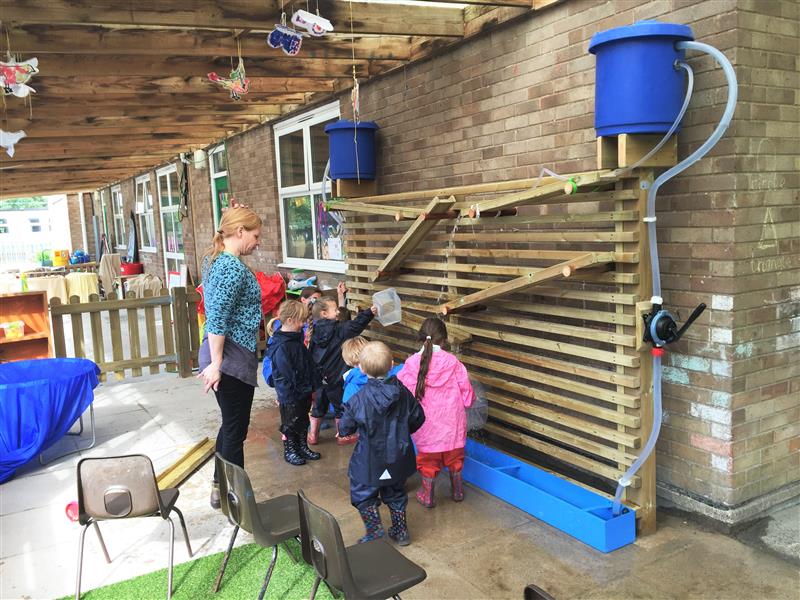 Our Water Wall was installed away from the turfed area, creating a separate learning zone for messy play. The Water Wall is a resource that now offers St. Helen's the opportunity to link areas of the curriculum as children love the sensory experience of both sand and water play. The addition of a rubber duck will get the children introduced to the factors of flow and gravity.
Alongside the Water Wall we added our Covered Sand Box that will boost curiosity and imaginative thinking amongst the children of St Helen's. When groups form to play together, watch and see as Communication and PSED skills develop and improve.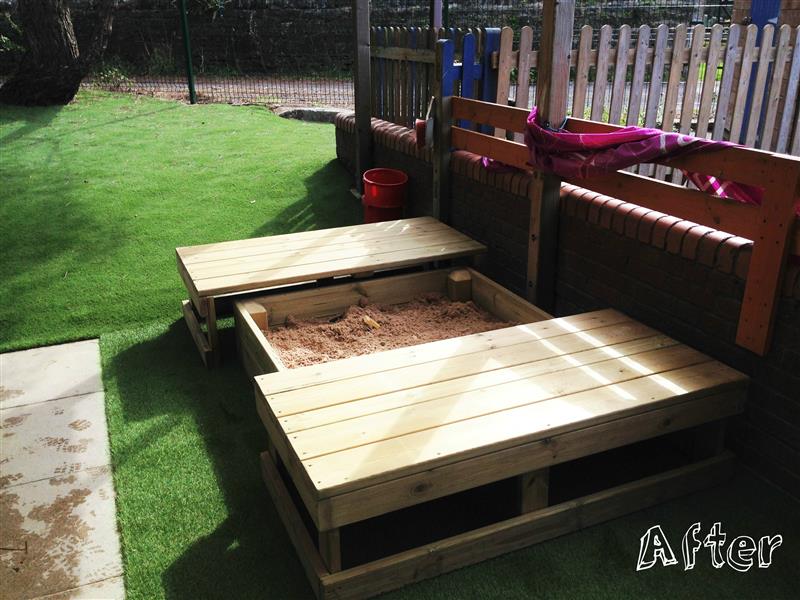 Mr Andrew Spens summed up this amazing development:
"It has been extremely positive, it is the first time I have worked with Pentagon and already we are in the process of talking about future projects. We found the design stage really helpful, the install team were brilliant and even the way they approached finishing the final touches was worked around to fit our needs"
"I think the first thing people say, is how it feels like a different space, and part of that is the flooring, they're already outside much more than they were, which was a key part of our objective".
Would you like to develop an area into a multi-use play environment? We are experts in designing and installing and creating environments to suit all types of needs. Contact Us or call us and we will be able to work with you to create the best solution to fit your space