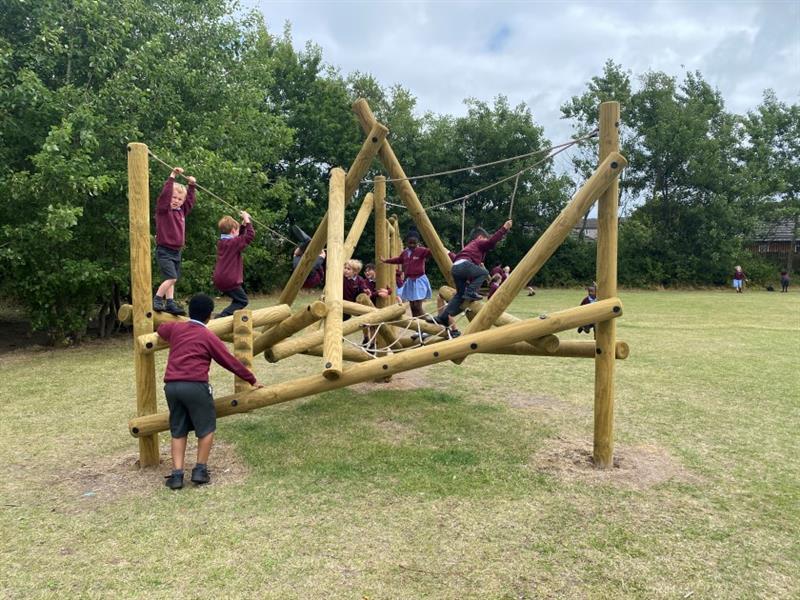 A Classroom for Christian Fellowship School!
Looking to create a space for their pupils to learn through play and spend time with their peers, Christian Fellowship School contacted Pentagon Play for some guidance in designs and ideas.
Outdoor Learning Consultant, Ian Wood visited the school initially to consult on an Outdoor Classroom Space.
After building a great relationship with the team, they decided to invite Ian out again to consult on a trim trail space where pupils can build their confidence as they learn and climb and navigate challenging routes!
An Octagonal Outdoor Classroom…

Christian Fellowship School opted for a 6m Octagonal Gazebo to seat their pupils, which is sure to be plenty of space for their classes, as this Gazebo seats 50!
This classroom features plenty of room as well for pupils to walk around and mingle with peers in the open center space.
Christian Fellowship School also added 7 benches and fence sides to their Gazebo, so this is a comfortable and engaging learning space for pupils. They can now use this space to sit back, relax, socialize and chat, as well as using it as a classroom space during lesson time!
The Brilliant Bowfell…
The Bowell Climber is a brilliant addition to this school's space, creating a communal climbing area for pupils of all ages.
Pupils can use the ropes above their heads to support and pull themselves along safely, navigating a route from one side of the climber to the other!
Pupils will develop their muscular strength and coordination through play, as they use their imagination to create stories to encourage their climbing.
Tremendous Trim Trail!
Christian Fellowship School also created a bespoke trim trail, consisting of 7 individual trim trail items!
Testing the balance of their pupils, the school selected a Mini Inclined Balance Beam, Twin Incline Balance Beams, Drop Rope Tightrope Crossing and a Horizontal Swinging Log Crossing.
Pupils can put their coordination to the test and see if they can successfully navigate and cross the beams without falling off!
The Triangle Tunnel with Climbing Walls has been added to create a challenge that multiple pupils can use at the same time.
Pupils can climb on the outside whilst another pupil crawls through the tunnel, or uses the shelter as a den-making space!
The Horizontal Climbing Wall Traverse is also an engaging challenge for pupils, giving them a great space to develop their vocab as well as active skills, as they work with their peers to direct them as they climb!
We were delighted to work alongside Christian Fellowship School and we hope that they love their brand new learning and play space.
If you would like to create a combination learning and play space at your school, then Contact
Us Today for a free consultation.
Or, take a look at the range of Trim Trails that we offer!