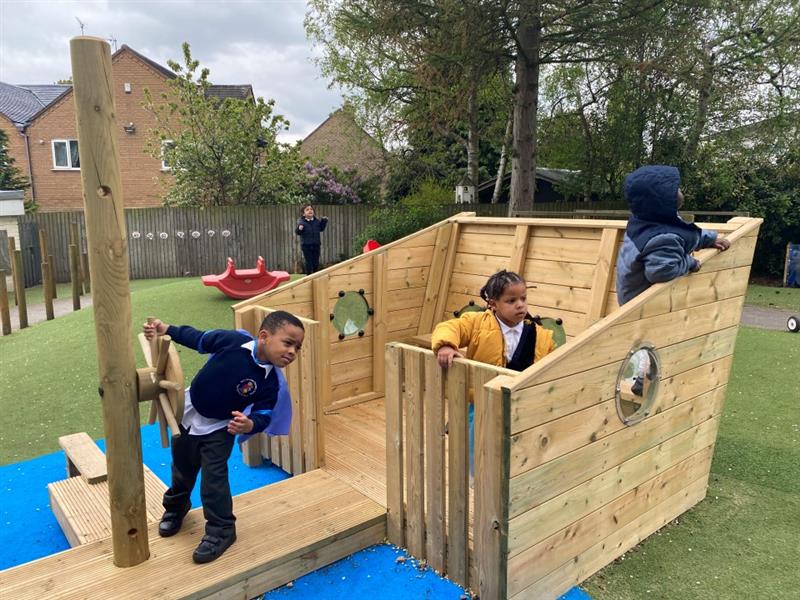 It's a Pirate's Life for the Young Adventurers at Perry Beeches Nursery School!
Imaginations have been ignited at Perry Beeches Nursery School in Birmingham with the arrival of our Low-Level Pirate Ship. Armed with their trusty telescope and compass, pupils have been busy preparing for a voyage across the Seven Seas!
Set Sail for Storytime!
The size and scale of the pirate ship is large enough to hold many crew members with a seating area at the back of the ship, ideal for long journeys! Pupils couldn't wait to take the helm and look out into the wavy waters below by peeking through the porthole windows.
Story time will never be the same again as pupils enjoy tales in the outdoor environment, wondering where the ship will take them next! Numerous Pirate themed songs and chants can be sung such as 'This is the way we clean our Ship' and Row, Row, Row Your Boat' which helps children to recognise speech patterns, builds vocabulary and strengthens memory. Exciting treasure hunts will now become common place as children enjoy reading clues and counting golden coins.
Pupils can practise numeracy skills and positional language by creating their own maps and counting their footsteps. A pirate ship promotes plenty of opportunities for early mark making as children compose secret scrolls and practise writing their 'Pirate Names.'
A Pirates Life for Me!
A favourite feature of our pirate ship is the ship's mast which can raise a brightly coloured school flag, designed by pupils. The mast also works as a den post in conjunction with the front of the ship, allowing children to completely transform their role play area whilst practising threading, weaving and tying.
Numerous games can be played aboard the ship which improve children's physical development. Instructions will be carefully followed as swashbucklers perform actions such as, 'scrub the deck, climb the rigging and walk the plank.'
Our ever-popular blue safeturf has been installed directly underneath the pirate ship creating a vivid, blue sea, just perfect for jumping into! When land has been spotted and little pirates are in need of a rest our safeturf provides a soft, comfortable surface to sit on.
Ahoy, Me Hearties – A new Water Wall has been spotted!
To enhance their pirate themed playground, we installed a Water Wall with Water Damming Package at Perry Beeches. Pupils will have plenty of fun as they investigate floating and sinking or use magnets to retrieve the treasure from the bottom of the sea. Young scientists will need to figure out a route for the water to flow down, perhaps adding toy sharks to check their system!
The package includes a sand table which is ideal for digging, scooping and sifting in search of artefacts. Different coloured jewels can be hidden in the sand box and sorted by colour and shape.
We hope the wonderful little pirates of Perry Beeches will enjoy their Pirate Ship for many years to come. A wonderful area to promote creativity whilst forming relationships and developing communication skills.
If you would like to create a themed play zone like this one, see our Themed Play Range!
Or if you would like to know more about your active play options, feel free to Contact Us today!