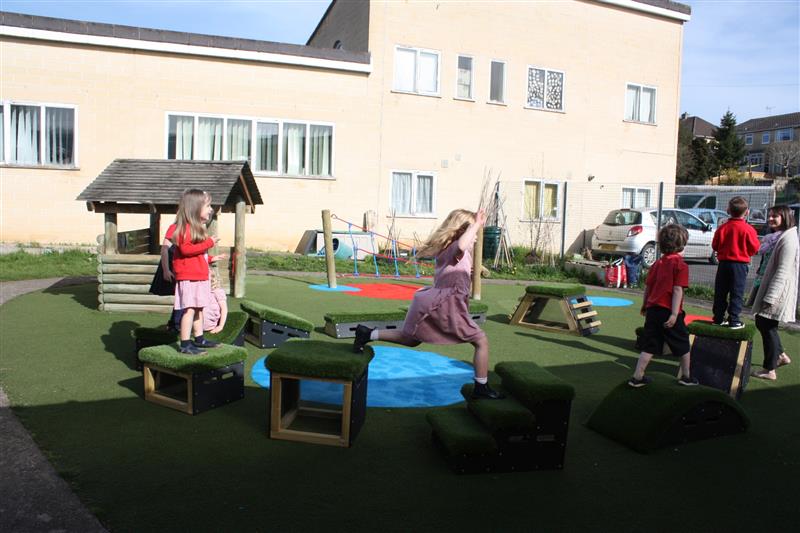 Breathtaking Adventure Play Spaces for Children of All Ages and Abilities
It was a very special return to school after lockdown for the children at St Saviour's CE Infant School in Larkhill, Bath.
Our playground consultant, Nicole Fairman, worked with the school's Executive Headteacher, Joe Beament, to bring their proposed new outdoor development project alive. Joe is a huge advocate for the power of quality play.
And having worked in a variety of educational settings herself, Nicole has a deep understanding of what is necessary for children's development, and the benefits that children gain when they are provided regular opportunities to learn and play outdoors.
While staff at St Saviour's were busy planning the children's return to school after lockdown, one of their biggest priorities was the importance of the children's mental health and wellbeing, with social interaction, friendships and opportunities for outdoor play right at the core.
St Saviour's investment in a new outdoor play environment has brought some big changes for their pupils, and we were delighted to be a part of it. The children are happily loving every minute in their new space!
With a combination of both fixed and moveable play equipment, we've been able to create a versatile outdoor environment that can be used for a variety of play and learning purposes across the curriculum - a multi-use space whether for teaching and learning, or a place for children to enjoy during break times and lunch times.
Adventure playground to engage all ages and abilities
In order to accurately reflect St Saviour's priorities, it was important that we could design a unique outdoor provision to engage all interests, needs, age groups and abilities.
To achieve this, we sought to design a new active area within the main playground that would offer something different for the Junior School pupils, that would also still be engaging, exciting and inclusive for children in the Infant School classes.
Our Puzzlewood Forest Circuit Climber is like a giant play puzzle! With many different elements to it, incorporating physical, active play and problem solving at different heights and levels, it's the perfect adventurous addition to St Saviour's playground.
It features:
A Log and Plank Bridge Crossing
A Zigzag Rope Balance Traverse
A Triangular Climbing Traverse
A Net Tunnel Crossing
A Swinging Log Crossing
A Wobbly Log Traverse
A Stepping Log Traverse
All of which combine to create the most engaging climber for the children!
Not only are they having fun and enjoying all the benefits of playing imaginative games outdoors together, they're also building their self-confidence through a series of different challenges with the option to enter and exit the circuit wherever they choose.
It's a super multi-purpose frame for developing their physical strength, fitness and motor skills too.
Alongside the Puzzlewood Forest Circuit we installed a set of fun and strength-building Pull Up Bars, ranging in height to encourage all age groups to have a go.
With this varied range of different climbing options, St Saviours can be sure that their more cautious and uncertain children are able to get active and gradually grow in confidence, whilst their more adventurous daredevils can feel free to climb at will and learn how to manage risk safely!
To complete the area for year-round, all-weather play, we cleared out the old, unsuitable surfacing.
We then carried out the baseworks required around the equipment to provide a long lasting finish, before installing our durable Playturf Artificial Grass with shock pads underneath for impact-absorbing comfort and safety during play.
The artificial grass looks beautiful in the space. It's porous and self-draining so rain never has to stop play. The natural deep green colour and soft, tactile surface make it a lovely, welcoming environment that can be used just as much as a place for children to sit and enjoy during break times, or for floor-based activities.
EYFS outdoor adventures for safe risk taking and active play
Here we included a range of different items that focus primarily on building upper body strength, developing balance and coordination, and helping the youngest pupils at St Saviours to start to learn safe risk-taking through fun, active play.
Within the central open-ended space we installed a combination of our red and blue Saferturf surfacing onto baseworks as an effective all-weather solution for repairing the holes where the old equipment had been removed.
We used this to create a playful bespoke playground surface for St Saviour's that they can now enjoy using for purposeful learning.
We incorporated a low level Twist Net for scrambling adventurers, alongside a set of our ever-popular Get Set, Go! Blocks.
These sensory artificial grass-topped blocks can easily be moved around by teaching staff, allowing them to set up different obstacle courses for the children to explore and self-select their own level of challenge.
It was great to see them having fun together, chasing and leaping over the blocks pretending to be mountain goats!
"It Was Important To Inject Time and Money Into Making Our Play Experience Better"...
Speaking to local press after the installation, Mr Beament said:
"We have been pleased with our remote offering for our children during lockdown, but one aspect of school life that has been particularly hard to replicate is the play times and outside education. These are essential to the development of all our children. Through play the children problem-solve, are creative, build friendships, learn and just have loads of fun.

We have always invested money and time in making our schools full of happy playing children. With the disruption this year and the children spending so much time indoors, it was important to inject time and money into making our play experience even better. Watching the children laughing, playing and having fun has been worth every single penny and minute spent!"
Is your school or nursery outdoor learning environment ready for a change? We can help! We are the UK's Number 1 School Playground Specialist and you can find out more about what we do, and view our full range of products Here. Please do Contact Us Here for a free consultation with one of our outdoor education experts.
Explore all of the stunning playground developments completed for primary schools and nurseries on our dedicated Somerset Playground Projects Page Here.