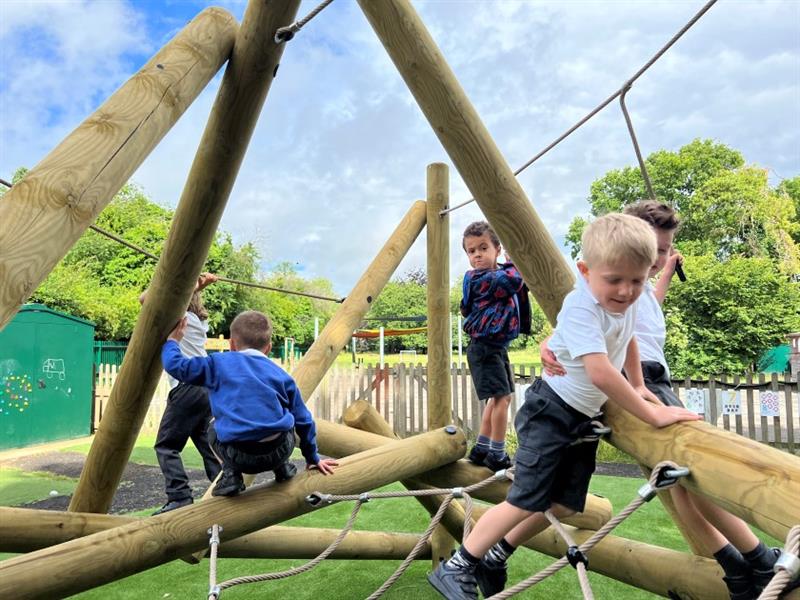 A Combination of Challenging Climbing Structures for Prestwood Infant School
Prestwood Infant School located in Buckinghamshire wanted to provide more physically active areas for pupils to participate in child-initiated play.
Our expert playground consultant Luke Banner was keen to work alongside the infant school to select the best climbing pieces that would build confidence yet challenge young learners.

Pupils have been using their core stability to maintain balance. Strength and stamina have improved and children can vary the speed of their movements when learning to stay in control.
A Pyramid Climber to Inspire All

The beautiful Bowfell Climber now stands tall in the Reception class outdoor space. This piece provides a fantastic climbing challenge as pupils find multiple ways to cross and traverse along the beams. Rope handrails can be used if needed as children race to reach the top of the frame.

Regular climbing has been proven to improve children's overall stamina and provides a full upper and lower body muscle workout. As well as physical exercise climbing requires concentration which helps pupils to stay focused.
Climbing involves planning ahead and puzzle-solving which can build children's confidence and self-esteem.
The space underneath the climber can be used to aid imaginative games. It makes the perfect den or can provide a sheltered spot for reading or drawing.

To allow for jumping and leaping from the climber we installed play turf artificial grass directly underneath the frame. An additional shock pad layer supports landings providing a soft, cushioned surface.

Venture Across the Vertical Climbing Wall

Keen to add another area to improve fine and gross motor skills Prestwood school opted for a vertical climbing obstacle. We attached three of our double-sided climbing walls to create a longer course.

Pupils have been scrambling from one end of the wall to the other, pushing themselves to complete the course without stepping down or seeing if they can beat their own time. Fine motor skills have been developed when learning to grip and grasp the multicoloured holds and foot placement has been refined when building speed and control.

Once again, we added artificial grass play turf to the area underneath the climbing wall which creates an attractive, inviting space that can be used in all weather conditions. Our play turf is extremely durable, free draining and includes a weed suppressant membrane to ensure low maintenance.

Both of the climbing challenges at Prestwood school promote teamwork and the development of social skills. As there is a set of climbing holds on each side of the wall pairs have been racing, working together and motivating each other. Climbing structures promote pupil responsibility from a young age as children learn to behave safely and appropriately. Pupils will learn to demonstrate respect and tolerance when sharing equipment, and communicating in a variety of ways.
Having a traverse wall accessible in school for young pupils to use every day is a fantastic introduction to climbing. Children will learn to follow instructions before deciding which movements are required to solve problems. Pupils can show great focus and creativity when completing a climb which can transfer to other areas of learning.
If you have been inspired by Prestwood Infant Schools Active Play Space and would like to get in contact with one of our members of the team, please click here!