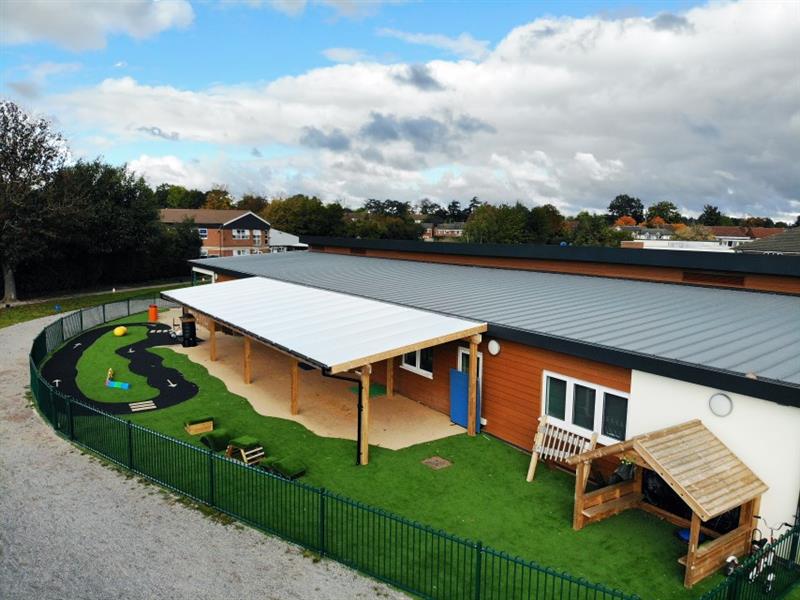 A Sensory Garden and Real-World Active Play Space For Children With SEN
Pupils at Priory School in Slough are busy enjoying their beautiful new Pentagon sensory garden and real-world active play space - with a huge new canopy shelter they now have the space to learn outdoors all year round, no matter what the weather decides to do!
Becky Hazell, one of our playground consultants, had the pleasure of working with this Berkshire primary school to create a fantastic new outdoor playground - one that would greatly improve their Early Years provision, and increase their options for maximising learning opportunities within their available outdoor space.
We met with school staff to talk about their ideas for a new outdoor play and learning environment, and identify their main priorities.
It was important to them that we could build a flexible and open-ended outdoor teaching space that they could use all throughout the year.
Specifically, they wanted us to design a playground that would support healthy, active, physical challenges, and provide some wonderful sensory play opportunities for the children.
As a key feature of the project, we looked to create clear learning zones which would help to group similar play and learning opportunities together.
Much of this could be achieved through carefully designed layout, using contrasting combinations of our all-weather Playground Surfacing options to give the children more focused learning spaces for immersing themselves in play.
Beautiful Natural-Looking Playground Surfaces to Explore
Our Playturf Artificial Grass provides a beautifully natural-looking, textured surface with sensory interest. We installed it across much of the new outdoor space with our Dynamic Play Baseworks, to ensure all-weather access.
We incorporated a fabulously fun physical challenge in the form of a 'real-world' Wetpour Roadway zone, into the artificial grass. This smooth, non-slip surface is ideal for children to race around on their bikes and trikes - a great activity for early physical development practicing gross motor movement, balance and coordination. We added directional markings, numbered parking bays and even zebra crossings for road safety and role play.
A set of our favourite versatile Get Set, Go! Blocks were the perfect addition for active play. They can easily be moved around on the artificial grass to form different obstacle courses, keeping the younger children at Priory School happily active and engaged.
A Revolutionary Timber Canopy to Shelter from the Elements
Adjacent to the school building, we created a sheltered teaching and learning space with one of our revolutionary Bespoke Timber Canopy structures. It's watertight and allows children to free-flow easily between the indoor classroom and outdoor learning areas - opening up the outdoors to all sorts of options for a wide range of activities that will satisfy a broad EYFS curriculum. We resurfaced here with our Messy Blend Wetpour to make it a safe, easy to maintain, non-slip space ready for endless sensory and messy play activities.
In a separate role-play zone, our Giant Playhouse with Walls, Chalkboard and Benches provides a more cosy shelter, and sets the scene for forming friendships through social gatherings and make-believe games. The chalkboard encourages children to join together for mark-making and some interesting artistic expression too!
Plenty of Sensory Play Opportunities
Sensory play, with texture and colour, is a running theme throughout Priory School's new Early Years outdoor learning environment. The children love to explore and experiment through music and sound with a selection of innovative sensory play-pieces:
A bright and beautiful set of African Drums sparks creativity as each one strikes a different note - an enchanting resource for learning rhythm and rhyme and counting in time;
A pair of Sensory Shaker Spinners provide fascinating visual, auditory and tactile feedback. Designed to support children who have specific Special Education Needs, these colourful, light-reflecting Spinners can really help children with self-regulation; and
A large set of moveable, Freestanding Chimes, tuned to a scale of C Major, that will always inspire young musicians at Priory School to create magical, musical masterpieces in their playground!
We put a Self-Selecting Store next to the canopy, so that the children have ready and easy access to their toys and equipment, helping to promote independent and child-led play.
Finally, we sectioned off the whole area with Green Loop Metal Fencing for safety and security - and of course the youngest pupils at Priory School are delighted to keep the joy of this super outdoor space all to themselves!
Are you thinking about new playground options? We can help! You can find out more about our work with schools and nurseries, and view our full range of outdoor learning, Play and Sports Products Here. Please do Contact Us to arrange a free, no-obligation consultation.
Take a closer look at all of the excellent playground designs installed for Berkshire primary schools and nurseries on our dedicated Berkshire Playground Projects Page Here.