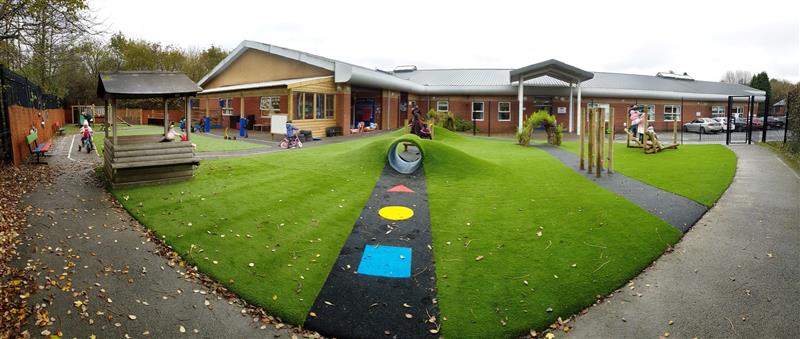 A vibrant EYFS outdoor learning environment in Oldham
Our Director, Michael Bischof, worked with Roundthorn Primary Academy to turn a wet and muddy outdoor space into a vibrant, energetic and engaging outdoor learning and play area, that can be enjoyed year-round.
Staff at the primary school in Oldham are true advocates of outdoor learning, but they struggled with their existing outdoor facilities which lacked protection from the elements.
They would struggle getting children in and out of raincoats and wellies for much of the year and some areas of their grounds would often be too muddy to use.
Michael, worked with staff to create their ideal design, and then installed a highly engaging, explorative outdoor area that can now be used easily at any time of year, no matter what the weather!
The previous "set up and pack away" situation for much of the outdoor play at Roundthorn meant that preparation for outdoor activities could be difficult and time consuming.
Now everything is set out and ready to go, so staff can take the children straight outside and get on with enjoying all the space!
An Active Play Zone for Year Round Physical Play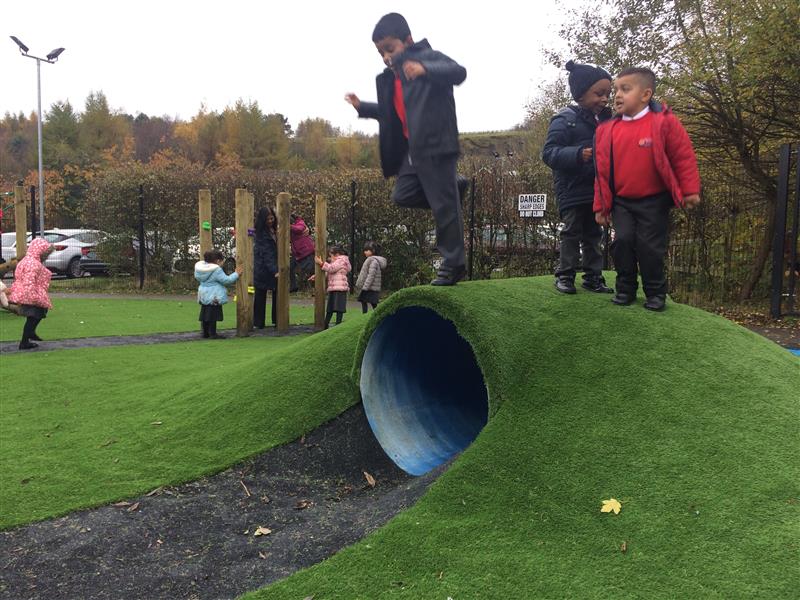 To provide a natural play area for year round active play, we removed and backfilled all of the old sunken planters and sandpits to build the area up for more suitable, self draining surfacing.
Colourful Saferturf and Artificial Grass means that the area is now bright, uplifting and happily mud free, so everyone can enjoy it!
Built in contours and tunnels offer different levels of height and bring a new dimension to active play.
The Premium Willow Screening offers a beautiful natural backdrop, breaking up the area and creating intriguing tunnels to travel through.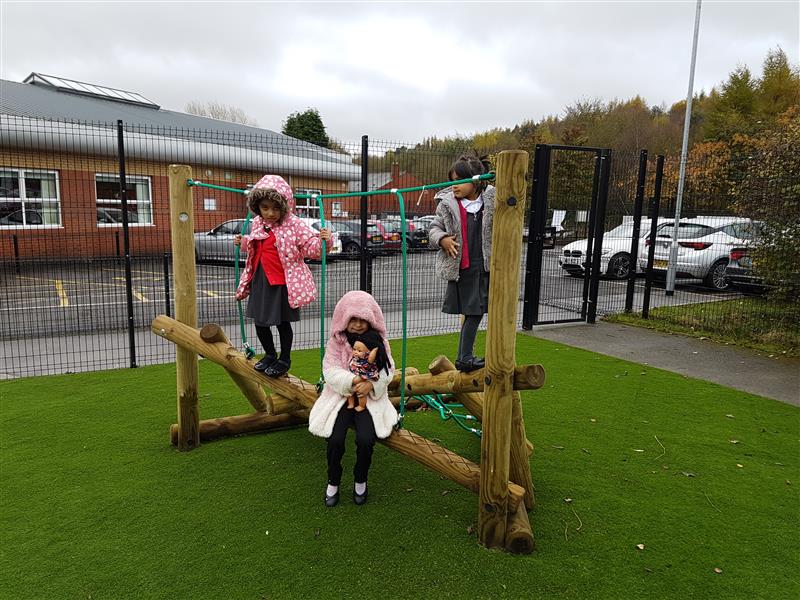 We installed our fantastic Kinder Scout Climber along with a Tightrope Bridge and Climbing Poles to set a range of physical challenges that really support a child's physical development. Pupils are now learning how to manage and take risks in a safe environment, balancing, jumping on and off and climbing higher as they gain confidence.
A Roadway Track built into the surfacing, coupled with a Numbered Parking Bay, is a firm favourite with the children.
They love racing around the track, challenging themselves and creating role play situations, all the while improving their gross motor skills, coordination and even numeracy as they go about their business.
View our entire range of Active Playground Equipment Here.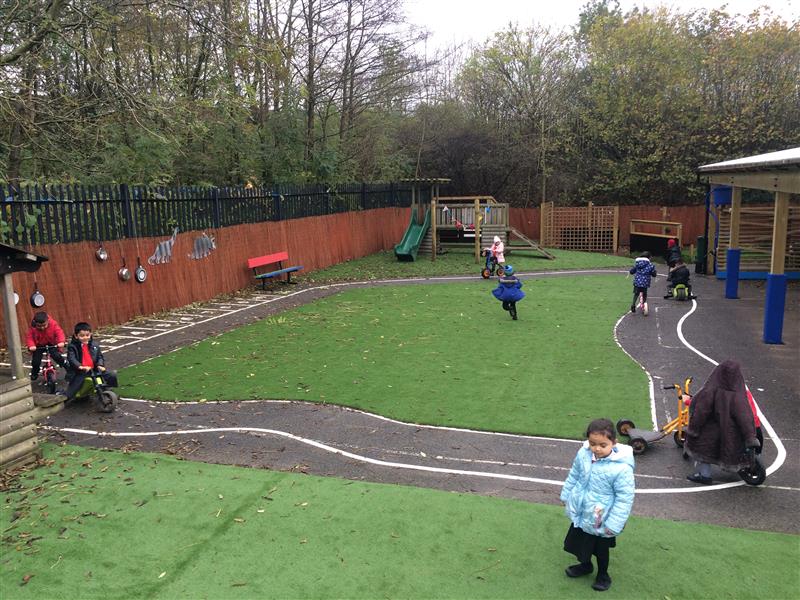 A free-flow school canopy for continual play and learning
The addition of a Free Flow Canopy, installed directly onto the side of the school building, is a brilliant new facility.
Now Roundthorn's pupils really benefit from having the option to choose for themselves to move outside and learn in the fresh air, even when it's pouring with rain.
Roundthorn have enhanced their covered facility to create an exciting educational space, by including our mega Water Wall and Damming Station as feature fixtures under the canopy.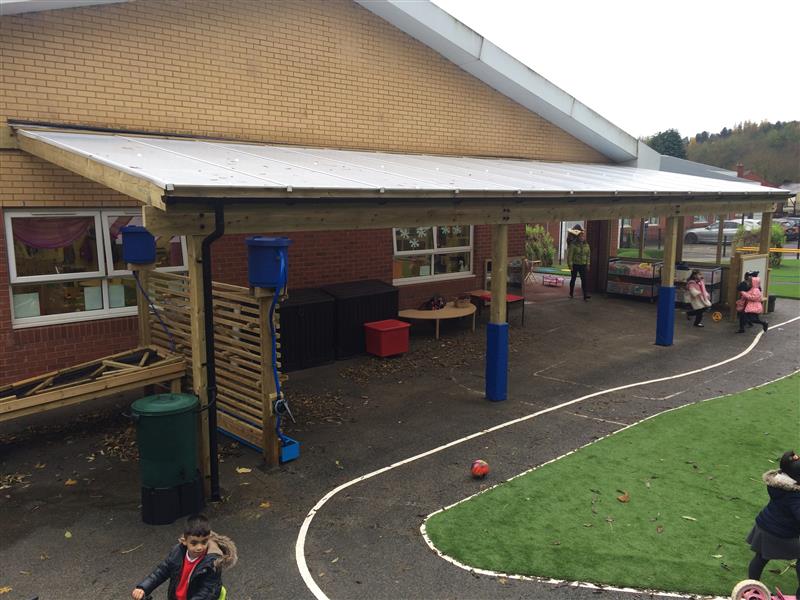 Coupled together, they are ideal for investigative, hands-on learning and scientific exploration, and they are really good fun to use too! Installing a Giant Whiteboard, a Giant Chalkboard and a Giant Mirror under the canopy has opened up much more opportunity for mark marking, writing practice and exploring art in the outdoor environment.
It has made it much easier for teachers to move traditional classroom lessons outdoors.
We have an amazing range of School Canopies including bespoke options to suit your school. You can view them here.
Messy, investigative and imaginative play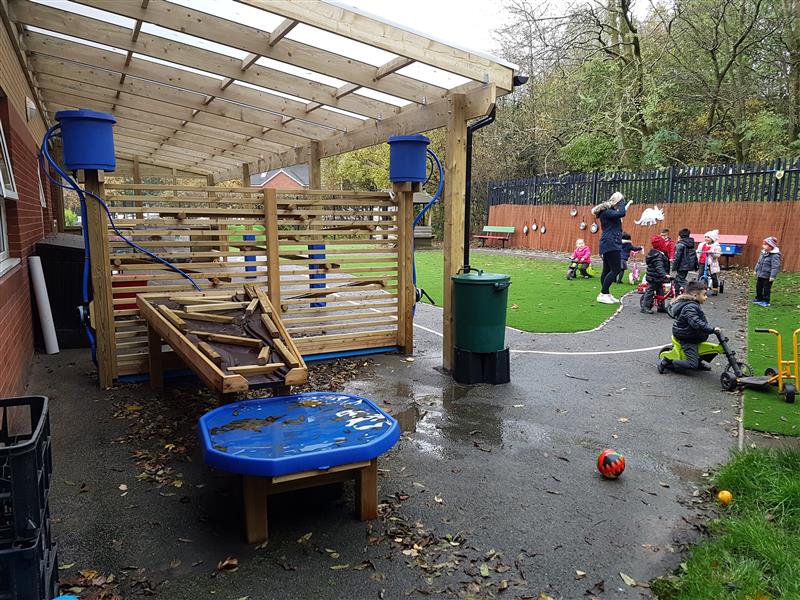 Challenged to create an area for messy and investigative play, where children are encouraged to use their imaginations, be creative, think for themselves, discover new ideas and be able to get stuck in and explore without being afraid to make a mess, we worked with Roundthorn to create a dedicated outdoor investigative messy play area.
This fabulous new area now includes:
Mud Kitchen
Tuff Spot Table
Rope and Pulley Materials Mover
Large set of Weighing Scales with Buckets
Dig Pit with a Made to Measure Cover
The children love this facility. They especially love being creative and getting messy (and the indoor classroom doesn't always have to suffer the consequences!)
You can view our amazing range of Messy Play Products Here.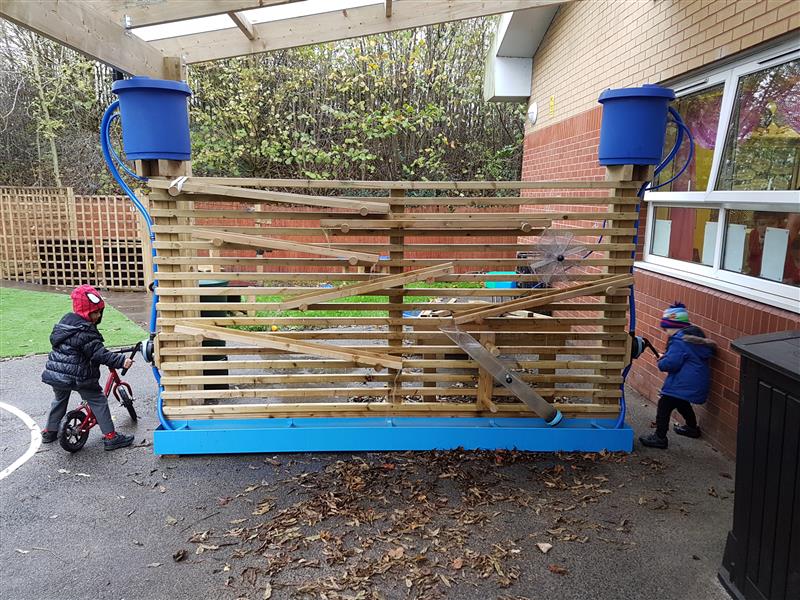 Accessible Playground Storage for child-led play
To provide plenty of storage space that can be used for imaginative role play, we removed the existing sheds and replaced them with a highly accessible Walk-In Store with the added benefit of a Chalkboard and Whiteboard for mark making. This has meant that pupils can now choose and access their own resources for more child led play.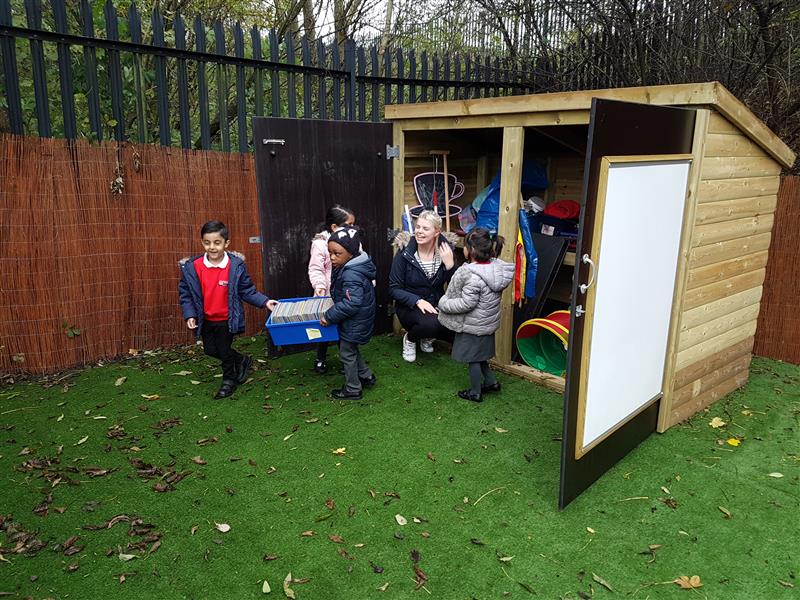 The teachers at Roundthorn Primary, have remarked on how the new outdoor environemnt has had a positive impact on their pupils' general development and language development.
They can get all the curriculum areas into outdoor learning now, and it's all there, set up ready and waiting for them to use every day!
Our Playground Consultant, Paul Bayliss, spoke with Sarah Taylor (Early Years Lead), Mrs Gomersall (Nursery Teacher) and Miss Hughes (Reception Teacher) who work in Roundthorn Primary's EYFS department. Here's what they had to say about this amazing project:
If you're looking to re-develop your early years outdoor learning environment and need some new ideas and inspiration, complete our Online Form and we will be in touch to arrange a free consultation, site visit and design presentation. Alternatively you can call 01625 890 330 (North Office) or 0117 379 0899 (South Office).