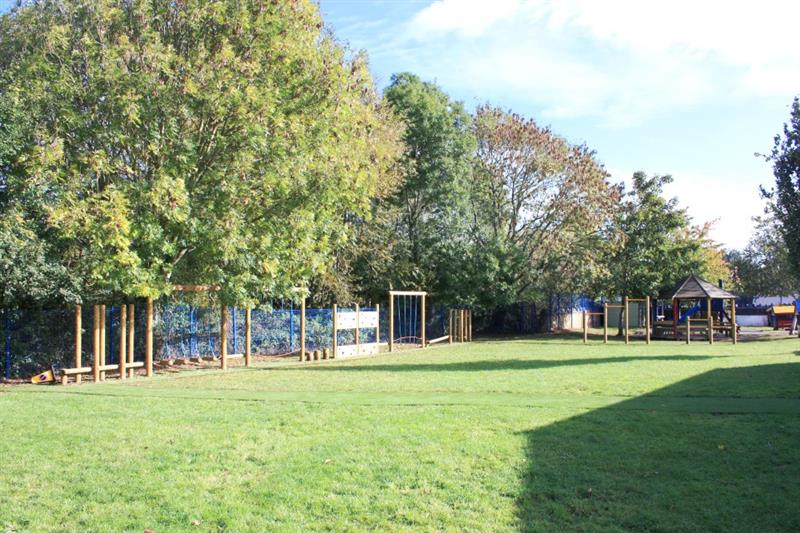 A Challenging, Fun And Progressive Trim Trail For Physical Development
Sandford Primary School in Somerset got in touch with us as their fabulous PTA wanted to develop the playground with the money they had raised from hosting exciting fundraising events.
Our excellent outdoor learning consultant, Nicole Fairman, worked alongside the school to install a fantastic trim trail that would meet all of the school's needs and priorities for the project.
An Energising Trim Trail for Physical Development
Outlining their priorities, the school wanted their new playground equipment to be assessable to both KS1 and KS2 children, suitably challenging, progressive, fun and fully inclusive to all children - no matter their age or ability.
With these priorities in mind, Nicole recommended our excellent Junior Trim Trail 3. This is an exciting mixed adventure trail that hits all of the priorities due to the wide range of challenges featured.
We installed the new trim trail to follow the perimeter of the school field; starting at the tarmac playground and ending with a fantastic set of Pull Up Bars and Roll Over Bars, before reaching the other side of the tarmac.
As the children move along the trail, the challenges become progressively harder, testing and improving their balance, lower and upper body strength, core stability, co-ordination and fine and gross motor skills.
The trim trail enables children to jump off if they do not successfully complete an obstacle, but they always come back more determined to complete it next playtime! It is a great way of improving children's climbing confidence and key physical skills one playtime at a time.
Lending itself to imaginative play too, the equipment has provided the children with more inspiration for their creative games. The children love swinging from the roll over bars as they transport themselves high up into the trees, swinging from branch to branch.
Physical Skills Can Now Be Improved No Matter What The Weather May Bring
Since this exciting selection of equipment has been installed onto the school's field, we've surfaced the area underneath it with our excellent Artificial Grass Playground Surfacing.
The artificial grass is impact absorbing and free draining, which means children can practice taking safe risks no matter what the weather may bring!
KS1 and KS2 children attending Sandford Primary love their new playground equipment and can't wait to use the space during playtimes and lunchtimes. It was a lovely surprise to come back to after the long summer holidays.
Our active play equipment is perfect for creating an inspiring space for physical development. Take a closer look at our full range here.
Our outdoor learning consultants would love to help make your playground dreams come true! Contact Us Here to begin your journey with Pentagon Play today.
We have completed a wide range of exciting playground projects for primary schools and nurseries in Somerset. Click here to view all of our work in Somerset.