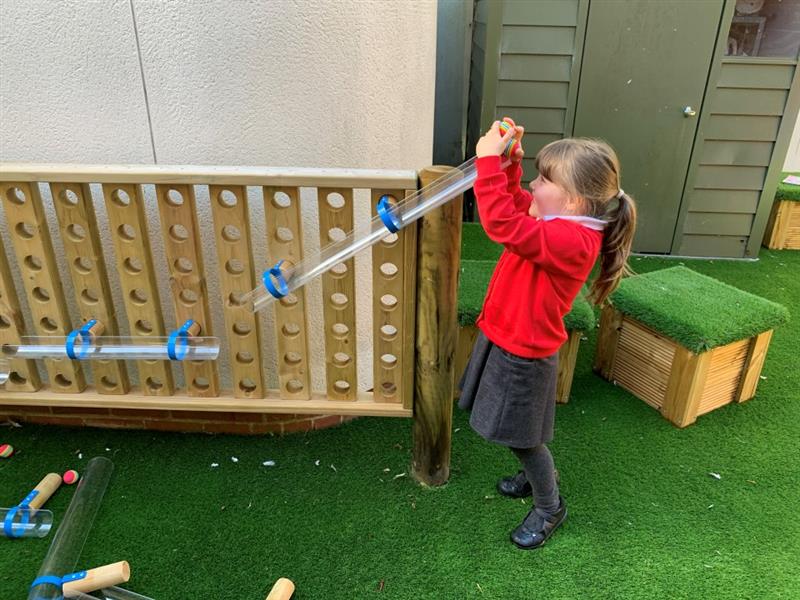 Science and Sensory Fun
"What a total transformation!"
A small village school, looking to expand their learning space into the playground, Grateley Primary School contacted Pentagon for guidance and consultation with their re-design!
Donella Felton, one of our Outdoor Learning Consultants, worked closely with the school, advising them of how to make the most of their budget and achieve their dream affordably.
After some budgeting, fundraising and help from Governors, Grateley Primary were able to afford their dream science and sensory place for their little learners!
It's a physics thing
Children at Grateley can now learn all about the world of physics and test the theories out in real life with their Ball Run and Rope and Pulley Materials Mover.
Pupils can watch the ball roll along its way down the tubes and land of the floor to aid their understanding of gravity – they can even try pushing the ball up the tubes and begin to understand why it doesn't work!
It's a ton of fun with all the learning included!
With the Rope and Pulley Materials Mover, pupils can test their strength and move materials from one zone to another with ease.
A perfect place to study momentum and forces, this product transforms this play space into the ultimate science area and gives a great place for pupils to merge their learning with play!
Even Isaac Newton had to start somewhere!
Messy Mayhem
Looking to create a safe and secure place in their playground for their pupils to engage in messy play, Grateley Primary School opted for a Damming Station with Mini Tuff Spot Table and a Water Table with Lid!
Perfect for encouraging teamwork and communication, the Damming Station is an ideal messy play product as little ones can get fully involved in their play and no worry about the mess landing on the floor.
Combined with the Mini Tuff Spot Table, children can play freely with the materials available to them and the clean up is easy afterwards!
If that isn't enough fun already, the joy continues with our Water Table with Lid, meaning that pupils can engage with water play, once again interacting with the elements around them.
Large enough for pupils to gather around and share their messy play time, this item is perfect for bringing classmates together and letting them explore their world!
A Sensory Sanctuary
"If a child in the main playground needs some 'time out' as they can bring them in here and do some quiet learning!"
With an abundance of new sensory provisions as part of their playground, the pupils at Grateley primary now have all they need to enjoy their breaktime!
Complete with Sensory Panels and Sensory Arbour, this play space is full of colour and life to soothe little learners and improve their educational experiences.
Everyone learns better in different environments and so providing a variety of environments to suit different pupils' needs is key!
We love building sensory areas that we know are going to be so beneficial to students!
"It is used by all year groups who work together collaboratively."
This was such a wonderful and unique project for us to be involved in and we loved every second!
We hope that the areas provided serve the pupils of Grateley Primary well and we wish them all the best with their future science lessons!
If you too would like to incorporate play into your lessons, then browse our complete range of Outdoor Learning Products!
Or for more inspiration, check out our Hampshire Case Studies!