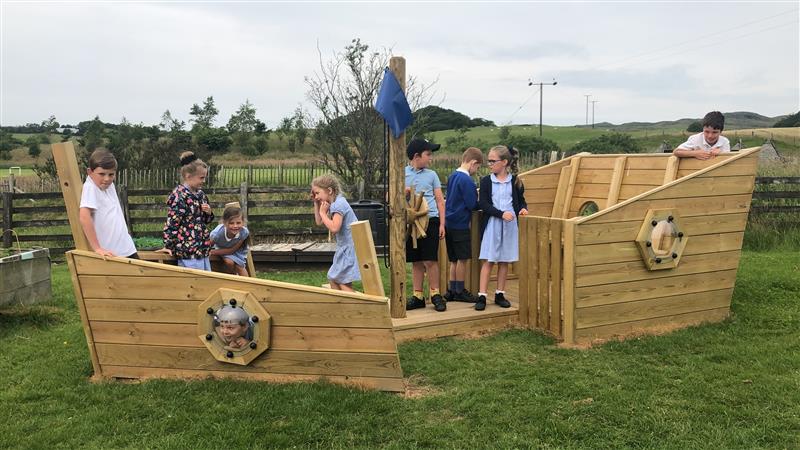 Exciting Range of Playground Equipment For Physical and Imaginative Play
Outdoor learning is high on the agenda at Selside Endowed CE Primary School in Kendal. Surrounded by the beautiful Cumbrian countryside and with its own extensive grounds and a stream running through it, it's certainly a unique setting for children to learn in.
Teachers aim to incorporate outdoor learning into all subjects and they have a dedicated afternoon of whole-school outdoor learning every week.
It was, therefore, a real pleasure for us to be able to work with the school to bring some new additions to their grounds for physical outdoor play and learning. We met with the Headeacher at Selside, Zoe Fetherstone, to discuss the school's requirements.
They wanted us to install products that would promote physical activity alongside imaginative play at playtimes, with great potential for more structured PE lessons, too. A brand new Junior Trim Trail and a Play Ship were the perfect choice of equipment for their environment.
The Trim Trail
Our Junior Trim Trail 2 is an amazing adventure play resource that combines nine different physical challenges:
Inclined Balance Beam
Climbing Poles
Tightrope Bridge
Net Traverse
Mini Balance Beam
Rope Swing Traverse
Stepping Logs
Single-Sided Timber Climbing Wall
With a combination of fixed and kinetic features, this particular Trim Trail has been installed to offer the children at Selside all kinds of opportunities to develop physical skills in balance and coordination, working on their core strength and stability, upper and lower body strength and fine and gross motor development as they climb around the course.
On top of this, it puts their brains to the test, presenting situations where they have to problem-solve to make their way successfully through a section of the trail, all the while building their confidence and helping them learning how to tackle risk for themselves.
It's great fun at playtimes, but it's also a great resource for PE lessons. It supports a range of motions to help develop fundamental and more advanced movement skills, allowing teachers to set a great variety of achievable learning objectives. And of course, it's big enough to engage a whole class in one go!
The New Pentagon Play Low-Level Play Ship
The Low-Level Play Ship, along with our Flag System, places focus on imaginative thinking and creative play. It's perfect for role play games.
Whether the children are following the nautical theme, or using it as something else entirely, they can create dens using the unique den making posts, with holes for threading, which cleverly double-up as the ship's mast, sail and flag poles.
Detailed features of the new Low-Level Play Ship include:
Ship's Mast - lookout ahead!
Ships Wheel, which turns on its axis for authentic sea-faring adventures.
Walk the Plank - who dares?!
Den Making Posts for all kinds of creative den-building.
Spacious bench seating at the rear, for relaxing, social interactions, or a fabulous spot for outdoor reading and themed storytelling. This is also a great additional base for targeted outdoor learning.
7 beautifully made real portholes to peer through - whether for fun interactions together or for looking out for approaching sharks or crocodiles!
The new Flag System is a superb feature for both imaginative and physical play - children have to use their big muscles and gross motor skills to pull the rope and move the flag up and down. Get ready to set sail!
It's a great example of a simple machine, a basic pulley system, so it's a useful resource for teachers at Selside to demonstrate concepts around physics and mechanics too.
We went to visit Selside after the installation and see how the children were getting on with their new equipment. We tried to ask them what they thought of it, but they were far too busy mastering the oceans and having fun on their Play Ship to talk to the likes of us! Which said it all really!
We saw some fantastic teamwork going on as the children encouraged each other across the Trim Trail and some great imaginative play as they set up a "pizza party" on their Play Ship - happy customers indeed!
The children have even had a visit from MP Tim Farron. He came to admire all the work that the school have put into their garden and to answer some challenging questions from the children about their environment. They certainly enjoyed showing him how much they love their new Play Ship and Trim Trail - we wonder if he managed to complete the course?!
We have been designing and building school playgrounds for over 20 years. You can view our full range of exceptional outdoor learning, play and sports products for schools and nurseries here.
If you are looking to develop the outdoor space at your school or nursery to create an active, curriculum-based outdoor learning and play environment, please do not hesitate to Contact Us. We offer a free, expert, no-obligation playground consultation. Whether you have a specific idea or theme in mind, or you are looking for new ideas and inspiration, we are here to help.