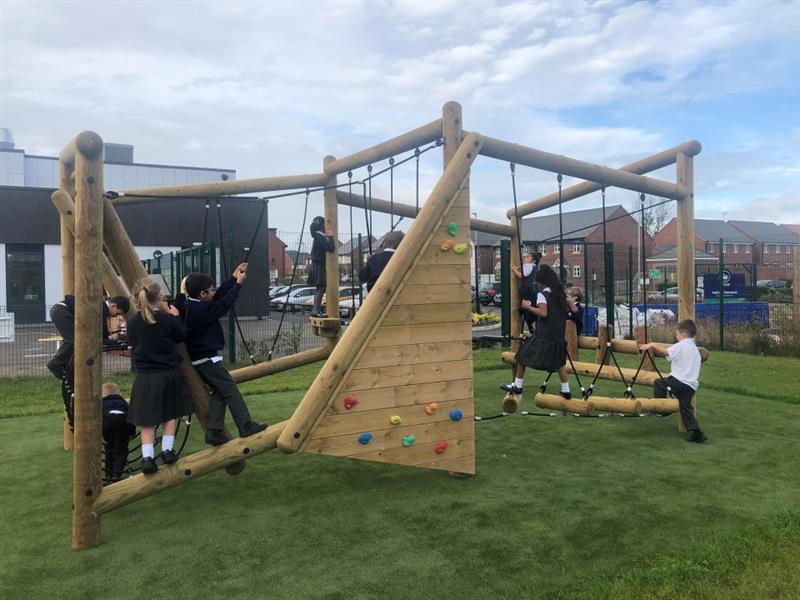 A colourful, climbing transformation for Highfields Spencer Academy
Staff and children at Highfields Spencer Academy in Derby have been having so much fun exploring their new equipment.
Improving active play and creating interesting spaces for outdoor learning were top priorities for the school which places great importance on the many benefits of learning within nature.
Reaching for the top at Highfields Spencer
Academy!
A once plain, open space, full of potential, is now home to our impressive Puzzlewood Forest Circuit. The huge climber has caused quite a stir at Highfields Spencer!
There are numerous obstacles to conquer and different levels to reach. Pupils feel as though they are swinging through the trees as they cross the wobbly log traverse and jump to the next platform.
Core stability and strength are needed to tackle the net tunnel. Climbers will feel like they've reached the top of Everest as they succeed in touching the top of the triangular climber.
We installed deluxe artificial grass playturf underneath the active play zone. Our artificial grass is extremely hard-wearing, yet soft to touch, giving a realistic feel. A shockpad tile layer was fitted to ensure maximum protection if any trips or falls were to occur. A shockpad layer allows pupils to explore playing at different heights and allows them to take safe risks.
Where will pupils' imagination take them?
Located in the EYFS outdoor area, our Imagination Station is an open-ended resource that young children will enjoy all year long. An ideal place for imaginative games, children could be blasting off into space, steering the ship to safety, or giving a performance to a roaring crowd!
Den-making posts provide further opportunities for creative play. The coloured panels and bubble window make this a very cool place to hang out with friends whilst developing new vocabulary and social skills.
Forces can be explored by placing different materials on the ramp and testing toy cars. There is plenty of space for young scientists to draw and write their results on the mark-making panels.
This inviting space opens up many curriculum opportunities. Storytime will transport children on a brand-new adventure each day as they get cosy in their amazing, elevated reading nook.
An outdoor oasis!
Highfields Spencer Academy opted for a stunning sensory gazebo that offers a quiet space in the playground where children can relax and gather with friends. A beautiful spot for outdoor learning, the classroom is equipped with a giant chalkboard and can comfortably sit whole classes.
When the sunlight hits the polycarbonate panels the interior of the classroom is filled with rainbows of light which provides a calming, sensory experience.
The rainbow panels certainly fit with Highfields Spencer Academy's RAINBOW vision which stands for Respect, Achieve, Inspire, Nurture, Belong, Open, and Well-Being; wonderful attributes for the children to uphold.
We finished off the outdoor classroom area with the addition of freestanding chimes that help children to learn basic notes that can be performed in the wonders of nature. A giant mirror encourages dramatic play and self-awareness helping rising stars with their intonation and diction.
It was a pleasure to create a stimulating outdoor environment for pupils at Highfields Spencer Academy. We hope to have created a challenging space full of excitement, fun, and real wow moments!
If this sounds like a transformation that you would welcome at your school then please, Contact Us Here!
Or, take a look at some of our other Projects in Derby!