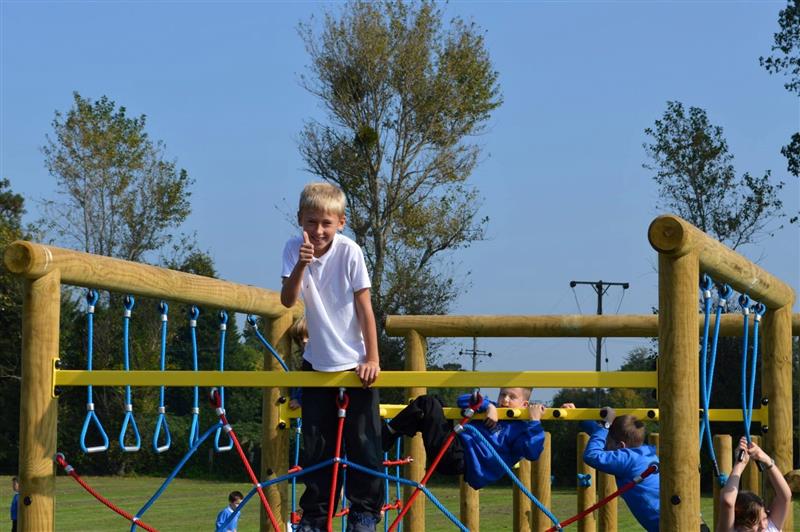 It's a Thumbs UP from the children at Severn Beach Primary
A fun and active source of play was lacking in Severn Beach Primary's outdoor learning environment. Having a playground that provides both physical and mental challenges, is vital for the development of children, especially those at KS1 and KS2 level.
From viewing the area, there was a lack of physical challenges for the children of that age range and as a result, they were using other not-well suited resources to climb and unleash their bundles of energy on. This was a major issues as this could potentially cause the children to injure or harm themselves or others around them.
Head Teacher Alison Read explains:
"I think from the school's perspective the children didn't have any opportunities to climb, at all. What we had was a small tepee and a little role play area, but the children were using the role play area to climb on which was quite dangerous and not fit for purpose".
Our play enthusiast, James Collis-Pritchard, worked alongside Severn Beach to provide the school with an area that would challenge the children physically and adhere to the demands that the curriculum has in place.

Playbond surfacing provides playground zoning
The space we were utilising to develop was very open and at that moment, was not a very appealing place to play. There was no zoning or opportunities for variety in their play to excite and motivate them to partake in fun activities.
To tackle the zoning issue and give the children their own play island, we introduced a dark green all-weather Playbond surface. This meant that the area's floor had a different colour to both the playing field and the tarmac playground, giving it its own special feel. This also means the children now have a variety of play options… they could play sports on the grass field, they could run around on their tarmacked area or now, test their abilities in the newly installed active zone. With these active choices, the role play area can now be used for what it was designed for.
Alison remarked:
"Well what we're seeing now, is the role play area is being used for role play and the children are using the new equipment to climb on."
A Web Explorer offers multiple Physical opportunities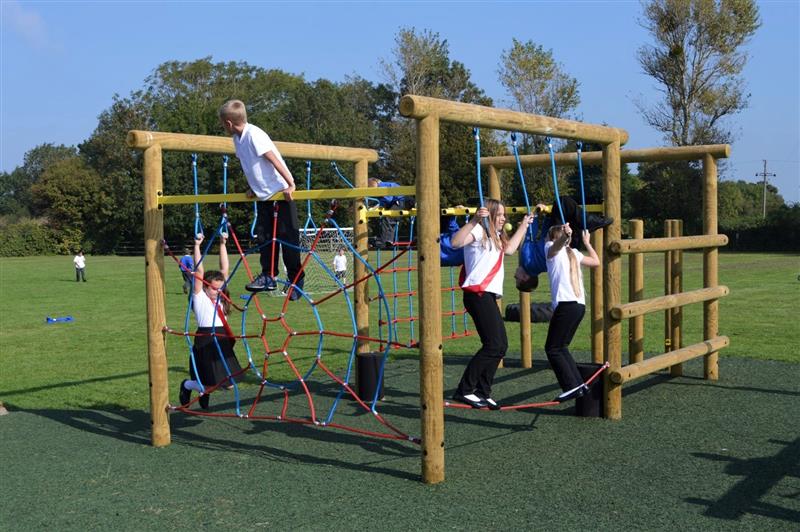 The next step was to install the chosen Active Play Equipment. The school favoured the Web Explorer which is a fantastic resources that provides 6 different physical challenges. This climbing structure has the capacity for multiple children to use it at any given time, helping to boost co-operation, team work and communication whilst children will use their imaginations to create new situations to play in. For instance, they could become strong monkeys swinging and climbing through the jungle.
We also installed our Log Net Climber with Tunnel, as it has its own unique physical challenges. It's the perfect resource to develop upper and lower body strength as well as gross motor skills that can even further aid children in other educational activities such as handwriting. As always, imaginative play will thrive as it can be transformed into a friendship den, a secret escape tunnel or a treacherous Mountain that needs to be overcome.
To go alongside these two active resources, we provided Pull Up Bars to help children build their upper body strength and promote muscle development. This will create a competitive edge as children begin to compare the amount pull ups they can do with each other.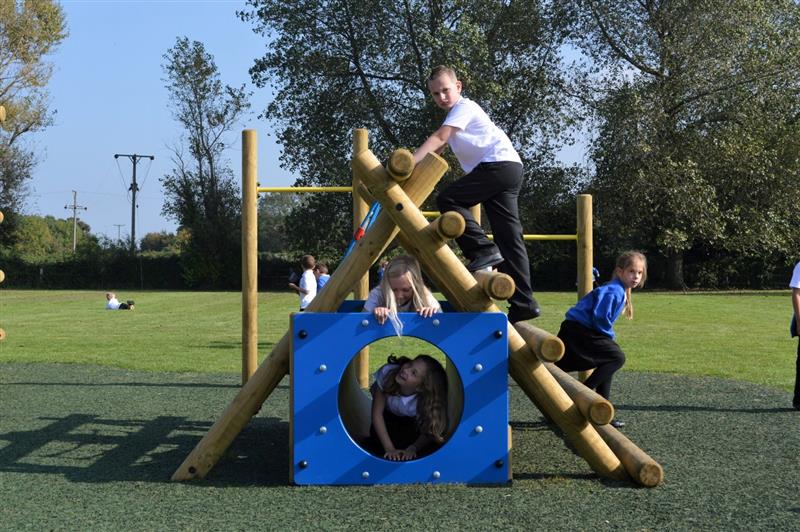 A proud school with a playground that is better zoned, equipped and full of variety
We returned to the school to talk to Head teacher Alison Read about the difference the equipment has made to the play time and development of the children.
Alison said:
"It has been the perfect resource for motivating the children, it doesn't just get used in play times and lunch times, we use it as part of golden time and we have small groups going out there, so we are not just limiting it for the children's free time. It's a reward".
She also comments on the "biggest difference coming from the behaviour of the children". Alison also explained how it has helped boost social skills through the school and between years:
"You can see them supporting each other on the climbing equipment, socially because we have mixed year groups it's been really good. We have year 2 and year 4 that are split between classes which has been really good and something that all the year 2's can come together on, and what I have liked is seeing the way the equipment has been structured so the children can only reach what is safe for them to reach."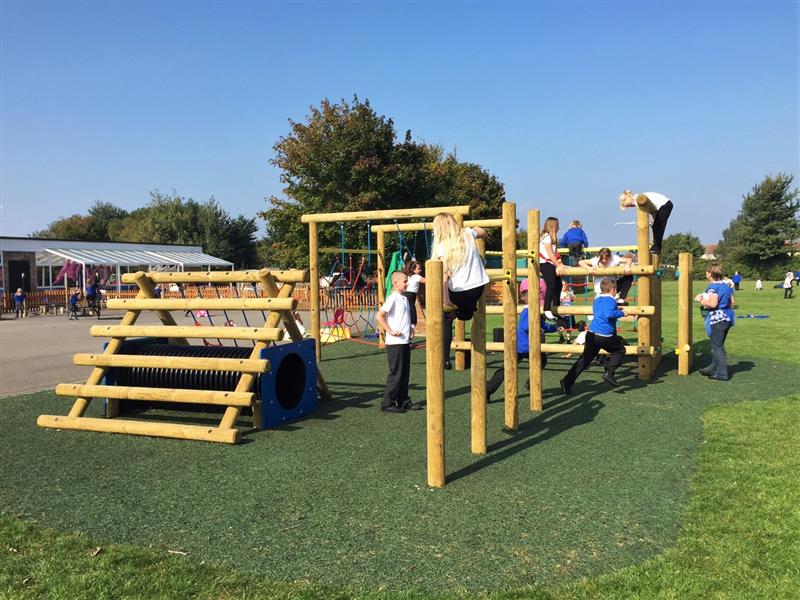 To summarise working alongside Pentagon, Alison Said:
"Working alongside Pentagon has been a mutually collaborative experience, I felt the children were at the centre of all the decisions being made and I wouldn't think twice in going back and adding to the equipment".
"The short time I worked alongside James was absolutely brilliant, no problems at all, I think throughout the process James was listening, adapting and taking on board any questions or concerns. Friends contributed quite a bit of the money towards the apparatus and wanted to build a climbing frame and there vision was quite a lot different to what the reality was going to be. So we did have a meeting with the chair of the friends, James handled that brilliantly, reassured and we ended up then putting more money into more equipment."
Do you have an area that needs developing? We are experts in the design and installation of school playground equipment to best fit around your needs and demands. Do not hesitate to Contact Us on or give us a call to speak to one of our specialist consultants.