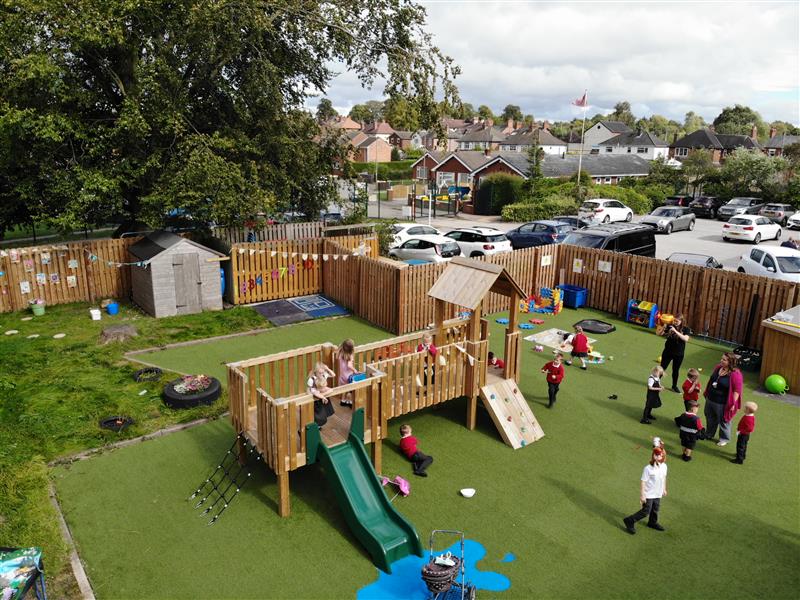 Engaging, All-Weather Outdoor Play Spaces For Nursery and Reception
After a recent expansion, Shavington Primary School, in Cheshire, wanted larger, all-weather outdoor play spaces where their nursery and reception children could participate in outdoor learning and play.
Our playground consultant, Ian Wood, was delighted to be able to work with the school to transform their reception play area and their nursery play area into wonderful areas that promotes physical development and enabled the children to access the great outdoors throughout all seasons.
Early Years Playground Development
We transformed the school's early years playground from a tarmac area with a few, faded playground markings into a vibrant, colourful outdoor learning environment, which the children can access all year round.
A huge play tower serves as the focal point for the new playground!
The Kenilworth Play Tower provides the children with an exciting, high-level structure that they can develop their key physical skills on.
Including a scramble net, ladders, a slide and a climbing ramp, the children have multiple entry and exit points where they can run participate in creative imaginary play games as they develop their upper and lower body strength, fine and gross motor skills, communication and language skills.
Sharing a story on the top deck and playing king of the castle is a few favourite games the children love to play on their new play tower!
Our vibrant, free draining Artificial Grass Playground Surfacing ensures that the area won't flood or become unusable throughout periods of bad weather, because it allows water to penetrate through the surface.
This bright green playground surfacing is also impact absorbing and soft to land on, protecting children from slips, trips and falls, too!
Nursery Garden Development
The nursery garden was a blank canvas after the school's expansion, meaning Ian could design and create the most suitable, perfect area for their children to learn and play in.
School readiness is something the school wanted to ensure the outdoor area was contributing towards. As a result, they decided that our Pinnacle Hill Climber would be perfect for developing a number of different skills.
Our Pinnacle Hill Climber is an introductory climbing frame for Nursery children to improve early skills.
Communication, language and social skills as well as their fine motor skills, gross motor skills and upper body strength are all developed as the youngest children attending the school grip and grasp the smaller diameter logs and ropes to pull themselves up as they traverse across the frame.
The nursery children at Shavington Primary School love climbing up and jumping off the introductory resource, since their climbing confidence has enhanced!
Timber Canopies
It was important to the school that their nursery children and their EYFS children can play in their new outdoor learning environment throughout all weathers.
As a result, they have had Timber Canopies installed in both of the playgrounds to provide the children with shade from harmful UV rays and shelter from the rain - enabling them to access free-flow provision during all seasons.
The early years teachers and children alike love their new outdoor learning environments.
If you'd like to transform your outdoor play and learning environment, please feel free to Contact Us for a free, no-obligation consultation.