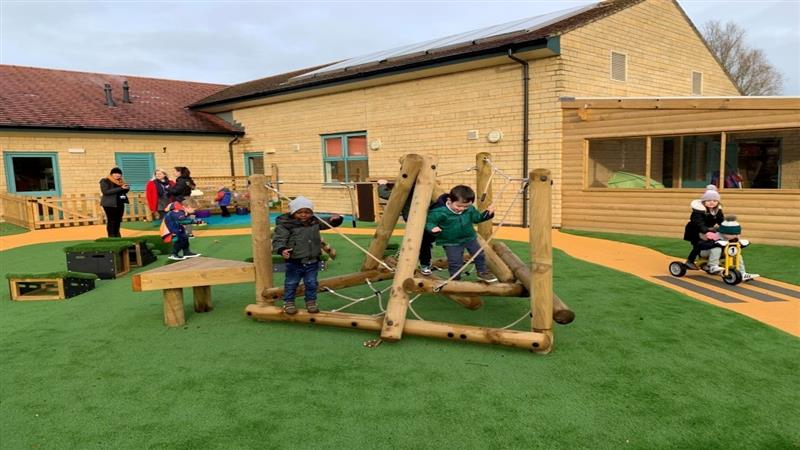 A New Nursery Zone for Shaw Ridge
Looking to create a free-flow indoor and outdoor area to revitalize their nursery space and give pupils an exciting and engaging environment for play and learning,
Shaw Ridge Primary School
worked closely with Outdoor Learning Consultant,
Becky Hazell
to bring their vision to life.
It was important for Shaw Ridge that the space encouraged their little learners to get out into the fresh air and enjoy the space at their fingertips- and we achieved exactly that!
"The first few weeks, we weren't inside at all, mostly outside instead! The children just loved it!"
A breath of fresh air
With the addition of two new
Bespoke Canopies
, one 10m x 3m and one 8m x 4m, Shaw Ridge's Nursery now has a versatile and extremely unique learning space that is bound to aid their pupil's education.
Switching up the learning environments for pupils, especially those of a young age, can be an extremely valuable factor in improving concentration and memory skills.
The world is an extremely bright, vibrant and often overwhelming place for young people and therefore, attention spans can be short as they attempt to absorb much information at once.
Crafting a learning space with these curious minds at the forefront of the design means that their education will be benefited extremely.
Offering a change in learning environment and a chance to take in some fresh air in between classes, means little learners are more engaged in their learning in the moment instead of feeling tired and worn-down in the middle of the day!
Raising the next world champion
Another feature of this incredible playground transformation is the addition of the
Wetpour Roadway.
Designed to simulate real-life as closely as possible, pupils can learn the rules of the road including zebra crossings, speed limits and more!
Children can mimic their parents in their little cars and scooters, and interact with one another as they role-play real-life scenarios.
Implementing a zone where pupils can communicate with one another through story-telling was crucial for Shaw Ridge Primary.
One thing they commented on was the impact that COVID-19 had upon Communication, Language and Literacy Development, and Personal Social and Emotional Development and how they were looking to get this back on track.
With the addition of this roadway, the team at Shaw Ridge commented that "they're interacting all the time, practicing self-regulation skills, making friends and negotiating who's going to cross the roadway whilst someone else is on the trike coming along."

Speaking of surfacing
Shaw Ridge Primary also received an abundance of new surfacing for a variety of different areas!
Becky worked with the team to implement different surfacing options to really make an impact on the area.
With the addition of two new Wetpour colors, Shaw Ridge has been able to create distinct zones for sand and water play, using correlating colors to visually guide pupils to the areas.
"It signifies to the children where the sand area is and where the wet area is and where the track is. It's really clear, even for those children such as our EAL children."
The installation of
Artificial Grass
has also been greatly beneficial to the pupils of this nursery, creating a fresh-looking and welcoming environment for pupils to enjoy.
This combination has also had great sensory features for the pupils, allowing them to interact with different textures and appeal to their different senses!
Not only does it look good, it's a super fun and beneficial use of surfacing!

The Aforementioned Areas
The areas mentioned above such as the Sand Area, The Water Area and also a Mud Area all come together to create an ideal messy play space for the little learners of Shaw Ridge.
Messy Play is an effective way of pupils learning through play by engaging all of their senses and interacting with different textures, colors and tools.
With the inclusion of a
Mud Box
, pupils can dig, burrow and mix the mud together until their heart's content, all whilst keeping it in the designated mud zone to reduce dirt paths into the classroom.
With the specific
Covered Sand Box
, pupils can imagine they're at the beach, building sandcastles, creating towers and using different tools- what a great way to make the school day feel like a holiday!
This is true with water play too, a little learners can use their
Water Wall with Water Damming Package
to experiment with different substances and watch how they flow down different tubes at different speeds- how exciting!

Climbing Conundrums
Another area that Shaw Ridge is super excited about is their new climbing space which will be utilized to improve climbing confidence in their pupils!
Pupils can now clamber and climb their way along their new
Pinnacle Hill Climber
which will be incredible for pupils developing gross motor skills and evaluating risks.
Speaking of evaluating risks, this is also a feature of the
Get Set, Go! Blocks
that Shaw Ridge loves.
Due to the free-standing feature of the Get Set, Go! Blocks, the sets can be moved around to create different paths which the children then get to weigh up and evaluate as they navigate their way along!
"They can take risks so every time we change it, we ask them to go around and test it and they talk about whether to go further away or shorter and they jump off the top and dive off, yeah, really good for risk-taking."
A Shelter for Learning and Play
Another wonderful addition to this area is the Forest Floor Learning Den with Window and Bench!
This cosy space is ideal for pupils looking to retreat from the noise and take a moment in the quiet.
Children can focus on their well-being and develop communication skills by sitting with a friend quietly in this zone and practicing their socialisation!
Pupils can even look out of the window at the world below and discuss their play environment.
It's the ideal addition for any learning environment!
This project was an exciting opportunity to design different areas in order to create a multi-purpose learning environment and we are thrilled for this school and to share it with everyone!
If you would like some inspiration for your re-development project, browse through some of our other recent projects here, and see how we can transform your space
Or, if you already know what you'd like your area to look like, Contact Us Today and book in a visit from one of our Outdoor Learning Consultants. We can't wait to hear from you!