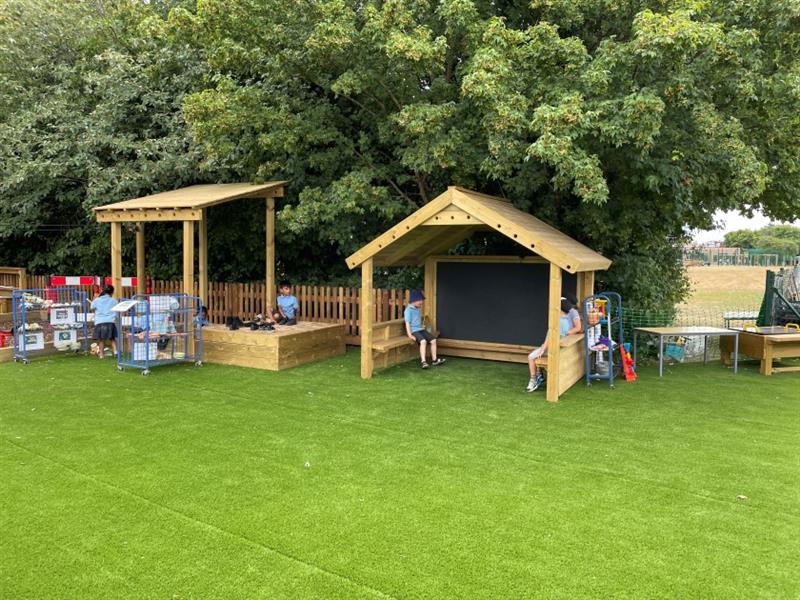 A Fantastic Early Years Space to Inspire and Motivate
We were very excited to start the transformation process of the Early Years Outdoor Space at Sparrow Farm Primary School in Middlesex.
Head of Sales, Sam Flatman, met with Reception Class Teacher, Oliver Tomlinson, to discuss the exciting plans Sparrow Farm had to create a stimulating environment for their young learners.
Sparrow Farm Primary wanted to create an outdoor space that would encourage curiosity, provide children with real-life experiences and enable pupils to create their own 'child-led' learning opportunities.
By changing the existing layout, we maximised space and provided a large, safe, exciting area where children were free to learn and explore.
The entire playground landscape was completely transformed with the installation of playturf, laid over wetpour surfacing. The space is bright, inviting and fits well with the leafy, natural surroundings at Sparrow Farm.
Enter the Construction Zone!
A real stand out feature for pupils is their new space for design and construction. Using sleeper sides, we were able to devote an entire section of the playground to this type of play. Mud, blocks and bark chipping can be transported using the Materials Mover as children learn about forces and mechanisms. Two Construction Tables offer plenty of space for building using bricks or drawing out plans for the latest structure!
On one side of the Construction Zone is our Sliding Sandpit. Pupils can develop their writing skills by making marks and patterns in the sand and they can role play being at the seaside! There is no need to worry about weather conditions as a timber roof provides shade and protection.
Located on the other side of the Construction Zone is a place for messy mud kitchen play. There is plenty of space for children to devise their new creations as they learn to share and talk about their processes. A Sorting Table is the perfect place for diners to receive their orders or to make some changes to a recipe!
Welcome to my House!
The addition of a Giant Playhouse allows many possibilities for outdoor role play. The space may become a doctor's surgery, a travel agents or a garden centre. The chalkboard and bench features help children to re-enact real life situations and to take on different roles when playing as a group.
Two Self-Selecting Stores allow children to work independently as they are able to access the materials they need. Pupils will know how to tidy up at the end of sessions, as they respect their wonderful, new resources.
A moveable Interactive Whiteboard is a great outdoor addition. It can be used as part of role play games, for free drawing and mark making, as a teacher tool during whole class or group work or to display relevant information.
In one corner of the space sits our Water Package Station. Fine motor skills are fully developed as pupils fill, pour, empty and stir whilst creating a course for water to flow down.
Moving and Exploring
It was great to see pupils at Sparrow Farm making full use of their Get Set, Go! Blocks on our return visit. Pupils were working together to create their own circuit, developing gross motor skills through climbing, sliding and jumping. Pupils needed to work together to decide upon the position of the 12 blocks and the route they should take around the course.
It was a pleasure to work with Sparrow Farm Primary School, providing their pupils with plenty of green space and resources to explore to become self-confident learners. Children will certainly be able to live up to their school ABC values Ambitious, Bold and Curious as they discover all their new space has to offer.
If you would like to get started on your brand new Playground Project, then Contact Us Today to discuss your design and to book a meeting with our Outdoor Learning Consultants!