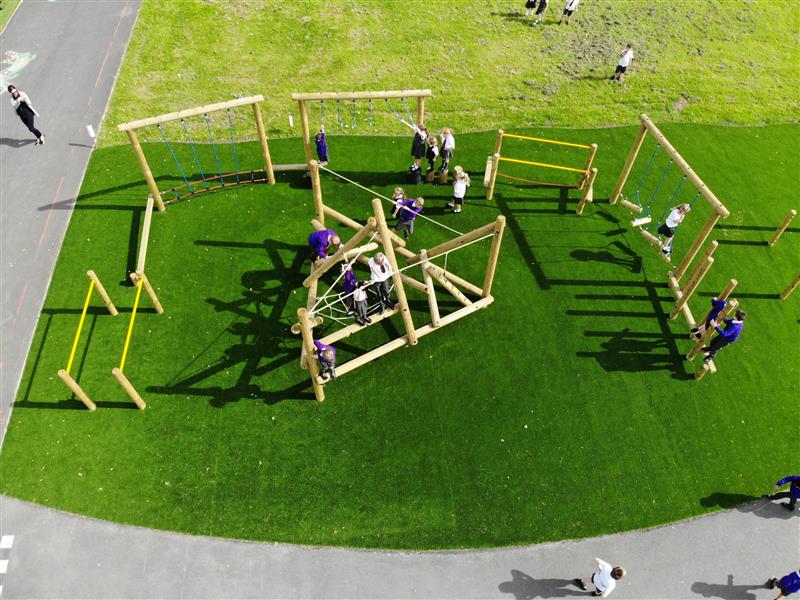 An All-Weather, Energising Active Play Environment
We have transformed part of a natural grass field at St Bernadette's Catholic Primary School into an energising, all-weather active play environment.
Working closely with St Bernadette's Catholic Primary School, located in Blackpool, we have installed a varied selection of active playground equipment to extend physical play opportunities at the school.
St Bernadette's contacted Pentagon as their children couldn't access the field all year round due to the 'great' British weather causing the grass to become waterlogged and muddy. They wanted a physical play area, which the children could access throughout every season.
Active Play Area
The energising active play area is made up from a selection of trim trail equipment and one of our natural-looking Log Climbing Frames. Alongside the area, we installed two sets of Den Making Posts to create a breakaway space for when children want to relax, away from physical activity.
The children can use loose materials, ribbon, cargo nets and anything else they can find to create dens and covered spaces to relax within. Providing resources such as books or mark making materials enables children to share a story or write short stories to share with one another while resting.
This fantastic, chilled space can be transformed into different, make-believe, imaginary worlds to further support their creative games taking place in the active area – releasing children's inner-creativity and promoting social, communication and language skill development, too!
To create an energising active play area that enables many children, from different age groups, to play together, we installed a wonderful selection of trim trail equipment in a semi-circle, using the Tryfan Climber as a focal point for the area.
The Trim Trail Equipment gets progressively harder as the children move through the trail from start to finish, testing and improving their overall body strength, climbing confidence, fine and gross motor skills, co-ordination and core stability.
All ages of children, from Year 1 to Year 6 have been having great fun on the new equipment. The older children have been heard motivating the younger pupils and talking through how to complete the trail and they have even been participating in imaginary play games together!
They love playing games such as 'the floor is lava', where they have to traverse across the equipment without touching the floor in the area.
The focal point of this engaging area is our stimulating climbing frame, the Tryfan Climber. The Tryfan presents children with a non-prescriptive active challenge, which includes rope handrails and scramble nets for the children to conquer and climb.
As there is no obvious way to enter the log challenge, children can climb as high as they like, developing their climbing confidence and key physical skills at the same time. This is perfect for the younger children as they can slowly, but surely, build up their confidence overtime, without the need to complete the whole challenge as they can jump off when they like.
Imaginative play has truly been enhanced as they transport themselves deep in the amazon, swinging off vines and tree branches.
To ensure that the area can be used no matter the weather, we have installed our vibrant Artificial Grass Playground Surfacing underneath the equipment. The green, imitation grass blends in with the natural grassed area surrounding it, but doesn't become waterlogged or muddy during poor weather.
As it's soft to touch and impact absorbing, this ensures serious injury is prevented as the children climb into the sky.
Teachers at the school have heard plenty of social, language and communication skill development as the children play, climb and balance, further enhancing their key physical skills in the new area.
If you would like to extend the physical play opportunities in your school playground, please Contact Us Here for a free, no obligation quotation. Alternatively, view our full range of exciting Active Playground Equipment.