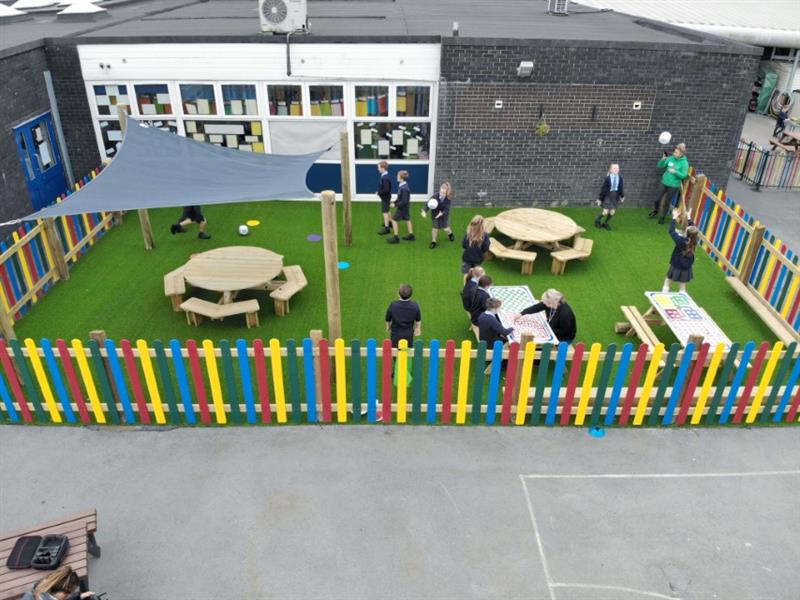 KS1 Playground Equipment To Promote Maths and Literacy Outdoors
St Bernadette's Roman Catholic Primary School in Manchester had an exciting vision in mind to help enhance their children's learning outdoors in their KS1 playground.
The school wanted to create an exciting games area in the area to promote mathematics, while enhancing imaginative play, literacy and maths skills, too!
Our playground consultant, Meg Booth, helped bring these exciting playground visions to life through the installation of educational, stimulating playground equipment.
KS1 Outdoor Games Area
For the KS1 children attending the Manchester school, they wanted a stimulating play space for mathematics and reading to take place.
As a result, we sectioned off a space outside the classroom with our colourful Bow Top Timber Fencing and surfaced the area with our comfortable, vibrant Artificial Grass Playground Surfacing before installing a range of Playground Seating.
The Round Picnic Tables provide the children with a relaxing space to eat lunch, talk and socialise or share stories with one other during playtimes and lunchtimes. Along with the Picnic Tables, we also installed two of our excellent Game Top Picnic Tables with Connect 4 and Ludo and Maze and Snakes games features on the top.
These brilliant tables provide the children with the resources to participate in mathematical games as they practise their counting and problem-solving skills.
KS1 love their new outdoor games space and the teachers love providing the children with loose play resources to enhance their learning further.
Engaging Thermoplastic Playground Markings
In another area of the KS1 playground, we installed a selection of Thermoplastic Playground Markings to further enhance the children's learning while promoting imaginative exploration.
The children can participate in mathematical games together as they use bean bags to enhance their counting skills and compass recognition. They love co-operating with one another as they jump, step or skip from each marking, participating in educational games together.
Storytelling Circle For Outdoor Reading
Finally, the school wanted to enhance the children's literacy skills and instil a love of books, fairy tales and reading in their young children. Consequently, Meg believed that our excellent Communication and Language Zone was the perfect outdoor resource for the children.
Featuring a storytelling chair, perch benches and mark making panels, the new zone inspires the children to write, draw and share stories with one another.
Eager to sit in the giant chair and read to those sat around, the children's self-confidence, communication, language and literacy skills will progress further as children freely read and write with one another.
The new KS1 Playground Equipment has truly enhanced the outdoor environment for the young children attending St Bernadette's Roman Catholic Primary School and the teachers are more than impressed with how focused and engaged the children are during play times and lunch times.
If you'd like to enhance your school playground, please Contact Us for a free, no-obligation consultation with one of our expert playground consultants.