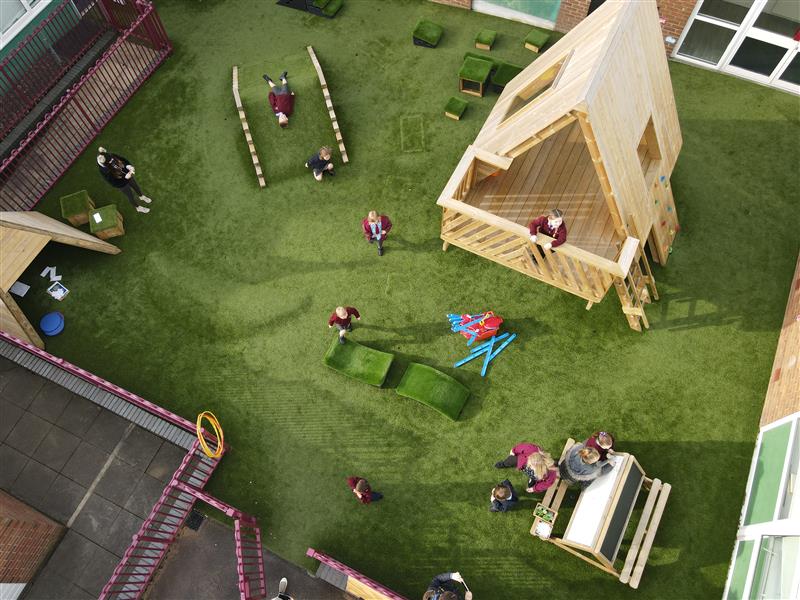 A Reception re-model for St Charles' Catholic Primary Schools
"Our new playground has totally changed what we can do for our Reception children"
Despite their wonderful ideas, energy and enthusiasm for outdoor learning and play, the Reception staff and children at St Charles' Catholic Primary School in Liverpool found themselves heavily restricted by their unwelcoming concrete courtyard.
It offered limited options for outdoor learning and play, and the hard concrete surfacing was full of muddy puddles that made it difficult for the children to run around. At times when they could go outside, the mess was inevitably being carried back into the classroom.
With dreams of outstanding outdoor learning experiences for their EYFS children, and a space that clearly had so much potential for redevelopment, it was time to do something about it (and say goodbye to the endless mopping too!) Our Outdoor Learning Consultant, Ian Wood had the pleasure of working with the EYFS team at St Charles' Catholic Primary to do just that.
Playground Surfacing for All-Weather Action!
After carefully removing and disposing of the old steel canopy and storage units, the first thing to address for St Charles' was the surfacing - we needed to deal with that crumbling concrete!
We prepared the ground with our dynamic play baseworks before covering the majority of the courtyard with our All Weather Playturf Artificial Grass. This immediately softened the space, opening the whole area up for outdoor learning and play and making every inch accessible to the children.
The new surfacing has brought greater depth and beautiful, natural-looking deep green colour to the EYFS playground. It has completely lifted the atmosphere and transformed it into a warm and welcoming environment for the young learners, which will bring a huge boost to their physical and mental wellbeing.
Our artificial grass is self-draining, super durable and tested to rigorous standards, so heavy footfall is never a problem - the children can run around on it as much as they like and enjoy it in all weathers.
We landscaped a Playground Mound into this new playground surface, to offer the children physical development opportunities with play at different levels - it's a fun feature that's ideally used for helping to improve balance, proprioception and core stability.
Despite its durability, our playturf is soft to the touch, making it a temptingly tactile ground on which the children can either sit and play, or run and roll around as free as the wind. The EYFS teaching staff at St Charles have told us that the children absolutely love running around on it, using their energy to move their bodies in all different ways, improving their physical fitness and developing their motor skills as they do. With no more concerns about slip or trip hazards they're free to let themselves go - and at St Charles' there's certainly nothing holding them back!
Developing Bright Minds and Delighting In GoodHealth Through Active and Imaginative Play …
The arrival of our eye-catching Active Tree Top Learning Den brought so much excitement for the children at St Charles' as they watched it taking shape in their playground - they simply couldn't wait to give it a go!
The tantalising timber tower structure invites them to climb up and take a view of their surroundings from the balcony, venturing into an open-ended venue that supports fantastic crossover between active and imaginative play - somewhere each and every one of the prime and specific areas of learning can be explored!
There's a sloping Swiss-chalet style roof with look-out windows ready and waiting for den-building and role play games. With room for everyone to join in, the Learning Den can be accessed by a stairway with handrail for support, or a sloped climbing wall for a greater physical development climbing challenge. All the grab and grasp actions encourage fine motor development - slide down the fireman's pole for an alternative exit that opens up all sorts of ideas for imaginary games!
Triangular and rectangular design features are fascinating for the children at St Charles' to investigate as they achieve learning objectives covering shape in maths, and experiment with mathematical and positional language and concepts.
Alongside the Learning Den we included a Climb Through Tunnel Hill which the children absolutely love charging up, rolling down and wriggling through, discovering what their bodies can do and building their strength and coordination.
A set of EYFS-favourite Get Set, Go! Blocks enables the children to build their own imaginative obstacle courses and get creative with their ideas for physical play. Together these resources now make daily outdoor Physical Education at St Charles' easily achievable, and ensure that children can gain the very most from their outdoor experiences.
Indoor to Outdoor Free Flow Fun
We replaced the old, weathered steel canopy with a stunning new Timber Canopy that boasts a twin-wall polycarbonate roof in a translucent opal finish - it lets the light flow in while protecting the children from harmful UVA/UVB rays, and prevents the wind and rain from interrupting precious time playing and learning outdoors.
The smooth planed and chamfered timber cladding around the sides of the canopy features playful, colourful bubble windows for sensory engagement. The children love to peep and wave through them and observe how the light changes their perspective.
The new canopy provides a practical freeflow facility to St Charles that has significantly opened up their options for moving learning outdoors and supporting child-led play. It's the perfect place to present outdoor clothing for easy, independent access (not to mention freeing up indoor classroom space!) and it plays host to a whole new range of outdoor activity options for the children at St Charles to achieve their Early Years Learning Goals.
We've been delighted to see the children enjoying their books and crafting out here, playing with construction toys and blocks and even building their own obstacle courses and designing their own maps for others to follow!
"They've got free-run space out in the open and under the canopy. It's really open ended and so useful - we spend so much more time outside now because even when it rains we've got the canopy so we can get outdoors in all weathers." - Miss Bryan, Reception Teacher
Learning to Love Language and Literacy…
A Wigwam den in a cosy corner has become the new attraction for outdoor reading and role-play games.
Den building is brilliant for firing the imagination, and it's here that the children at St Charles' love to climb inside to read, pretend-play or act out a favourite story together. It's a 'secret space' for hide and seek, and an open-ended opportunity for allowing them to develop important social skills and become secure in their learning around communication and language.
A set of Small Moveable Artificial Grass-Topped Seats is being put to good use in this area to form a comfortable and flexible storytelling zone.
Easel Tables provide an EYFS essential broad space for mark-making with different mediums, while Tuff Spot Tables are ready to be stacked with supplies for sensory exploration and activities that promote fine motor development. St Charles' 'colour monster' inspired messy play activity has been a particular favourite!
"Since we've had the new playground it's totally changed what we can do," Miss Bryan told us. "We're using the large scale equipment for open ended play and we transform them into role play areas. We add different bits of equipment and resources to it and it changes throughout with each topic that we're teaching. The children really love it. They love running around it and playing with everything."
There's no doubt that the new EYFS playground has brought everything that St Charles' wanted to achieve from the space. Packed with amazing opportunities to enhance the children's learning experiences, it has significantly increased their capacity for outdoor learning through play and given them so much more usable space than they had before.
When our installations take pace during term time, we are always careful to work around each school's specific needs to minimise disruption. Feedback is important as it helps us to maintain our high standards. We asked the staff at St Charles' how they found the installation process from start to finish:
"It was really quick! It was nice for the children to see the installation process - previously we'd been worried about potential noise but no, actually it was really nice for the children to see the transformation happening. It was amazing how quickly the installers worked and how everything just shot up! The installation process was great! We would definitely recommend Pentagon to other schools. We love the equipment that we've got - if you want to change your outdoor area, well, it's worked brilliantly for us!"
Why not take a look at our entire EYFS Range and Contact Us Today if you see anything you
like! One of our Internal Learning Advisors will be happy to help!