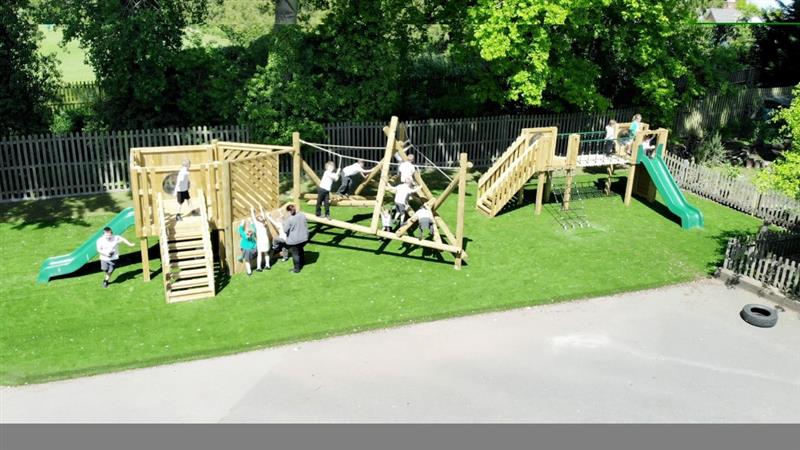 An Energetic Active Play Area For St David's
We worked with St David's CE Primary School in Gloucestershire to design and install a bespoke active play area for their Key Stage 1 children.
Before our development, the school had a small play tower that did not challenge the children appropriately and only allowed a few children to access the unit at any given time.
Our Playground Consultant, Becky Hazell, worked closely with the school to create a physical challenge that would meet the school's requirements - a stimulating, exciting addition to the KS1 playground.
Prior to work beginning, we removed the old play tower unit and playground surfacing. Once the worn-out equipment had been removed, we began installing our exciting, bespoke active play structure that would bring awe and excitement to the playground.
Making up the energising active play area is a bespoke Bowfell Climber and Modular Play Tower, named St David's Castle, providing plenty of physical development opportunities during open ended play. This humongous structure encompasses all the requirements the school had identified.
Our Unique Climbing Frame
St David's wanted a climbing frame like the Bowfell Climber, but also wanted it to include an additional deck, climbing wall, stairs and a slide. We're happy to alter our product to include these features. It has created a huge structure that has a challenge for every child - no matter their age and ability.
All the children can play together on the deck before shooting down the slide or traversing across the log frame.
As the children scramble up the climbing wall or maneuverer across the logs using the ropes, their fine motor, gross motor skills, hand to eye coordination, core stability and upper body strength advance through play.
A large amount of space underneath the den further promotes imaginative play as well as providing space for those wishing to rest away from active play.
The Play Tower Known as St David's Castle
Next to the climbing frame, is a high-level Play Tower named St David's Castle. The creative tower includes a range of different challenges including a slide, stairs, climbing wall and suspension bridge.
The all-inclusive tower enables all children to build their climbing confidence and play together on the top level of the deck.
Including a bubble window and suspension bridge along with a large amount of space underneath the deck inspires imaginative play: improving children's creativity and social skills.
By joining both structures together, a gigantic energetic active play area has been created that really encourages imaginative, social and active play throughout the school.
A whole class of 30 and more children can use the structure at once. With plenty of exit and entry points, previous issues with children queuing to get on and off the equipment have been eliminated.
The open-ended area enables children to learn to risk assess as well as self-select their own level of challenge, challenging themselves as they develop their key physical skills.
We offer a free, expert, no-obligation consultation service for any school or nursery wishing to develop their playground. Please Contact Us to find out how we can help you. As well as our bespoke creations and Active Play Products, you can view our spectacular range of outdoor learning, play and sports products for schools and nurseries Here.