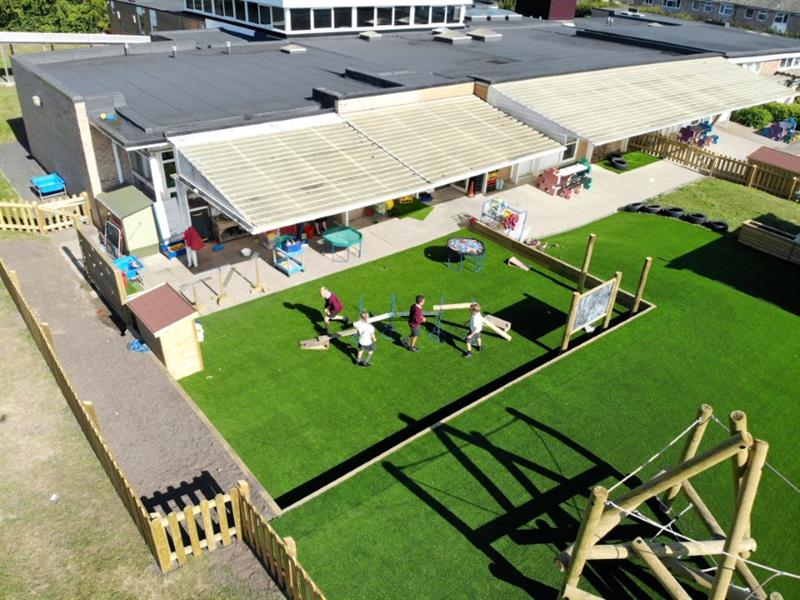 Improving Children's Educational Play Experience Through The Installation Of Playground Equipment
As they wanted to improve their children's educational play experience and extend the physical play opportunities presented to the children, St Leonard's Church of England Primary Academy contacted us to transform their dream outdoor area into a reality.
Becky Hazell, our playground consultant, worked with the Swindon primary school to design and install their brand new outdoor play area: successfully meeting their project objectives!
Energising Climbing Challenges
The Harter Fell Climber installed in the EYFS playground has presented the children with an excellent outdoor resource for physical development, particularly fine motor skills.
Carefully climbing up the branches before swinging off the ropes and jumping from the highest point, the children have been heard practicing their monkey noises and movements - using the climbing frame as a focal point for imaginative play!
As children climb, swing, hang, step and traverse through the log and rope combinations, they are developing their overall body strength, gross and fine motor skills, coordination, core stability and balance.
Manoeuvring up the logs builds up the little monkey's climbing confidence while they use their fine motor skills to grip and grasp the logs. The more confident climbers motivate and encourage others to get higher than they did on their last climb, which has been lovely to see!
During the development of the EYFS outdoor learning and play environment, we installed an excellent climbing frame in the Junior Playground. The Tryfan Climber has provided the older children with an energising outdoor space to climb and explore, developing their key physical skills further.
Underneath both climbing frames, there is enough room for the children to relax away from active play, build dens, share stories and even take their imaginative play games further!
Messy Play and Storage
Providing Reception with a sensory, messy, imaginative play and educational play area is an excellent selection of our Mud, Sand and Water Playground Equipment.
A golden beach to build sandcastles in enchants the children as they use loose play resources to build, sieve and scoop sand in the Sand Box. From building magnificent sand structures to digging for buried treasure, the messy play resource has taken the children's imaginative games further as they advance their fine motor skills while exploring a range of textures.
Next to the beach, we installed our market-leading Water Wall with Water Play Package! Featuring an excellent water wall that enables the children to manipulate the channels to guide the water to the bottom, along with a Water Table and Waterfall Channels, they can pour and measure water.
Communication, language, social and problem solving skills are all being developed through play as the children work together to successfully guide the water into the table through a serious of channels.
The Water Wall alone enables children to explore a variety of scientific and mathematic concepts including, units of measurement, gravity, waterflow and source to mouth. It truly enhances the scientists educational play experience!
Literacy, in particular writing, was a key area the school wanted to promote to the children in their early years classes. They wanted to instil a love of writing in their children while contributing to the expressive arts area of the curriculum.
An inspiring way to promote mark making outdoors was to install our Giant Whiteboard and Giant Chalkboard. Huge blank canvases engage children in writing, drawing and scribbling as the little artists craft their masterpieces together.
Of course, playground storage was needed in the new area to ensure that all loose play resources are kept together, dry and safe.
Consequently, we installed our Small Self-Selecting Store to not only provide an excellent playground storage solution, but also promote independence as they select their resources and tidy away after themselves - reducing the set up time for the staff!
Playground Surfacing
Most children love to race their bikes, trikes and scooters around! We therefore installed a wonderful selection of Thermoplastic Playground Markings designed as a realistic looking roadway.
Children can race their vehicles around the playground within the designated area and learn about the importance of road safety and rules they should be following outside of school, too!
Zebra crossings within the roadway ensures children learn to 'Stop, Look and Listen' before crossing their own little road - enhancing their understanding of the world around them.
Alongside the roadway, the school wanted to ensure that they had a suitable space to store the children's trucks, cars and motorbikes. The Medium Self-Selecting Store enables children to pick their vehicle before parking it once they are finished playing. This further promotes their independence and a sense of responsibility over their outdoor resources.
Being able to utilise the outdoor area throughout the school year, no matter what the weather brings, was a must for St Leonards Primary Academy.
Surfacing the outdoor space with our vibrant Artificial Grass Playground Surfacing ensures that rainwater penetrates through, without causing a muddy, slippery space which could end up being out of bounds.
Becky loved working with St Leonards Primary Academy to improve their educational play experience. As an ex-teacher herself, she has seen first hand the importance of learning through play for young early years children.
If you'd like to improve your children's educational play experience through the installation of our excellent Educational Playground Equipment, Contact Us. Our experienced playground consultants are passionate about learning through play and can help design a space to meet any project objectives!