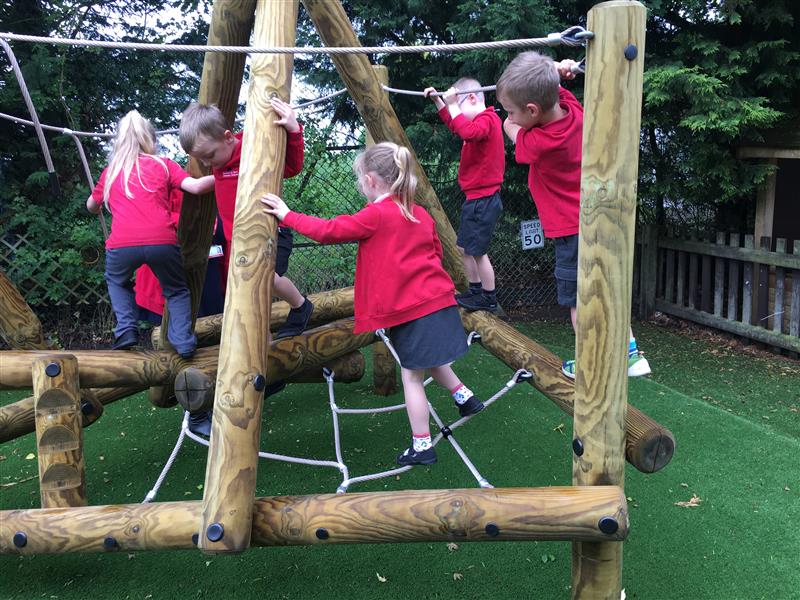 An Amazing Early Years Playground For Cross-Curricular Activities
We worked with Sturton By Stow Primary School in Lincolnshire to enhance their early years outdoor learning environment.
Our Playground Consultant, Marion Rolph, worked with the school to design an outdoor play space brimming with opportunities for cross-curricular activities.
Within the school's new and amazing play area, Marion created 3 zones for physical play, role play and messy play.
Physical Play Zone
Within the physical play zone, we installed our wonderful Harter Fell Climber which is an excellent introductory climbing frame. This open-ended resource is a low-level challenge with multiple crossing points and traversing opportunities.
Our Harter Fell Climber will develop children's balance, coordination, upper and lower body strength, core stability and grip and grasp technique. With plenty of ropes to help support climbing, children will develop their hand strength and dexterity which will help improve their handwriting skills when back in the classroom.
To promote safe risk taking, we installed our excellent Artificial Grass Surfacing with a shock pad underlayer to protect children from falls.
Messy Play Zone
Sturton By Stow's messy play zone has a focus on the wonders of water and dam building.
We installed our magnificent Water Wall and Water Damming Package to promote investigative learning amongst the children.
Children can work in teams to manipulate the flow of the water – learning about gravity, waterflow and source to mouth.
Situating our Sand Table nearby, the children can explore different ways to make dams and stop the follow of water – a fantastic way to develop teamwork, communication, PSED and critical thinking.
Role Play Zone
Role play is an effective way for children to learn through play and helps develop their creativity, imagination and understanding of the world. For this area, we decided to install our Giant Playhouse which is the perfect open-ended resource for role play activities.
One day, the children could be young bakers in a bakery while on another day, they transform into doctors and nurses within an A&E department
Our Giant Playhouse includes a giant chalkboard and den making holes along the roof for decorations and weaving. The giant chalkboard encourages the children to scribble down thoughts and draw settings to further improve their imaginary games.
It has been amazing to work with such a lovely school to create an energetic and child-led environment for the children to explore.
If you'd like to develop your outdoor area to target specific areas of the curriculum, our expert playground consultants would love to help. Please feel free to Contact Us. Alternatively, view our full range of EYFS Playground Products Here.