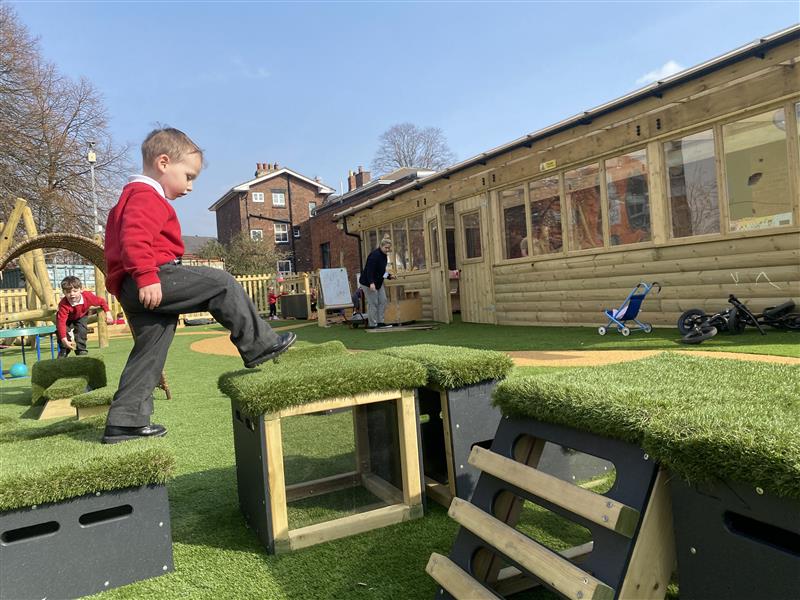 An Exciting EYFS Outdoor Development to Inspire a 'Love of Learning.'
St Werburgh's Catholic Primary School, located in Merseyside, has undergone a stunning transformation. The outdoor space has been designed to cater for different areas of the EYFS curriculum within specific playground zones.
Our experienced playground consultant, Ian Wood who works in Cheshire and the surrounding areas, had the pleasure of working with the EYFS team to create a wonderful space that promotes all seven areas of learning and development. Pupils have the perfect place to develop their curiosity and problem-solving skills through play.
The huge site now comprises of different zones, with an active area, a space for science and discovery, an imaginative den and a snug for storytelling. Pupils can move freely between the defined areas, making choices and taking ownership of their learning.
The Early Years department now have an outdoor area that can be used all year round, in all weathers thanks to our deluxe Artificial Grass Play Turf. The soft yet durable surface gives a natural, bright feel and a shock pad layer provides extra protection.
Weaving through the space is a bespoke Beige Wetpour Pathway that links the different play zones and provides children with a real-life roadway for driving, scooting and pushing. The entire EYFS area is framed with beautiful, natural- feel Bow Top Timber Fencing ensuring upmost safety with gated access.
A Practical, Multi-Use Canopy
Directly attached to the KS1 classroom we installed a large 14m x 4m Timber Canopy that can be used throughout the seasons.
The canopy provides a warm, comfortable spot which is dry, light and airy. It can be used for lessons, play, relaxation, as a meeting space or for continuous provision and helps to create a free flow environment between the classroom and the outdoors.
Intrigue and Investigation
It was important for the Early Years team to dedicate an area to investigative play where children could freely explore the world around them. Pupils have been creating new delights and exploring mathematical vocabulary in the Mud Kitchen. Teamwork and cooperation have been strengthened when moving materials from the mud box with the help of the rope and pulley system.
Pupils have wasted no time, diving into the Large Sand Box, developing their fine motor skills by manipulating a range of tools. A Corner Planter Bench allows children to choose which flowers and vegetables they would like to grow and is the ideal spot to observe insects at work! A water wall encourages learners to develop their spatial skills as they manipulate routes for the flow of water.
Happy, Healthy and Active Lifestyles
The new active zone has a Harter Fell play frame at the centre which helps children to develop their upper body strength, grip and core stability. Pupils are provided with opportunities to climb, hang and travel in different ways, developing their control and climbing confidence.
A set of Get Set, Go Blocks (The Mendips Set) allows learners to create their own outdoor courses and games whilst developing balance and agility.
A Giant Playhouse is the perfect, open-ended structure which can be transformed into a variety of different role-play areas depending upon class topics and interests.
Pupils at Werburgh Primary have been making full use of the giant chalkboard to practise pre-writing skills.
The addition of an enticing Wigwam provides a cosy book nook where children can gather to listen to and share stories with their friends.
Storge problems are no longer an issue with a Large Self-Selecting Store. Resources can be conveniently stored neatly away, ready for pupils to choose from.
With learning opportunities at the heart of all of our products the chalkboard doors of the unit offer opportunities for mark making outdoors.
On our return visit, it was amazing to see the young pupils at St Werburgh's learning in their new environment with such confidence.
Whether engaging in sensory play, physical activity or story time there were smiles and excitement all round, as little learners engaged in rich experiences.
If you'd like to view more projects in this area, then see our Liverpool Projects now!
Or, Contact Us Today for guidance and advice on your very own playground!