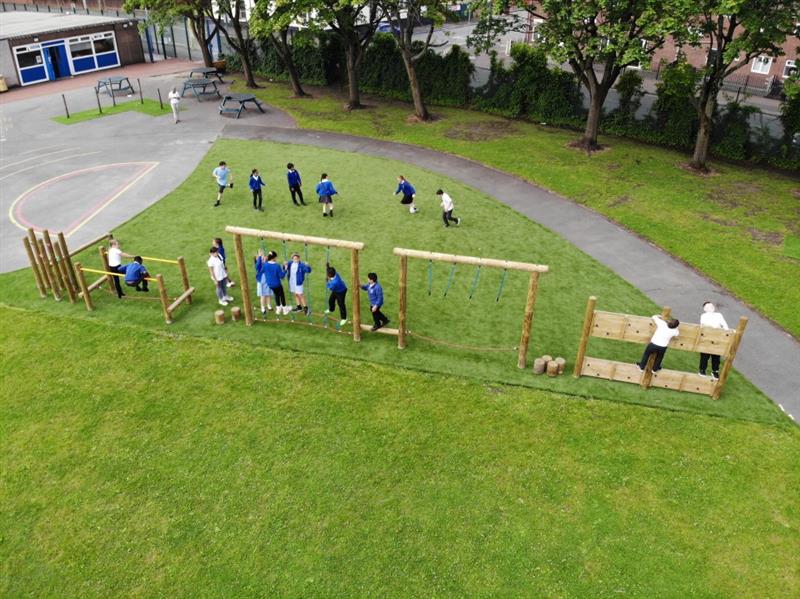 Trim Trail Fun for the pupils at All Saints Primary School
All Saint's Primary School were determined to introduce more physical play opportunities into their playground for their KS2 children.
Our playground consultant, Natalie Richardson, was delighted to work alongside the Manchester-based school to design an exhilarating active play area.
Offering multiple adventure play solutions to the staff and children, they decided that a multi-challenge trim trail would be the perfect addition to their playground.
The Challenging Trim Trail for KS2
In the school grounds, All Saints had a large blank area on their school field, which had previously been surfaced with Playbond safety surfacing.
This space had begun to look tired and didn't provide any fixed play opportunities for the children.
The school decided that this would be the perfect space to revitalise.
We began by removing the old surfacing and replacing it with our vibrant, natural-looking Artificial Grass Surfacing and installing our Junior Trim Trail 2.
Our artificial grass is perfect for active play areas. It absorbs the impact of slips, trips and falls and is free-draining, which means the weather will never prevent play!
The Junior Trim Trail 2 is an exhilarating mixed adventure trail, specifically designed to test and challenge KS2 children's key physical skills! The trim trail includes:
The challenges have been arranged so that the trail becomes progressively harder as the children go on and tests a more advanced variety of physical skills including, balance, lower and upper body strength as well as hand strength, core stability, coordination, and gross motor skill development.
Inspiring imaginative play too, one of the children's favourite playtime games is using their trim trail to play the floor is lava! They love challenging one another to complete the trail without touching the artificial grass below.
KS2 love their new adventure play equipment and the amount of dry, mud-free space they have around the trim trail. It's created the perfect area for relaxing, socialisation and active play games!
Would you like to extend the physical play opportunities presented to your KS2 children? Contact Us Here to begin your journey with Pentagon Play today.
Alternatively, you can explore all of the exciting playground projects completed within Greater Manchester Here.