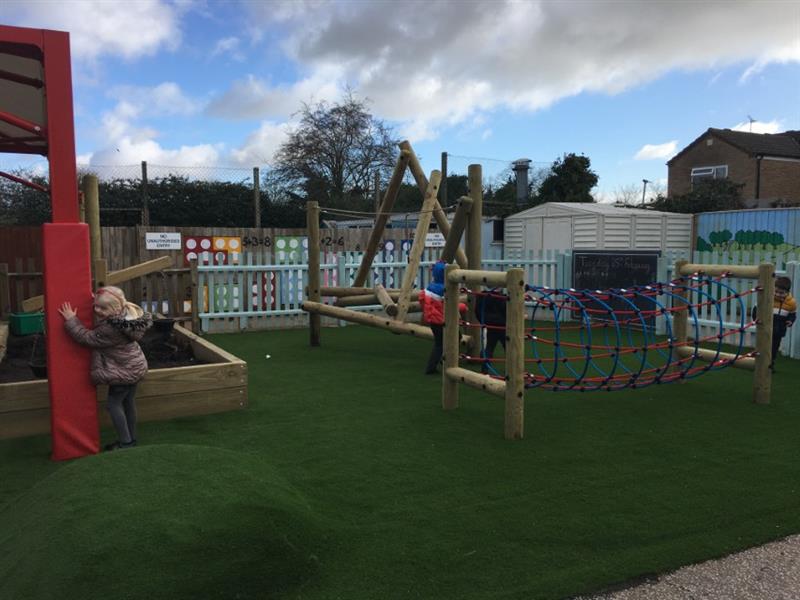 An Exciting, Cross-Curricular EYFS Outdoor Area
Christina Ashford, the Headteacher at Trimley St Mary's Primary School, located in Suffolk, contacted us as she was looking to upgrade her EYFS children's outdoor learning environment to provide a mixture of opportunities for physical and imaginative play games.
Our playground consultant, Marion Rolph, was excited to begin working with the school on this fantastic project. Since they had completely cleared their EYFS area, Marion couldn't wait to let her creativity show and design an amazing environment - meeting all their project needs, all within their budget!
The overall outcome is an exciting area where imaginative activities, physical development and cross-curricular learning can take place, all while the youngest children at the school learn through play!
A zone where messy play comes alive
Children love to get messy, digging secret tunnels to the other side of the world or creating strong dams to fight off the water flow, which is why we installed a brilliant selection of messy play equipment to promote cross-curricular play outdoors.
Through play, the young scientists can manipulate the channels on the Water Wall before using jugs and watering cans to pour water down their new route, investigating scientific concepts.
The children can work together in a team to control the water as they try to make the rain cloud rain or the water wheel spin, working towards a shared goal and taking turns to climb the steps to reach the top!
Alongside the new Water Wall, we also installed an amazing bespoke Dig Pit for the children to participate in messy, muddy fun!
Putting on their overalls and wellies, the children can climb up the step and into the dig pit as they dig for buried treasure or create fabulous muddy castles. Measuring their ingredients using the weighing scales before working together to move the materials over to the other side with the rope and pulley materials mover is perfect for targeting mathematics outdoors!
Communication, language, creativity and fine and gross motor skills are all being targeted in this fabulous bespoke area crafted carefully out of timber sleeper sides by our expert installers!
You can view our huge range of outdoor EYFS resources for messy play here.
An area for safe risk taking and physical development
To target other areas of the curriculum outdoors, we have further enhanced physical development outdoors through the addition of our low-level Harter Fell Climber and a fantastic Rope Tunnel.
Swinging from the ropes, balancing along the beams and climbing over, under and through the tunnel, the little monkeys of EYFS have plenty of active play resources to truly develop their key physical skills.
Allowing their creativity to flourish, the children can go on a bear hunt to catch a big one as they transform their new areas into amazing imaginary worlds!
While EYFS re-enact stories and make up their own games, the new active play equipment brings plenty of physical benefits, improving the children's upper and lower body strength, fine and gross motor skills, co-ordination, spatial awareness and climbing confidence.
An all-weather surface for year-round play
The playground surface can often be overlooked as unnecessary to develop however we wanted to ensure that EYFS could use their educational play environment no matter what the weather may bring, while furthering the overall play value of the area.
As a result, we installed our soft Artificial Grass Surfacing. The fresh, vibrant surface enables the young children to practise taking safe risks on their new active play equipment as they swing and climb without the worry of serious injury as it provides an impact-absorbing landing.
Moreover, the artificial grass is free draining to enable the children to explore, play and investigate even during light rain.
In addition, we also installed one of our unique Playground Mounds in the corner of the area to provide the children with a new perspective to their play, enabling them to run, crawl and walk up the mound as they use their spy glasses to search for landmarks while sailing in the seven seas!
Christina and EYFS are absolutely delighted with their outdoor play and learning environment. They cannot wait to get outside to play each and every day!
At Pentagon Play, we pride ourselves on creating captivating outdoor play and learning environments, which promote learning through play and improve children's educational play experience. If you'd like to enhance your youngest children's EYFS outdoor area, begin EYFS Playground Equipment window shopping and then Contact Us! We'd love to help transform your school playground, too.